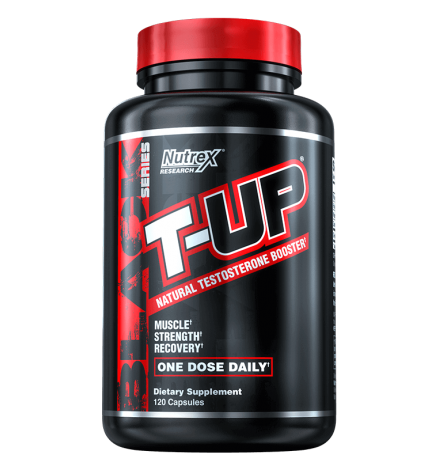 Nutrex T-UP® Mega Testosterone Booster 120 Capsules
2022-03-31
853237000165
New product
NUTREX T-UP MEGA TESTOSTEONE BOOSTER 
Το T-Up® της Nutrex είναι ένα αθλητικό συμπλήρωμα διατροφής που προσφέρει θεαματική αύξηση της μυικής δύναμης και αποδεδειγμένη αύξηση της αθλητικής απόδοσης  μετά από κύκλο 60 ημερών. 
T-Up® Mega Testosterone Booster ανεβάζει τον πήχη σε σχέση με άλλα προιόντα ενίσχυσης τεστοστερόνης, καθώς περιέχει D-ασπαρτικό οξύ σε μια κλινική ποσότητα. Σε αντίθεση με πολλά προϊόντα αύξησης τεστοστερόνης που ισχυρίζονται για την φυσική αύξηση της τεστοστερόνης, τα αποτελέσματα του T-Up® είναι πραγματικά και υποστηρίζονται από κλινική μελέτη.
Σε αυτή την κλινική μελέτη, το D-ασπαρτικό οξύ που χρησιμοποιείται στο T-Up οδήγησε σε μια μέση αύξηση 42% της τεστοστερόνης μετά από μόλις 12 ημέρες χρήσης. 
Μια αύξηση των επιπέδων της τεστοστερόνης συνδέεται με την αυξησή της μυικής μάζας & δύναμης καθώς και με την ταχύτερη ανάρρωση μεταξύ των προπονήσεων. Μόλις μία δόση την ημέρα είναι αρκετή!
Τα σημαντικά χαρακτηριστικά του Τ-UP.

Ενισχύει την Τεστοστερόνη Με Φυσικό Τρόπο.
Βοηθά στην Μυϊκή Δύναμη
Ενισχύει την Αντοχή 
Ταχύτερη ανάρρωση μεταξύ των Προπονήσεων.
Κλινικά Δοκιμασμένο για να αυξήσει το  Επίπεδο Τεστοστερόνης  εως και 42% μέσα σε μόλις 12 ημέρες.
Οδηγίες Χρήσης:
Πάρτε 4 κάψουλες μία φορά την ημέρα μεταξύ των γευμάτων. 
Μόνο μία δόση την ημέρα είναι αρκετή.
Σας προτείνουμε να πάρετε αυτό το προϊόν για 60 ημέρες.
Καθημερινή χρήση για καλύτερα αποτελέσματα.
________________________

NUTREX T-UP MEGA TESTOSTEONE BOOSTER 
Wondering what Nutrex T-UP Mega Testosterone Booster is all about?  
What is Nutrex T-UP Mega Testosterone Booster?
T-UP® Mega Testosterone Booster is raising the bar in natural testosterone elevation by bringing you scientifically researched D-Aspartic Acid in a clinical amount. Unlike many products that claim to support natural testosterone, T-UP effects are real and supported by a clinical study.
In this clinical study, the D-Aspartic Acid used in T-UP led to an average 42% increase in testosterone after only 12 days of use.
Supporting healthy testosterone levels is associated with more muscle gains, strength increases and enhanced recovery
T-UP Product Highlights
Boost Testosterone Naturally.
Helps With Muscle Gain.
Boost Your Strenght
Faster Recovery Between Workouts.
Clinical Tested To Help Increase T Level 42% Within 12 Days. 
Directions:
Take 4 capsules once per day between meals. Only one serving per day is needed. We suggest taking this product for 6o days. Use daily for best results. 
SUPPLEMENT FACTS
Serving Size : 4 Capsules 
Servings Per Container : 30
| | | |
| --- | --- | --- |
| | Amount Per Serving | Daily Value |
| Vitamin B6 (as Pyridoxine HCL)      |   2 mg | 100%   |
| Folic Acid (as Folic Acid)              | 400 mcg | 100%  |
| Vitamin B12 (as Cyanocobalamin)   | 6 mcg | 100%  |
| Zinc (as Picolinate)                           | 15 mg | 100% |
| D-Aspartic Acid                                | 3000 mg | * |
*Daily Value not established.
Other Ingredients :
Gelatin, Magnesium Stearate, Silica, Titanium Dioxide, FD&C Red 3, FD&C Red 40, FD&C Blue 1 and FD&C Yellow 6
No customer reviews for the moment.