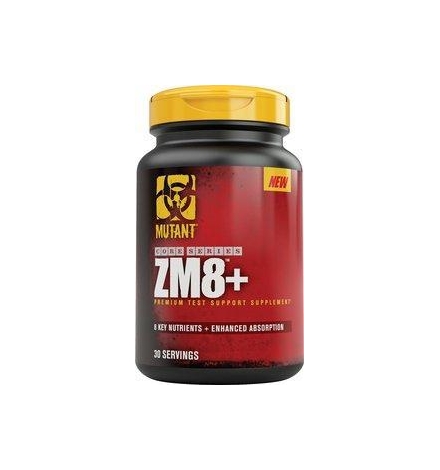 Mutant ZM8+ 90 Capsules
2023-03-31
627933025841
New product
MUTANT ZM8+
To MUTANT ZM8+ περιέχει 8 απαραίτητα θρεπτικά συστατικά, όπως ψευδάργυρο για υποστήριξη τεστοστερόνης και ορμονική δραστηριότητα. Αυτά τα επίπεδα θρεπτικών ουσιών ερευνήθηκαν σε αθλητές, ενώ προσθέσαμε τον πατενταρισμένο παράγοντα ενίσχυσης απορρόφησης BioPerine®.
Ο ψευδάργυρος παίζει κεντρικό ρόλο στη ρύθμιση της κυτταρικής ανάπτυξης, την ανάπλαση των ιστών, ενώ παράλληλα ασκεί θετική επίδραση στην αύξηση παραγωγής τεστοστερόνης. Παράλληλα το μαγνήσιο διατηρεί τα επίπεδα των ηλεκτρολυτών σε ισορροπία και συμβάλλει στη βελτίωση της ποιότητας του ύπνου, καθώς πρόσφατες έρευνες έχουν δείξει ότι ομάδες ασθενών που έπασχαν από έντονη αϋπνία είχαν σημαντικά μειωμένα επίπεδα μαγνησίου.
Ρυθμίζει την ορμονική δραστηριότητα
Αυξάνει την παραγωγή τεστοστερόνης και την δύναμη
Βοηθά στην παραγωγή αυξητικών παραγόντων IGF-1 (ινσουλινοειδούς αυξητικού παράγοντα 1)
Συμβάλλει στην σύνθεση πρωτεϊνών
Συμβάλλει στην παραγωγή σπέρματος
Επιπλέον, έρευνες δείχνουν ότι η πλήρης δόση των 5 mg BioPerine® (πατενταρισμένο συστατικό), αυξάνει τα επίπεδα των διαφόρων θρεπτικών ουσιών από 30 έως 2000%
Οδηγίες Χρήσης :
Σε ημέρες προπόνησης και μη, πάρτε 2 κάψουλες (γυναίκες) ή 3 κάψουλες (άντρες), το βράδυ, πριν από τον ύπνο με άδειο στομάχι με 250 ml νερό. 
Χρησιμοποιήστε το συμπλήρωμα για 8 συνεχόμενες εβδομάδες ακολουθούμενες από 4 εβδομάδες εκτός κύκλου.

MUTANT ZM8+
MUTANT ZM8+ contains 8 essential nutrients including zinc for testosterone support and hormonal activity. These nutrient levels were researched on athletes, plus we've added the patented absorption enhancing agent BioPerine®.
Regulate hormonal activity
Increase testosterone and strength
Increase IGF-1 (insulin-like growth factor 1)
Help protein synthesis
Contribute to sperm production
Plus BioPerine

®

 studies routinely show our full 5 mg dose increases levels of various nutrients by 30 to 2000%
On training and non-training days, take 2-3 capsules at night before bed on an empty stomach with 250 ml of water. Use for 8 weeks followed by a 4 week off-cycle.
No customer reviews for the moment.