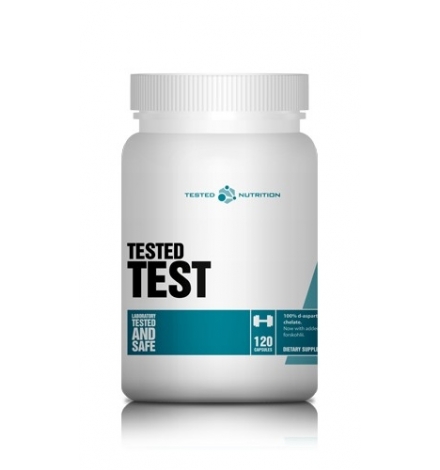 Tested Test 120 Capsules
2019-07-31
804947000341
New product
Tested Test 120 Capsules
Το Tested Test αποτελείται από 100%  D-Ασπαρτικό χηλικό ασβέστιο.
To D-Ασπαρτικό οξύ είναι ένα ενδογενές (το παράγει το ίδιο το σώμα δηλαδή) αμινοξύ το οποίο βρίσκεται στα νεύρα και τους ενδοκρινικούς (παραγωγοί ορμονών) ιστούς .
Συγκαταλέγεται  ανάμεσα στα 20 βασικά δομικά υλικά (πρωτεϊνογενικά αμινοξέα) των πρωτεϊνών. Το L-Ασπαρτικό οξύ χτίζει το μυϊκό ιστό. Σε συγκεκριμένα σημεία του σώματος (εκείνα που παράγουν τις ορμόνες) το L μετατρέπεται σε D-Ασπαρτικό οξύ και η κύρια δουλειά του είναι να αυξάνει με φυσικό τρόπο την ενδογενή τεστοστερόνη. 
Τι επίδραση θα έχει κάτι τέτοιο στο σώμα; Ανάμεσα σε άλλες λειτουργίες (δύναμη, αυξημένη λίμπιντο κτλ) το D-Aspartic Acid αυξάνει την ισχύ των μυϊκών συσπάσεων, βοηθάει τις αρτηρίες και άλλους μυς να χαλαρώνουν και ηρεμούν, αυξάνει την έκκριση ινσουλίνης και την λιποδιάλυση. Με άλλα λόγια κάνει τις προπονήσεις ευκολότερες ενώ βοηθάει στην καύση του σωματικού λίπους. 
Επίσης έρευνες έχουν δείξει ότι βοηθάει στην παραγωγή φυσικού GABA και ντοπαμίνης λειτουργώντας έτσι ως αντι-καταθλιπτικό. Ενώ τέλος είναι γνωστή η ικανότητά του να αυξάνει τα επίπεδα νιτρικού οξειδίου επιταχύνοντας με αυτό τον τρόπο την αποθεραπεία.
Πρόσφατες μελέτες δείχνουν ότι το d-apartic οξύ έχει άμεση επίδραση στην παραγωγή τεστοστερόνη. 
Τώρα με την προσθήκη COLEUS FORSKHOLII για βέλτιστα αποτελέσματα.
Οδηγίες Χρήσης:
Πάρτε 2 κάψουλες δύο φορές ημερησίως με άδειο στομάχι.
____________________________________________________________
Tested Test 120 Capsules
Tested Test is comprised of 100% D-Aspartic Calcium Chelate. No cheap fillers are added. Recent studies indicate that d-aspartic acid has a direct effect on testosterone production. Now with added Coleus Forskholii for optimal results.* 
Directions:
Take two capsules twice daily on an empty stomach
No customer reviews for the moment.