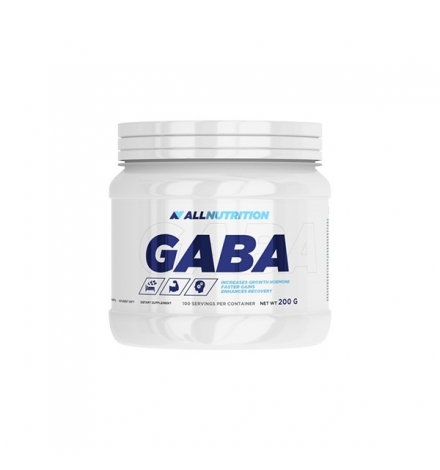 AllNutrition Gaba 200g
2018-07-31
5902751330854
New product
AllNutrition Gaba 200g
Το Gaba της AllNutrition είναι ένα προϊόν το οποίο περιέχει το (γ-αμινοβουτυρικό οξύ) αμινοξύ εμπλουτισμένο επίσης με ταυρίνη (αμινοξύ). 
Το Gaba (γ-αμινοβουτυρικό οξύ) είναι ένα μη απαραίτητο αμινοξύ που βρίσκεται κυρίως στον ανθρώπινο εγκέφαλο και τα μάτια. Το Gaba προορίζεται για όσους εκτίθενται σε ψυχικό και σωματικό άγχος.
Θεωρείται ένας ανασταλτικός νευροδιαβιβαστής, που σημαίνει ότι ρυθμίζει την εγκεφαλική δραστηριότητα και αυτή των νευρικών κυττάρων, αναστέλλοντας τον αριθμό των νευρώνων που πυροδοτούν τον εγκέφαλο.
Το GABA έχει αποδειχθεί ότι συμβάλει στην ενίσχυση της παραγωγής της ανθρώπινης αυξητικής ορμόνης (HGH). Είναι η HGH που έχει βρεθεί σε μελέτες ότι διευκολύνει το μεταβολισμό των λιπών στο σώμα. Η HGH είναι επίσης γνωστή για την ισχυρή ώθηση που δίνει στην μυϊκή ανάπτυξη. Η HGH τείνει να μειώνεται φυσικά με την ηλικία, έτσι όσο μεγαλώνουμε, τόσο πιο δύσκολο είναι να χάσουμε λίπος. Αυτός είναι ένας λόγος που το GABA έχει γίνει τόσο δημοφιλές.
Το GABA αναφέρεται ως «φυσικός ηρεμιστικός πράκτορας του εγκεφάλου».
✔ Διευκολύνει τον ύπνο και υποστηρίζει τη νυχτερινή αναγέννηση
✔ Συμβάλλει στη μείωση της αίσθησης της κόπωσης και της ενόχλησης
✔ Καταπραΰνει και χαλαρώνει
✔ Παρέχει έναν ήσυχο/ήρεμο και βαθύ ύπνο
✔ Αυξάνει την αυξητική ορμόνη
✔ Ταχύτερα κέρδη
✔ Βελτιώνει την αποκατάσταση
Οδηγίες Χρήσης:
Πάρτε μια μερίδα (2γρ) αναμειγνύοντας με 150 ml νερού ή χυμού πριν από τον ύπνο. 
AllNutrition Gaba 200g
GABA is a product which contains gamma-aminobutyric acid enriched with taurine amino acid.  Gamma-aminobutyric acid is an organic chemical compound which belongs to the group of non-proteinogenic acids and it serves the function of neurotransmitter. GABA is intended for those who are exposed to mental and physical stress.
✔ Facilitates falling asleep and supports night regeneration
✔ Contributes to decreasing the feeling of tiredness and staleness
✔ Soothes and relaxes
✔ Provides a peaceful and deep sleep
✔ Increases Growth Hormone
✔ Faster Gains
✔ Enhances Recovery
Directions:
One serving before bedtime. One portion is 2g of the product dissolved in 150ml of water or juice. 
Nutrition Facts
ACTIVE COMPONENTS:
Serving: 2g
Servings per container: 100
Container: 200g
| | |
| --- | --- |
| Per Serving (2g) |   |
| gamma-aminobutyric acid (GABA) | 1900 mg |
| taurine | 100 mg |
Ingredients:
95%  gamma-aminobutyric acid, 5% taurine.
No customer reviews for the moment.