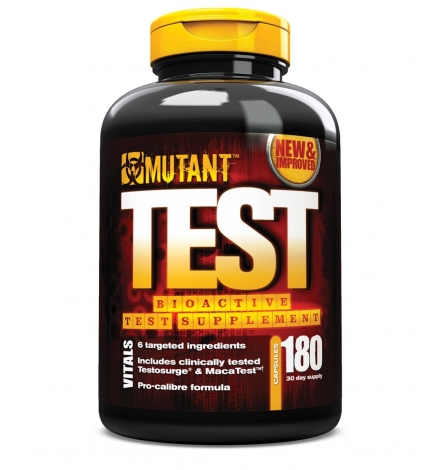 Mutant Test 180 Capsules
2020-09-30
627933022406
New product
Mutant Test 
To Mutant Test είναι μακράν το πιο αποτελεσματικό, ισχυρό, ασφαλές,και νόμιμο φυσικό προιόν αθλητικής διατροφής , το οποίο μπορεί και ενισχύει την παραγωγή τεστοστερόνης.
Ποτέ πριν δεν είχε δημιουργηθεί ισχυρότερη αναβολική φόρμουλα που να είναι κλινικά αποδεδειγμένο ότι ανεβάζει τα επίπεδα τεστοστερόνης γρηγορότερα από το νέο Mutant Test. 
Το Testosurge αποτελεί αποκλειστική, εν αναμονή διπλώματος ευρεσιτεχνίας, βιοενεργή ένωση στη φόρμουλα Mutant Test, η οποία λειτουργεί μέσω πολλών φυσιολογικών οδών για να αυξήσει γρήγορα και να προστατεύσει τα επίπεδα τεστοστερόνης σας, κάτι που μπορεί να οδηγήσει σε απίστευτα κέρδη στο μέγεθος των μυών και σε δύναμη. Το Mutant Test είναι το μόνο προϊόν που παραδίδει αυτό το καταπληκτικό νέο συστατικό, το οποίο είναι αποδεδειγμένο ότι ανεβάζει τα επίπεδα τεστοστερόνης όπως κανένα άλλο. Δεν χρειάζεται να περιμένετε ημέρες, εβδομάδες ή ακόμη και μήνες για να ανατινάξετε τα επίπεδα τεστοστερόνης σας - τώρα μπορείτε να έχετε περισσότερο ηλεκτρισμό σε λίγες ώρες!
6 κλινικά μελετημένα συστατικά

Περιέχει κλινικά ελεγμένα Testosurge® και MacaTest™

Φόρμουλα Επαγγελματικού Διαμετρήματος
Οδηγίες Χρήσης:
Πάρτε 6 Mutant Test κάψουλες κάθε πρωί 20 λεπτά πριν το πρωϊνό σας.
Συνιστόμενος κύκλος 8 εβδομάδες και παύση 4 εβδομάδες
__________________________________
 
Mutant Test 
MUTANT TEST is Mutant's is a unique and innovative supplement formulated for athletes on a bulking cycle! 
• 6 targeted ingredients

• Includes clinically tested Testosurge® and MacaTest™

• Pro-caliber formula
Never before has a more powerful anabolic formula been developed that is clinically proven to jack testosterone levels faster than new MUTANT TEST. Testosurge is the proprietary, patent-pending, bioactive compound in the MUTANT TEST formula that works through multiple physiological pathways to quickly raise and protect your test levels, which can lead to freaky gains in muscle size and strength. MUTANT TEST is the only product to deliver this amazing new ingredient that is proven to crank up test levels like no other. No more waiting days, weeks, or even months to blast your test levels through the roof — now you can have more juice in just hours!
Directions:
On training and non-training days, take 6 MUTANT TEST caps every morning upon waking on an empty stomach with 8 ounces of water.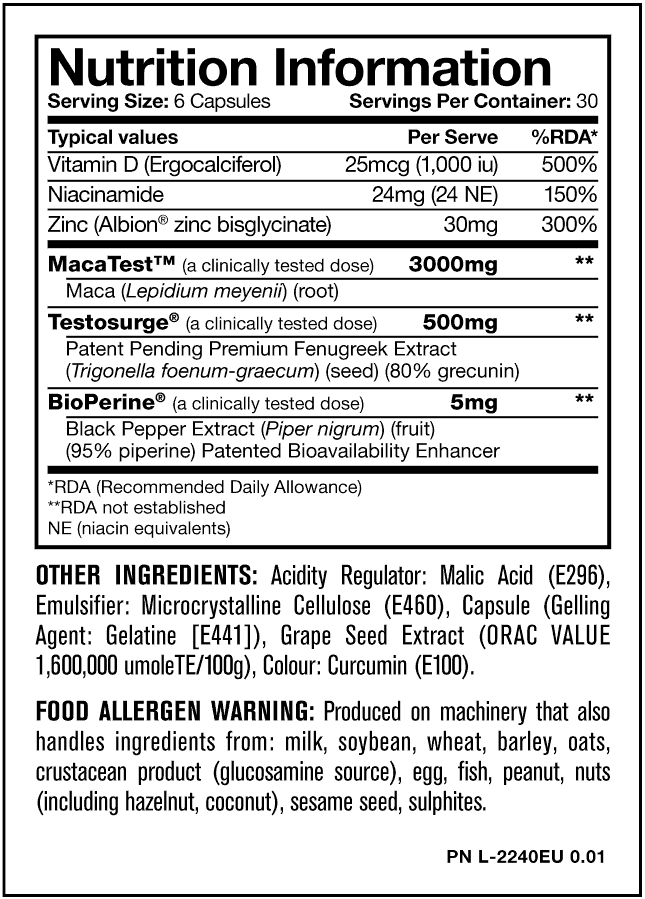 No customer reviews for the moment.