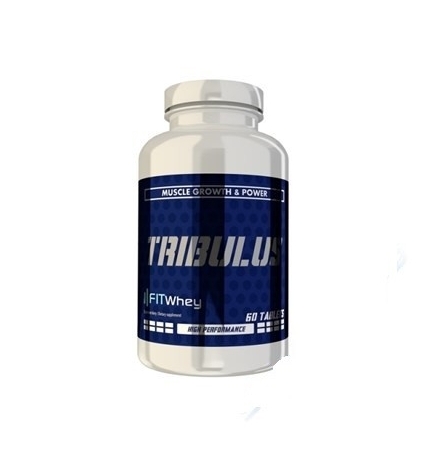 FitWhey Tribulus 1000mg 60 Tabs
0000-00-00
5902751330960
New product
FitWhey Tribulus 1000mg 60 Tabs
Το  Tribulus  της FitWhey είναι μια φόρμουλα ενίσχυσης της τεστοστερόνης που περιέχει 90 % σαπωνίνες σε κάθε κάψουλα.
Τα οφέλη για τους αθλητές περιλαμβάνουν:
Αυξημένη μυϊκή μάζα και καθαρότητα

Αυξημένη δύναμη και ισχύς

Γρηγορότερη ανάρρωση και ανάνηψη

Αποκατάσταση καλύτερης ορμονικής ισορροπίας
Εξαιρετικά Υψηλή Σαπωνίνη, Εξαιρετικά Υψηλή Τεστοστερόνη
Όταν επιλέγετε μια φόρμουλα tribulus terrestris, η περιεκτικότητα σε σαπωνίνη είναι ιδιαίτερα σημαντική.Η Σαπωνίνη είναι υπεύθυνη για την πραγματική βελτίωση στα επίπεδα τεστοστερόνης, οπότε στο Tribulus  της FitWhey  χρησιμοποιούμε προσεκτικά επιλεγμένα συστατικά με εξαιρετικά υψηλές ποσότητες σαπωνίνης.
Οδηγίες Χρήσης:
Παίρνετε μια ταμπλέτα ημερησίως, καταναλώστε την με κάποιο ρόφημα.
FitWhey Tribulus 1000mg 60 Tabs
Natural testosterone booster in the form of capsules. Excellent extract of Tribulus Terrestris with a high degree of standardization. Once used as an aphrodisiac, today effectively improves mood and promotes recovery post-workout! Improves libido and sexual possibilities. Highest quality guaranteed by the manufacturer! 
Tribulus Terrestris contained Tribulus FitWhey in a product which is in a natural and non-invasive way has a beneficial effect on our level of testosterone. The hormone may affect the strength development of muscle mass, faster recovery after training, and efficient burning of body fat. The systematic use of the extract of Tribulus Terrestris may cause increase in male libido and increased activity and sexual performance. 
Directions:
Take 1 tablet daily, wash down with 250ml of water.
Supplements Facts
Servise size: 1 Tablet
Serving Per Container: 60 Tablets
| | | |
| --- | --- | --- |
|                                      | Nutrition Value                        |    Per 1 Tablet |
|   | Tribulus Terrestis/ Extract from Tribulus Terrestis | 1000mg |
|   | of Which saponin  | 900mg |
Ingredients: Tribulus terrestris, filler: microcrystalline cellulose, carrier: calcium phosphate, anti-caking agents: magnesium salts of fatty acids, silicon dioxide.
No customer reviews for the moment.