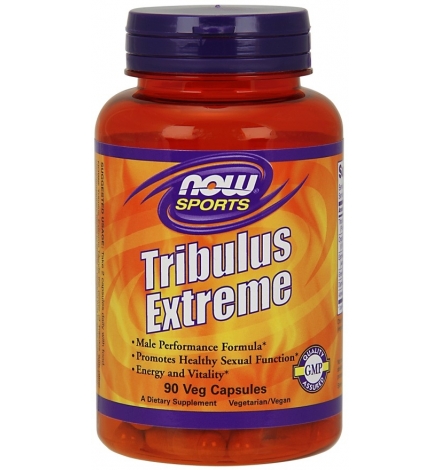 Now Sports Tribulus Extreme 90 Veg Capsules
2019-03-31
733739022738
New product
Now Sports Tribulus Extreme 90 Veg Capsules
Το Tribulus Terrestris έχει χρησιμοποιηθεί για αιώνες στην αρχαία Ελλάδα, την Ινδία και την Αφρική για την ενίσχυση της ζωτικότητας και του ανδρισμού.
Πρόσφατες έρευνες δείχνουν ότι το Tribulus μπορεί να υποστηρίξει τα αμυντικά συστήματα για τις ελεύθερες ρίζες του σώματος και προκαταρκτικές μελέτες δείχνουν ότι το Tribulus μπορεί να συμβάλει στην προώθηση της υγείας των ενδοκρινικών λειτουργιών και της ανδρικής αναπαραγωγικής υγείας.
Πιο συχνά, οι άνθρωποι χρησιμοποιούν το Tribulus για την υποστήριξη της ανάπτυξης των μυών και την απελευθέρωση της τεστοστερόνης.
Το Tribulus Extreme σε συνδυασμό με το Maca και άλλα παραδοσιακά βότανα, η φόρμουλα έχει σχεδιαστεί για να προωθήσει τα βέλτιστα επίπεδα αντοχής και ενέργειας και για να υποστηρίζουν μια υγιή λίμπιντο και την ανδρική σεξουαλική λειτουργία.
Οδηγίες Χρήσης:

Πάρτε 2 κάψουλες ημερησίως με το φαγητό.
Now Sports Tribulus Extreme 90 Veg Capsules
NOW® Tribulus Extreme blends the power of Tribulus with other complementary herbs to create a product that targets male performance and endurance.* Tribulus has a long history of use by men to promote strength and vitality, and modern research indicates that it may help to promote normal endocrine function and male sexual health.* Combined with Maca and other traditional herbs, this formula is designed to promote optimal stamina and energy levels and to support a healthy libido and male sexual function.*

Male Performance Formula*

Promotes Healthy Sexual Function*

Energy and Vitality*
Directions:

Take 2 capsules daily with food.
Serving Size:

2 Veg Capsules

Servings Per Container:

45

Amount per Serving

% Daily Value

* Percent Daily Values are based on 2,000 calorie diet.




† Daily Value not established.

Tribulus Extract (Tribulus terrestris)


(Fruit/Aerial Parts) (min. 56 mg Protodioscin)

1 g (1,000 mg)

†

Organic Raw Maca Root (Lepidium meyenii (6:1 Concentrate)

400 mg

†

Epimedium Extract (Horny Goat Weed)




(Aerial Parts/Leaf)

20 mg

†

Green Tea Extract (Camellia sinensis) (Leaf)

30 mg

†

Damiana (Turnera diffusa) (Leaf)

30 mg

†

Ashwagandha Extract (Withania somnifera) (Root)

20 mg

†
Other Ingredients:
Cellulose (capsule), Silica and Stearic Acid (vegetable source).
Not manufactured with yeast, wheat, gluten, soy, milk, egg, fish, shellfish or tree nut ingredients. Produced in a GMP facility that processes other ingredients containing these allergens.
No customer reviews for the moment.