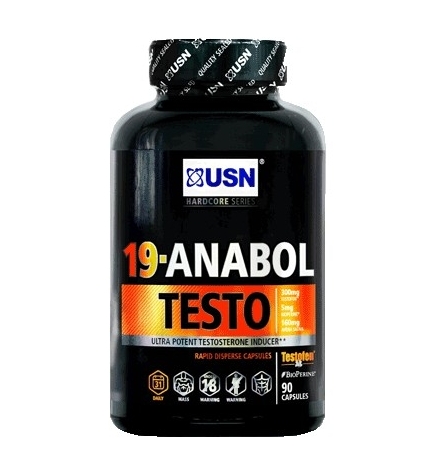 USN 19 - Anabol Testo 180 capsules
2020-04-30
6009694862295
New product
USN 19 - Anabol Test-Mείγμα Eνισχυτικού Tεστοστερόνης
Τ0 19 Anabolo Testo της USN είναι ένα πολύ ισχυρό συμπλήρωμα ενίσχυση της παραγωγής τεστοστερόνης για να συμβάλει στην αύξηση της μέγιστης δύναμης. Έχει αποδειχθεί ότι η ενίσχυση των φυσιολογικών επιπέδων τεστοστερόνης μπορεί να συμβάλλει στην αύξηση της απόδοσης στον αθλητισμό. Το 19 Anabol Testo σε μορφή κάψουλας είναι επιστημονικά σχεδιασμένο για να σου παρέχει τα επίπεδα τεστοστερόνης τα οποία με τη σειρά τους μπορούν να υποστηρίξουν τη διατήρηση των επιπέδων αυτών.
Ποιά είναι τα οφέλη? 
Τα χαμηλά επίπεδα τεστοστερόνης μπορεί να έχουν αρνητικό αντίκτυπο στις προπονήσεις σου και ακολούθως δεν θα νιώθεις τα μέγιστα οφέλη από το πρόγραμμα προπόνησης σου. 
Αυτό το ισχυρό συμπλήρωμα τεστοστερόνης μπορεί να σε επωφελήσει ως εξής: 
Υποστηρίζει τη διατήρηση των επιπέδων τεστοστερόνης 

Μπορεί να υποστηρίξει την αυξημένη απόδοση 
Οδηγίες Χρήσης:
Καταναλώστε 3-4 κάψουλες, 2 φορές την ημέρα.
Πάρτε μια μερίδα 30 λεπτά πριν την προπόνηση και άλλη μία μερίδα πριν τον ύπνο.
Τηρείστε μία χρήση πέντε (5) ημερών με τις επόμενες δύο (2) ημέρες παύση για οκτώ (8) εβδομάδες, ακολουθούμενη από ένα διάλειμμα δύο εβδομάδων.
USN 19 - Anabol Test
What is 19 Anabol Testo? 
It has been shown that boosting your natural testosterone levels can result in an increased training performance; our USN 19 Anabol Testo Capsules are scientifically designed to provide you with a testosterone supplement which in turn can support the maintenance of your testosterone levels.
What are the benefits?
Low levels of testosterone can have a negative impact on your training and subsequently you won't feel the maximum benefits from your exercise regime making this testosterone supplement ideal for working towards your training targets.
A powerful supplement from the Hardcore Series, the USN 19 Anabol Testo can offer the following benefits: 
Supports the maintenance of your testosterone levels

Can support increased performance
Directions :
Take 3 to 4 capsules once to twice daily.
Take one serving 30 minutes before you workout & another serving before bedtime.
Adhere to a five-days-on/two -days-off regimen for eight weeks followed by a two-week break.
No customer reviews for the moment.