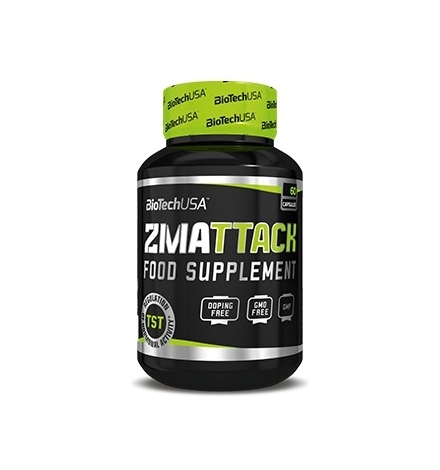 Biotech USA ZMAttack 60 Caps
2022-05-30
5999076212200
New product
Biotech USA ZMAttack 60 Caps 
Ορμόνες Εν Δράση
Ανά δόση (1 κάψουλα):
►2 mg βιταμίνης Β6
►450 mg ασπαρτικού μαγνησίου
►15 mg γλυκονικού ψευδαργύρου (γλυκονικός ψευδάργυρος)
Το ZMAttack αποτελείται από ψευδάργυρο, μαγνήσιο και βιταμίνη Β6,τα οποία ελέγχουν με φυσικό τρόπο τα επίπεδα της τεστοστερόνης και βελτιστοποιούν την λειτουργία των ορμονών και του ανοσοποιητικού συστήματος.
Σας προτείνουμε το ZMAttack εάν:
►Είστε πάνω από την ηλικία των 30 ετών, με σκοπό να βοηθήσει στη ρύθμιση των επιπέδων τεστοστερόνης.
►Να εξομαλύνει την ορμονική δραστηριότητα πριν κάνετε οποιοδήποτε άθλημα.
►Πριν τον ύπνο, συμβάλοντας στην ανάκαμψη
Όπως όλα τα προϊόντα της BioTechUSA, έτσι και το ZMAttack αποτελείται από ασφαλή και προσεκτικά επιλεγμένα υλικά.
Οδηγίες Χρήσης:
Πάρτε 1 κάψουλa ημερησίως 30 λεπτά πριν την προπόνηση και πριν τον ύπνο, τις ημέρες ξεκούρασης.
_________________________________
Biotech USA ZMAttack 60 Caps 
Per serving (1 capsule):
►2 mg vitamin B6
►450 mg magnesium aspartate
►15 mg zinc gluconate (from zinc gluconate source)
For men, it is particularly important to optimise and maintain appropriate testosterone levels. Over the age of 30, you also need to pay regular attention to that in order to achieve your fitness goals. You should use synergistic products with natural active ingredients such as BioTechUSA's ZMAttack supplement.
The product's vitamin B6 content contributes to the normal functioning of the immune system and it regulates hormonal activity.
Zinc contributes to maintaining normal testosterone levels in the blood and it also normalises protein synthesis. The organic active ingredients of ZMAttack offer better absorption and the product can be generally used by athletes as well as men with an active lifestyle.
Directions:
Take 1 capsule daily 30 minutes before workout and before bedtime on rest days.
Supplements Facts
Serving Size: 1 Capsule
Serving Per Container: 60
| | | |
| --- | --- | --- |
| | Per 1 Softgel | NRV*% Per 1 Softgel |
| Vitamin B6 | 2mg | 143% |
| Magnesium Aspartate | 450mg | *** |
| Zinc | 15mg | 150% |
Ingredients:
Magnesium aspartate, maltodextrin, capsule shell [gelatin, purified water,colours (titanium dioxide, iron oxide black)], zinc gluconate, pyridoxine hydrochloride.Made in a plant that also manufactures milk, soy, egg and mustard containing foods.
No customer reviews for the moment.