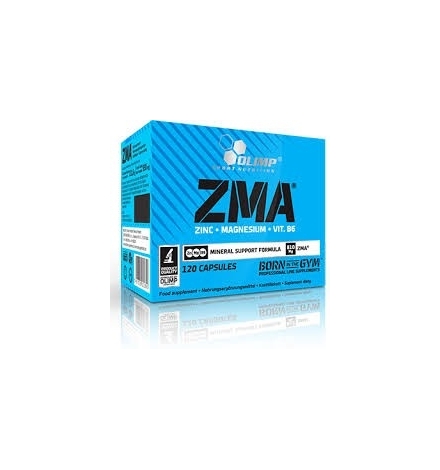 Olimp ZMA® 120 Capsules
2018-12-31
5901330022890
New product
Olimp Sports Nutrition ZMA 120 Capsules 
Το ZMA της Olimp Sports Nutrition αποτελεί ένα μοναδικό συνδυασμό συστατικών μαγνησίου και ψευδάργυρου, ενισχυμένα με αμινοξέα και την πολύτιμη βιταμίνη Β6.
Τα συστατικά του ΖΜΑ βοηθούν σημαντικά στην αποκατάσταση της κούρασης που δημιουργείτε από την έντονη άσκηση, την μειωμένη όρεξη, τους τραυματισμούς καθώς και το γνωστό οξειδωτικό στρες.
Το ΖΜΑ συνεισφέρει στην αύξηση των επιπέδων και λειτουργίας της τεστοστερόνης καθώς και στην αύξηση των επιπέδων του IGF-I και της λεπτίνης τα οποία είναι υπεύθυνα για την σωστή κατανομή της ενέργειας, της δύναμης και της ενίσχυσης της φυσικής κατάστασης. 
Το ΖΜΑ αποτρέπει τον καταβολισμό των πρωτεϊνών στους μύες, ενισχύει την αύξηση όγκου στους μυς, αποτρέπει τις μυϊκές κράμπες και μειώνει τους πόνους από την υπέρ προπόνηση. Επιπλέον βοηθάει στην ανάπλαση των μυών, στην συγκέντρωση και προσφέρει έναν βαθύ και ξεκούραστο ύπνο.
Οδηγίες Χρήσης :
Ως συμπλήρωμα διατροφής, οι άνδρες λάβετε 3 κάψουλες (οι γυναίκες λάβετε 2 κάψουλες) καθημερινά, κατά προτίμηση με άδειο στομάχι, 30 - 60 λεπτά πριν την κατάκλιση.
Αποφύγετε να το λάβετε με γαλακτοκομικά προϊόντα.
Olimp Sports Nutrition ZMA 120 Capsules 
OLIMP ZMA is a product containing a unique system of elements – zinc and magnesium - chelated with amino acids, and vitamin B6. It is a natural non-steroid anabolic and antioxidant formula. Individual substances contained in the product are essential for everyday protection of the body against adverse effects of overtaxing, related to intense physical exercise, the lack of appetite, traumas, and so-called oxidative stress. OLIMP ZMA contributes to the increase of the level and activity of testosterone and increases the level of IGF-I and leptin which are responsible for better use of energy and for enhancing the endurance and strength of the body. The product reduces protein catabolism, supports the building of muscle mass, prevents muscle cramps, and alleviates pain associated with overtraining. It counteracts the adverse effects of overtraining, supports regeneration of the body, and prevents the occurrence of oxidative stress. Moreover, it improves concentration and contributes to deep relaxing sleep. The requirements for elements and vitamin B6 which are OLIMP ZMA ingredients increases along with the increase in physical activity.
OLIMP ZMA is recommended for athletes practicing any sports disciplines and for physically active people. 
Directions :
Men: 3 capsules a day, women: 2 capsules a day, 30-60 minutes before bedtime.
For best results, avoid taking foods or supplements containing high amounts of calcium.
No customer reviews for the moment.