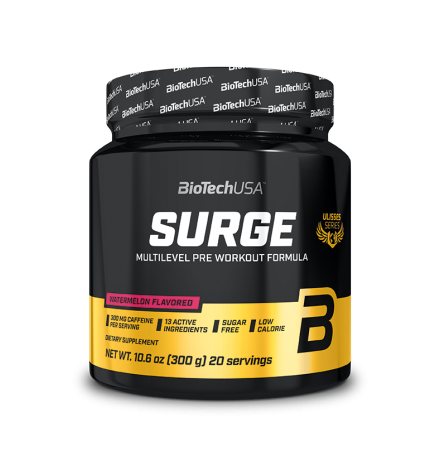 BioTech USA Ulisses Surge Multilevel Pre Workout Formula 300g
0000-00-00
New product
BioTech USA Ulisses Surge Multilevel Pre Workout Formula 300g
ULISSES Ο# 1 FITNESS ICON ΣΤΗΝ ΓΕΝΙΑ ΜΑΣ
Ο Ulisses εμπνέει εκατομμύρια ανθρώπους να επιτύχουν τους στόχους τους. Κατά τη διάρκεια των 20 χρόνων που ασχολείται με το bodybuilding, ο Ulisses κατόρθωσε να οικοδομήσει μια απίστευτα αρμονική αλλά και τεράστια ποσότητα μυών. Αυτός είναι ο λόγος για τον οποίο πολλές διασημότητες τον ζητούν να τους βοηθήσει να φτάσουν σε τέλεια φόρμα. Ήρθε η ώρα να είστε επίσης μέρος αυτής της γνώσης. Μαζί με την BioTechUSA, η Ulisses δημιούργησε το Surge, το προ-προπόνηση της σειράς Ulisses, το οποίο συνδυάζει την εμπειρία του αθλητή στο bodybuilding και τις επαγγελματικές δεξιότητες του premium brand που αποκτήθηκε στον τομέα των συμπληρωμάτων διατροφής.
Ο ULISSES- ΔΗΜΙΟΥΡΓΟΣ ΤΟΥ  SURGE
"Κάθε προπόνηση είναι μια ευκαιρία για σας να δείξετε την αξία σας Αφήστε τη ζώνη άνεσής σας και να κάνετε το καλύτερό σας! Οι προπονήσεις, η συνεχής προετοιμασία και η επίμονη δουλειά μου προκαλούσαν και εγώ και χρειάστηκα όλη μου τη θέληση για επιτυχία. για να δημιουργήσετε μια φόρμουλα πριν από την προπόνηση που θα σας βοηθήσει να αναλάβετε τις προπονήσεις σας με το υψηλότερο επίπεδο δέσμευσης και κίνητρο, ώστε κανένας και τίποτα να μην με εμποδίσει να κάνω τους στόχους μου! "- Ulisses Jr.
Γιατί το Surge?
περιέχει 13 ενεργά συστατικά
με 3,6 γρ L-Κιτρουλίνη D,L-Μηλική 
με 1 γρ L-Αργινίνης Άλφα - κετογλουταρικού
με 1γρ Ταυρίνης 
με 300 mg καφεϊνης ανά δόση
με 2,5 g μονοϋδρικής κρεατίνης
με 500 mg L-Τυροσίνης
με 1γρ Βηταϊνης 
με 500 mg Χολίνης 
με 1,6 g Βήτα Αλανίνης
με βιταμίνες
χωρίς ζάχαρη. 
ΕΝΕΡΓΑ ΣΥΣΤΑΤΙΚΑ ΣΤΟ  SURGE
13 δραστικές ουσίες για την υποστήριξη των ακραίων στόχων σας.
Το Surge είναι ένας περίπλοκος τύπος βασισμένος σε διάφορους τύπους δραστικών συστατικών. Ανάμειξη φόρμουλα νιτρικών, κρεατίνη μικρονισμένη, μείγμα διεγερτικών και σύμπλεγμα βιταμινών. Αλλά ο κατάλογος δεν τελειώνει εδώ, διότι η χολίνη και η βηταΐνη HCl είναι επίσης βασικά μέρη της σύνθεσης.
Το μείγμα Νιτρικών  έχει επίσης εξαιρετική L-κιτρουλλίνη-μηλική, AAKG και β-αλανίνη, καθώς θα ήταν δύσκολο να φανταστεί κανείς μια φόρμουλα πριν από την προπόνηση χωρίς αυτά! Η κρεατίνη δεν χρειάζεται εισαγωγή, αλλά ανήκει και σε αυτό το προϊόν.
Το όνομα Stimulant Blend υπόσχεται πολλά και δεν θα απογοητευτείτε, καθώς εκτός από τα 300 mg καφεΐνης, τα αμινοξέα ταυρίνης και τυροσίνης κάνουν επίσης τη δουλειά τους. Το σύμπλεγμα βιταμινών αποτελεί σημαντικό μέρος της σύνθεσης του προϊόντος, στο οποίο η βιταμίνη C, η νιασίνη, το παντοθενικό οξύ και η βιταμίνη Β6 συμμετέχουν στις κανονικές μεταβολικές διεργασίες παραγωγής ενέργειας και μπορούν να συμβάλουν στη μείωση της κόπωσης και της εξάντλησης. Η περιεκτικότητα του προϊόντος στο Βιταμίνη C συμβάλλει στην προστασία των κυττάρων από το οξειδωτικό στρες και συμβάλλει στη διατήρηση της φυσιολογικής ψυχολογικής λειτουργίας.
Οδηγίες Χρήσης: 
Αναμείξτε 1 μερίδα (15g = 1 μεζούρα= 2 γεμάτες  κουταλίες) σκόνης με 400 ml νερού.
Xρησιμοποιήστε ένα σέικερ για την παρασκευή.
Πάρτε 1 μερίδα την ημέρα, 15 λεπτά πριν από την προπόνηση σας.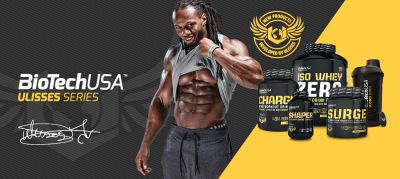 BioTech USA Ulisses Surge Multilevel Pre Workout Formula 300g
ULISSES THE #1 FITNESS ICON IN OUR GENERATION
Ulisses inspires millions of people to reach their goals. During the 20 years he has been active in bodybuilding, Ulisses managed to build an incredibly harmonious yet massive amount of muscle. This is why many celebrities ask him to help them reach a perfect shape. The time has come for you to be also partaking of this knowledge. Together with BioTechUSA Ulisses created Surge, the pre-workout formula of the Ulisses Series, which combines the sportman's experience in bodybuilding and the professional skills of the premium brand acquired in the field of dietary supplements.
ULISSES ON THE CREATION OF SURGE
"Every workout is an opportunity for you to show your worth. Leave your comfort zone and do your best! The workouts, the constant preparation and persistent work often challenged me, too, and I needed all my willpower for the success. Our aim was to create a pre-workout formula that will help you take on your workouts with the highest level of commitment and motivation, so that no one and nothing would prevent me on my way to accomplishing my targets!"       Ulisses
Why is Surge recommended to you?
contains 13 active substances
with 3600 mg  L-citrullin D,L-Malate 
with 1000 mg L-Arginine Alpha- Ketoglutarate 
with 1000 mg Taurine 
with 300 mg caffeine content per serving
with 2500 mg creatine monohydrate
with 500 mg L-Tyrosine
with 1000 mg Betain 
with 500 mg Choline
with 1600 mg Beta - alanine
with vitamins
sugar-free
MORE ON THE ACTIVE SUBSTANCES OF SURGE
Surge is a complex formula with 13 active substances, like the L-Citrullin-malate and the L-Arginin Alfa-Ketoglutarate, whose L-arginin amino acid content is the base material of nitrogene-monoxid! It would be difficult to imagine a pre-workout formula without these!
The beverage moreover contains taurine, L-tyrozine, creatine, CarnoSyn® Beta-Alanine, betaine and choline, and in addition, it also contains 300 mg caffeine per serving. These together ensure that you will not be disappointed in Surge!
Naturally, the vitamins are present, as well!
Vitamin C, niacin, panthotenic acid and Vitamin B6 take part in regular energy-producing metabolic processes, furthermore, they may contribute to the reduction of fatigue and exhaustion.
Vitamin C content of the product contributes to the protection of cells against oxidative stress and contributes to the maintenance of normal psychological functioning.
CarnoSyn® is the registered trademark of Natural Alternatives International (NAI)  (www.carnosyn.com).
Recommended Use:
Mix 1 serving (1 scoop= 15g= 2 level tablespoons) with 400ml water in a shaker bootle. 
Consume 1 serving per day, 15 minutes before your workout, or use as directed by a healthcare professional.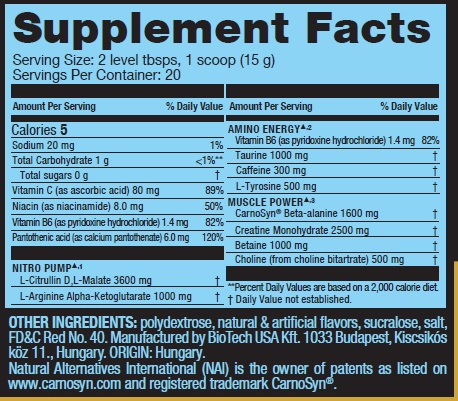 No customer reviews for the moment.