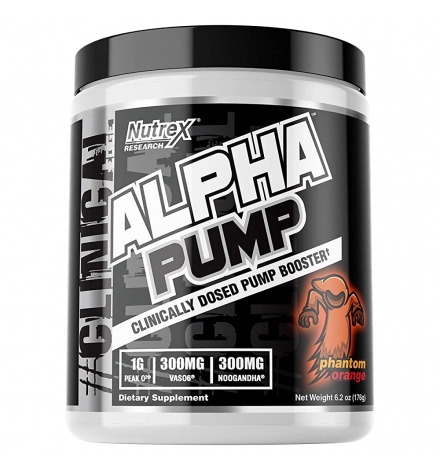 Nutrex Alpha Pump booster 176 grams
0000-00-00
New product
Nutrex Alpha Pump Stimulant-Free Pump Booster - Προ-Εξασκητική φόρμουλα Χωρίς διεγερτικά
Το ALPHA PUMP™ είναι μια ισχυρή Προ-Εξασκητική φόρμουλα. Οι δοσολογίες και τα συστατικά του, βοηθούν να εμπλουτίσουν τους μυς σας και να δώσουν μια αυξημένη κατάσταση πνευματικής εστίασης, ώστε να μπορείτε πραγματικά να αποδώσετε το μέγιστο
Τα συστατικά του Nutrex Alpha Pump
Η Nutrex, μας έχει παραδώσει μία μοναδική φόρμουλα με 5 μόνο συστατικά - που εντούτις και τα 5 αυτά συστατικά είναι είτε κατοχυρωμένα με δίπλωμα ευρεσιτεχνίας είτε με εμπορικά σήματα κλινικά ελεγμένα! Με άλλα λόγια, όλα μα όλα τα συστατικά είναι "κλινικά αποδεδειγμένα" και η επιστήμη τα επιβεβαιώνει !είναι όλα παντεταρισμένα!
PeakO2Ⓡ ένα προϊόν από την Compound Solutions που συνδυάζει 6 από τα πιο ισχυρά φαρμακευτικά μανιτάρια, αναπτύσεται ραγδαία και γίνεται όλο και πιό δημοφιλείς αυτές τις μέρες, μα για καλό λόγο!
Μεγάλο μέρος της δύναμης του σχεδιάστηκε από το Cordyceps militaris (Cordyceps). Το Κόρντισεπς, δίνει ώθησή στη ροή του αίματος αυξάνοντας την παραγωγή ΝΟ, χαμηλώνει τον καρδιακό ρυθμό, βελτιώνει την παροχή οξυγόνου προς τους ιστούς και ενισχύει την ενεργητικότητα. Επίσης χρησιμοποιείται στην παραδοσιακή κινέζικη ιατρική για διάφορες καρδιακές, αναπνευστικές, και ηπατικές ασθένειες, ως τονωτικό για την αντιμετώπιση της κόπωσης και για την άνοδο των επιπέδων τεστοστερόνης.
Εκχύλισμα πράσινου τσαγιού (φύλλο) (ως VASO6Ⓡ) - 300mg
Το VASO6Ⓡ είναι ένα εκχύλισμα αποτελούμενο από 6 διαφορετικές ενώσεις που βρίσκονται στα φύλλα πράσινου τσαγιού και μπορεί να είναι μόνο μία από τις καλύτερες, πιο έντονες NO ενισχύσεις που έχουμε!
Τεχνικά μιλώντας, το VASO6 είναι ένα ιδιόκτητο ολιγομερές ενισχυμένο με γαλλικό άλας που αποτελείται από διμερή, τριμερή, τετραμερή και πενταμερή που προέρχονται από το πράσινο τσάι που τεκμηριώνεται με έρευνες ότι προκαλεί ενδοθηλιακή χαλάρωση και να διεγείρει την παραγωγή νιτρικού οξειδίου. Η παραγωγή νιτρικού οξειδίου συνδέεται με την ηρεμία και τη διεύρυνση των αρτηριών.
Το VASO6 , ουσιαστικά, είναι ένα εξαιρετικά μοναδικό εκχύλισμα πράσινου τσαγιού που περιέχει μόνο εκείνα τα κλάσματα που παρουσιάζουν την υψηλότερη δραστικότητα αγγειοχαλάρωσης.
Το VASO6 αντιπροσωπεύει την κορυφαία αγγειοδιασταλτική G6. Το αποτέλεσμα του G6 είναι μια αύξηση τόσο της αγγειοδιαστολής όσο και της αγγειοχαλάρωση, δίδοντας μεγαλύτερη ροή αίματος, θρεπτικών συστατικών, και παροχής οξυγόνου μαζί με μια μείωση της αρτηριακής πίεσης. Η FYI, αργινίνη (ένα από τα παλαιότερα συμπληρώματα αύξησης NO που κυκλοφορεί στην αγορά) έχει ως αποτέλεσμα μόνο αγγειοδιαστολή 5%.
GlycerSize ™ - σκόνη γλυκερόλης (65%) - 1 g
Ενώ το GlycerSize ™ ίσως να μην σας φαίνεται οικείο, εντούτις όλοι γνωρίζετε το GlycerPump που απλά μόλις πρόσφατα μετονομάστηκε! Παρά την αλλαγή ονόματος, το συστατικό αυτό εξακολουθεί να παρέχει την ίδια γεμάτη γροθιά γλυκερόλης που όλοι γνωρίζουμε και αγαπάμε!
NooGandhaⓇ (οργανικό εκχύλισμα ασβαγκάντα) - 300mg
Μείωση κορτιζόλης,
βελτιστοποίηση ορμονών ,
βελτίωση της αντοχής,
μείωση της κόπωσης,
τη βελτίωση της σύστασης του σώματος, και.
βελτίωση της γνωστικής λειτουργίας και της ψυχικής κατάστασης.
Το ALPHA PUMP™ περιέχει δύο φυσικά μεταλλικά στοιχεία - κάλιο (530mg) και νάτριο (110mg). Οι δύο ηλεκτρολύτες αλληλοσυνδέονται - η έρευνα έχει δείξει ότι μπορούν να εξισορροπήσουν την ενυδάτωση και να ρυθμίσουν τις μυϊκές συσπάσεις, με το κάλιο ειδικά να δείχνει την ικανότητα να μειώνει την αρτηριακή πίεση. Αυτοί οι ηλεκτρολύτες είναι εξαιρετικά σημαντικοί όσον αφορά τη γενική υγεία, πόσο μάλλον όταν πρόκειται για κάποιον που γυμνάζεται. Ωστόσο, αξίζει να αναφέρουμε δόσεις τόσο μεγάλες όσο αυτό που έχουμε εδώ (σοβαρά, 530mg κάλιο είναι αξιοσημείωτο!).
S7 (εκχύλισμα πράσινου κόκκου καφέ, εκχύλισμα πράσινου τσαγιού, εκχύλισμα κουρκουμά, ξινά κεράσια, βακκίνιο, μπρόκολο και το λάχανο κέιλ): Ενισχυμένη ενέργεια και εστίαση. Το S7 είναι το νέο πατενταρισμένο συστατικό της FutureCeuticals, Inc. Ένας ακριβής συνδυασμός επτά φυτικών συστατικών που έχουν αποδειχθεί ότι αυξάνουν τα επίπεδα νιτρικού οξειδίου (NO) κατά 230%. Και πρέπει να σημειωθεί ότι η αύξηση παρατηρήθηκε σε πραγματικές δοκιμές με ανθρώπους.
Οδηγίες Χρήσης :
Ανακινήστε το δοχείο πριν από κάθε χρήση.
Αναμίξτε 1 σέσουλα σε 8-10 oz κρύου νερού και πίνετε 30 λεπτά πριν από την άσκηση.
Το ALPHA PUMP ™ μπορεί επίσης να λαμβάνεται και τις ημέρες μη-άσκησης, καθώς η καθημερινή χρήση του θα βελτιώσει περαιτέρω τη συνολική αποτελεσματικότητα του.
____________________________________
Nutrex Alpha Pump Stimulant-Free Pump Booster
ALPHA PUMP is the ultimate pump & performance booster. Clinical dosages of powerful pump, performance and nootropic ingredients help to engorge your muscles with a skin-splitting pump, unreal vascularity, more power and deliver a heightened state of mental focus so you can truly hit new records while seeing your personal best in the mirror as well!

If you are looking for a superhuman pump, ALPHA PUMP is your ticket. Just mix up 1 scoop in water 30 minutes before you hit the gym and ready yourself for an awesome experience. With every set and rep your muscles will expand further beyond what you normally see, and veins start popping up everywhere. ALPHA PUMP is not your ordinary pump and nitric oxide booster, it's way stronger, better and advanced. Experience the difference of a truly clinically dosed ingredient profile!
The Nutrex Alpha Pump Ingredients
Nutrex has now delivered on quite a unique, stackable stim-free pre workout. This is a relatively "small" label, utilizing only 5 ingredients. However, Nutrex isn't pulling any punches – all 5 of them are either patented or trademarked clinically-tested ingredients! In other words, this entire label is "proven", and the science backs it up!
PeakO2Ⓡ a product from Compound Solutions that combines 6 of the most powerful medicinal mushrooms, is growing increasingly popular these days, and for good reason! Drawing much of its power from Cordyceps militaris (Cordyceps), this ingredient has been shown to maximize power output, improve oxygen uptake, and increase endurance!
What are the benefits of Peak O2?
So, what the makers of Peak O2 are claiming is that it can:
Improve VO2 max

Improve time to exhaustion

Improve power output

Improve ventilatory threshold

Improve work out capacity
Green Tea Extract (leaf) (as VASO6Ⓡ) – 300mg
If you were starting to wonder where the nitric oxide (NO) production boosts were in Alpha Pump, don't worry – Nutrex didn't forget about them! VASO6Ⓡ from Compound Solutions is an extract composed of 6 different compounds found in green tea leaves, and may just be one of the best, most intense NO boosters we have!
Technically speaking, VASO6 is a proprietary gallate-enhanced oligomer comprised of dimers, trimers, tetramers and pentamers derived from green tea documened to induce endothelial relaxation and stimulate nitric oxide production.
For those of you who have absolutely no idea what the vast majority of that sentence means, VASO6 is essentially an extremely unique extract of green tea containing only those fractions that demonstrate the highest vasorelaxation activity.
As you probably know, green tea contains a plethora of phytochemicals and amino acids, such as EGCG, epicatechin, and L-theanine. But it also contains numerous other compounds that induce nitric oxide production and relaxation of blood vessels.
During the development of VASO6, David Fitzpatrick isolated the peak fraction in grape seed that exhibited the highest amount of endothelial-dependant relaxation activity. That fraction was known as peak G6.
Therefore, VASO6 stands for for vasorelaxant peak G6.
The compounds present in VASO6 have been documented in vitro to exhibit endothelium-dependent relaxation (EDR) activity, meaning they cause a relaxation or "loosening up" of blood vessels. The end result is an increase in both vasodilation and vasorelaxation, yielding greater blood flow, nutrient, and oxygen delivery along with a reduction in blood pressure. FYI, arginine (one of the oldest NO-boosting supplements on the market) only results in 5% vasodilation.
What are the Benefits of VASO6 for Exercise Performance?
Increased blood flow.
Enhanced oxygen and nutrient delivery.
Powerful muscle pumps.
Reduced fatigue.
Boosts performance and stamina.
Decreases blood pressure.
Supports cardiovascular health.
GlycerSize™️ Glycerol Powder (65%) – 1g
While GlycerSize™️ may not look familiar, you've likely seen it before – this patented glycerol formula comes from Pinnacle Ingredients, and was just recently re-named! That's right, what was formerly known as GlycerPump is now GlycerSize™️. Despite the name change, this ingredient still packs the same glycerol-powered punch we've all come to know and love!
NooGandhaⓇ (organic ashwagandha root extract) – 300mg
Reduce cortisol,
optimize hormones,
improve strength,
decrease fatigue,
improve body composition, and.
improve cognition and mental state.
S7 (Green Coffee Bean Extract, Green Tea Extract, Turmeric Extract, Tart Cherry, Blueberry, Broccoli, Kale): Enhanced energy and focus blend.
Natural minerals
No customer reviews for the moment.