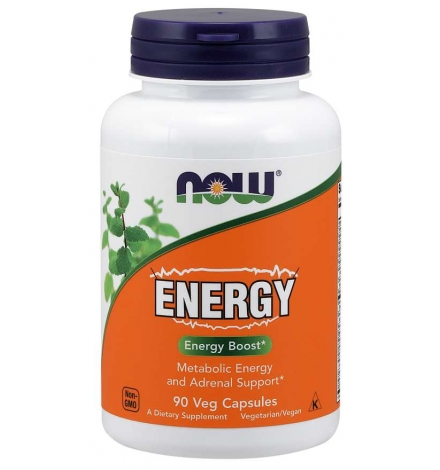 Now Foods Energy 90 Veg Capsules
2022-08-30
733739033260
New product
Now Foods Energy  90 Veg Capsules
Μεταβολική ενέργεια και υποστήριξη των επινεφριδίων
Το NOW® ENERGY συνδυάζει μια σειρά από θρεπτικά και διατροφικά συστατικά που ενισχύουν το σώμα σας με ενέργεια. Το Energy της Now βασίζεται σε φόρμουλα με συστατικά όπως βιταμίνες του συμπλέγματος Β, πράσινο τσάι, panax ginseng και rhodiola (ροδιόλα) με σκοπό την ενίσχυση της θερμογένεσης, της παραγωγής ενέργειας και τη λειτουργία των  επινεφριδίων. 
Τα επινεφρίδια είναι σημαντικοί αδένες του ενδοκρινικού συστήματος, βρίσκονται στην κορυφή των νεφρών και ρυθμίζουν σχεδόν όλες τις λειτουργίες του οργανισμού και πιο σημαντική το ανοσοποιητικό.
Αυτό το προϊόν έχει περίπου 64 mg φυσικής καφεΐνης ανά μερίδα (ισοδύναμο με περίπου 1/2 φλιτζάνι καφέ) ως συστατικό από το γκουαράνα, το yerba mate και το πράσινου τσάι που περιέχει η φόρμουλα.
Οδηγίες Χρήσης:
Πάρτε 2 κάψουλες ημερησίως όπως απαιτείται με 8-12 οz νερού.
___________________________________
Now Foods Energy  90 Veg Capsules
Metabolic Energy and Adrenal Support*
NOW® ENERGY combines a comprehensive array of nutrients and dietary ingredients to fill up your body with energy.* This product has been formulated with ingredients such as B vitamins, green tea, panax ginseng, and rhodiola to support thermogenesis, energy production, and adrenal function.* Caffeine is present in this product as a naturally occurring constituent of herbal ingredients such as guarana, yerba mate, and green tea.
This product has approx. 64 mg of natural caffeine per serving (equivalent to about 1/2 cup of coffee).
Natural color variation may occur in this product.
DIRECTIONS:
Take 2 capsules daily as needed with 8-12 oz. of water.
Supplements Facts
Serving Size:
2 Veg Capsules
Servings Per Container:
45
Amount per Serving
% Daily Value
† Daily Value not established.
Vitamin E (as d-alpha Tocopheryl Succinate)
10 mg
67%
Thiamin (Vitamin B-1) (from Thiamin HCl)
8 mg
667%
Riboflavin (Vitamin B-2)
10 mg
769%
Niacin (Vitamin B-3)
25 mg
156%
Vitamin B-6 (from Pyridoxine HCl)
10 mg
588%
Vitamin B-12 (as Cyanocobalamin)
100 mcg
4167%
Pantothenic Acid (from Calcium Pantothenate)
10 mg
200%
Iodine (from Organic Kelp) (Laminaria spp.)
   (Whole Plant)
150 mcg
100%
Chromium
   (from Chromium Nicotinate Glycinate) (TRAACS

®

)
200 mcg
571%
Potassium (from Potassium Aspartate)
55 mg
1%
Guarana Extract (Paullinia cupana)
   (Seed) (44 mg of naturally occurring caffeine)
200 mg
†
Green Tea Extract (Camellia sinensis) (Leaf)
   (up to 16 mg of naturally occurring caffeine)
200 mg
†
Panax Ginseng (Root)
150 mg
†
Organic Eleuthero (Eleutherococcus senticosus) (Root)
150 mg
†
Rhodiola Extract (Rhodiola rosea) (Root)
100 mg
†
Licorice (Glycyrrhiza glabra) (Root)
100 mg
†
Gotu Kola (Centella asiatica) (Aerial Parts)
100 mg
†
Yerba Mate Extract (llex paraguanensis) (Leaf)
   (4 mg of naturally occurring caffeine)
50 mg
†
Cayenne (Capsicum annuum) (Fruit)
50 mg
†
Alpha Lipoic Acid
15 mg
†
CoQ10 (Coenzyme Q10)
10 mg
†
Other Ingredients:  Hypromellose (cellulose capsule) and Magnesium Stearate (vegetable source). Vitamin E from non-GMO soy.
Not manufactured with wheat, gluten, milk, egg, fish, shellfish or tree nut ingredients. Produced in a GMP facility that processes other ingredients containing these allergens.
No customer reviews for the moment.