Bpi One More Rep 250g
2023-02-28
New product
One More Rep™  by BPI Sports
L-Κιτρουλίνη 3g / Φυσικά Παντζάρια 500mg /Χωρίς Θερμίδες
Θρυλική Απόδοση
Δύναμη & Αντοχή 
Αγγείωση των μυών & Πληρότητα 
Δεν περιέχει τεχνητά χρώματα
Σήμερα, οι ενημερωμένοι πελάτες επιθυμούν κάτι περισσότερο από ενέργεια. Το One More Rep περιέχει κλινικά μελετημένα συστατικά που θα σας βοηθήσουν στην καλύτερη απόδοση.
ΠΙΕΣΤΕ ΣΚΛΗΡΟΤΕΡΑ. ΠΡΟΠΟΝΗΘΕΙΤΕ ΠΕΡΙΣΣΟΤΕΡΟ. ΝΙΩΣΤΕ ΕΝΕΡΓΕΙΑ  
Πιέστε σκληρότερα. Προπονηθείτε περισσότερο. Το θρυλικό 1.M.R έχει εξελιχθεί στο ολοκαίνουργιο One More Rep.
ΕΝΤΟΝΗ ΕΝΕΡΓΕΙΑ & ΑΝΤΟΧΗ
Φτάστε αυτό το επιπλέον ρεκόρ - είτε είναι κάτι περισσότερο από το τελευταίο σας σετ ή κάτι παραπάνω από τον ανταγωνισμό σας.
ΤΟ ΠΡΟ-ΕΞΑΣΚΗΤΙΚΟ ΣΥΜΠΛΗΡΩΜΑ ΜΕ ΟΦΕΛΗ ΓΙΑ ΤΗΝ ΥΓΕΙΑ. 
Χάρη στο παντζάρι και τη βεταϊνη, το One More Rep υποστηρίζει την υγεία της καρδιάς και την πεπτική υγεία.
ΑΥΞΗΜΕΝΗ ΑΝΤΟΧΗ ΚΑΙ ΑΠΟΔΟΣΗ
Το παντζάρι περιέχει φυσικά νιτρικά που μπορούν να βελτιώσουν την αντοχή, την αγγείωση και την απόδοση.
ΑΝΑΡΡΩΣΤΕ ΓΡΗΓΟΡΟΤΕΡΑ ΑΠΟ ΤΙΣ ΠΡΟΠΟΝΗΣΕΙΣ
Με συστατικά της τάξης όπως το παντζάρια, η καρνιτίνη και η κιτρουλίνη, το One More Rep έχει σχεδιαστεί για να προωθεί την εστίαση, την αγγείωση, την αντοχή, τη δύναμη, την ανάκτηση, την ανάπτυξη των μυών και ακόμη και την καύση λίπους.
Οδηγείες Χρήσης:
Χρήση μόνο σε ημέρες εκπαίδευσης. Πάρτε ένα (1) σερβίρισμα (1 σέσουλα) σε 6-8 oz. κρύο νερό περίπου 15-30 λεπτά πριν από την προπόνηση.
Μην υπερβαίνετε μία δόση (1 κουταλάκι) ανά ημέρα προπόνησης.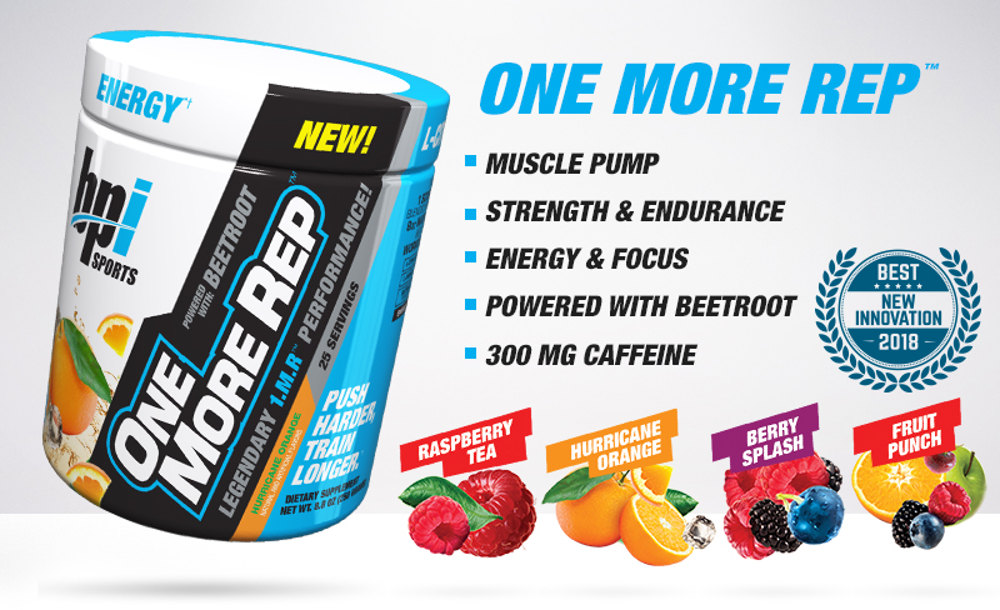 BPI One More Rep 250g
L-Citrulline 3g / Natural Beetroot 500mg /Calories Zero
Legendary Performance*†
Strength & Endurance*†
Muscle Pump & Fullness*†
No Artificial Colors
Today, informed customers want more than just energy. One More Rep contains clinically-studied ingredients that help you perform at your best.
PUSH HARDER. TRAIN LONGER. FEEL ENERGIZED.
Push harder. Train longer. The legendary 1.M.R has evolved into the brand new One More Rep.
INTENSE ENERGY & STAMINA
Hit that extra rep - whether it's one more than your last set or one more than your competition.
A PRE-WORKOUT WITH HEALTH BENEFITS
Thanks to beetroot and betaine, One More Rep supports heart health and digestive health.
INCREASED STRENGTH & PERFORMANCE
Beets naturally contain nitrates that may improve endurance, pump & performance.
RECOVER FASTER FROM WORKOUTS
With on-trend ingredients like beetroot, carnitine and citrulline, One More Rep is designed to promote focus, pump, endurance, strength, recovery, muscle growth and even fat burning.
COMMONLY ASKED QUESTIONS
WHAT IS ONE MORE REP?One More Rep is the evolution of our legendary pre-workout formula, 1.M.R.
CAN I STACK ONE MORE REP WITH OTHER PRODUCTS?
Yes. One More Rep does not contain creatine, so you can stack it with other creatine products or BCAAs.
WHAT MAKES ONE MORE REP UNIQUE?
While it still provides intense energy, the ingredients in One More Rep deliver a broader range of benefits.
WHY IS THE ONE MORE REP POWDER RED?The red color of the powder comes from the natural red color of beets. One More Rep contains no artificial colors.
Directions:
Use on training days only. Take one (1) serving (1 scoop) blended into 6-8 oz. of cold water approximately 15-30 minutes prior to training. Do not exceed 1 serving (1 scoop) per training day.
Supplements Facts:
1 Serving Size: 10 g
Amount Per
1 serving
100 g
%DV*
NiacinVitamin B3 as nicotinic acid
30 mg
300 mg
150%
Sodiumas Disodium phosphate
128 mg
1280 mg
**
L-Citrulline
3000 mg
30000 mg
**
L-Carnitine L-Tartrate
1000 mg
10000 mg
**
Beetrootpowder
500 mg
5000 mg
**
TrimethylglycineTMGas betaine anhydrous
500 mg
5000 mg
**
N-Acetyl-L-Cysteine
500 mg
5000 mg
**
Caffeine anhydrous
300 mg
3000 mg
**
Theobromine
50 mg
500 mg
**
Phosphatidylcholine
50 mg
500 mg
**
Himalayan pink salt
50 mg
500 mg
**
* Percentage of Daily Value per one full serving.
** Daily Value is not established.
Ingredients / Other Ingredients: Maltodextrin, natural and artifical flavors, citric acid, silica, malic acid, sucralose, and acesulfame K.
Info: Ingredients and their nutrition values are shown for product in Hurricane Orange flavor. Other flavors might have some differences.


No customer reviews for the moment.