Biotech USA Black Blood Caf+ 300g
0000-00-00
New product
Biotech USA Black Blood Caf+ 300g
Δοκίμασες όλους τους προ-εξασκητικούς ενισχυτές και κανείς δε δούλεψε; Θέλεις να δοκιμάσεις κάτι πραγματικά αποτελεσματικό; Κάτι που θα σου δώσει κίνητρο να σηκώσεις τα βάρη; Κάτι που θα σε κάνει να συγκεντρωθείς στην προπόνησή σου όπως ποτέ πριν; Πιες μια δόση του Black Blood CAF+ και σήκωσε τα πάντα!
Εμπνευσμένοι από την επιτυχία του Black Blood, οι ειδικοί της BioTechUSA μελέτησαν τις ανάγκες των καταναλωτών, ούτως ώστε να δημιουργήσουν δύο εναλλακτικά του σκληρού ενισχυτή. Προσοχή! Και οι δύο εκδόσεις έχουν ριζικό περιεχόμενο ενεργών συστατικών. Είναι στο χέρι σου το με ποια εκδοχή της απόδοσής σου θα ασκηθείς στο γυμναστήριο.
Είσαι προετοιμασμένος να μπεις στην ομάδα των ανίκητων;
Λόγω της περιεκτικότητας των 400 mg καφεΐνης, το Black Blood CAF+ προτείνεται για αυτούς που δε φοβούνται να ξυπνήσουν το τέρας μέσα τους.
Ακόμα και η περιεκτικότητα του Black Blood CAF+ διαφέρει από τους συνηθισμένους προ-προπονητικούς ενισχυτές. Είναι ένα παχύρρευστο ρόφημα σαν πίσσα, με γιγαντιαίες δόσεις από το οτιδήποτε χρειάζεσαι για μια τέλεια προπόνηση. Μπορεί να μην έχεις ξαναδεί αυτά τα ενεργά συστατικά σε τέτοιο συνδυασμό και ποσότητα ξανά.
Το προϊόν έχει σχεδιαστεί ειδικά γι αυτούς που το σώμα τους έχει ήδη συνηθίσει το συνηθισμένο, γι αυτούς που το μεγάλο καθημερινό τους στρες κάνει δύσκολο το να ξεχάσουν ανησυχίες και προβλήματα, και γι'αυτούς που χάνουν το κίνητρο και την επιθυμία τους για τα βάρη.
Το Black Blood CAF+ ξαναφέρνει τη φωτιά που σε κάνει να δουλεύεις σκληρότερα και σκληρότερα, αλλά και να το επαναλαμβάνεις. Δε θα υπάρχουν συνομιλίες, ούτε άραγμα εδώ κι εκεί στο γυμναστήριο. Μόνο μπάρες και βάρη, δύναμη, απόδοση, συγκέντρωση και βελτίωση.
Το Black Blood CAF+ είναι μια σύνθετη φόρμουλα υψηλής καφεΐνης με ενεργά συστατικά, σχεδιασμένη προκειμένου να συντελέσει στην παραγωγή του νιτρικού οξειδίου και της καρνοσίνης. Η περιεκτικότητα σε μαγνήσιο, νιασίνη και βιταμίνη Β6 συντελούν στις φυσιολογικές διεργασίες της απόδοσης παραγωγής του μεταβολισμού, αλλά και στην ελάττωση της κούρασης και της κόπωσης.
Επίσης, η βιταμίνη Β6 συντελεί στο φυσιολογικό μεταβολισμό πρωτεϊνών και γλυκογόνου, ενώ το μαγνήσιο συντελεί στη φυσιολογική λειτουργία των μυών. Ο ψευδάργυρος συντελεί στο φυσιολογικό μεταβολισμό των λιπαρών οξέων και της φυσιολογικής σύνθεσης της πρωτεΐνης, αλλά και στη διατήρηση φυσιολογικών επιπέδων τεστοστερόνης στο αίμα.
Κάθε μερίδα 10γρ:
6.300 mg σύμπλεγμα NOX

2.100 mg Άλφα Κετογλουταρική (AKG) L-αργινίνη

2.100 mg L-μηλική κιτρουλίνη

2.100 mg Βήτα-αλανίνη

400 mg Μείγμα Καφεΐνης

383 mg καφεΐνης 

17 mg καφεΐνης από εκχύλισμα μαύρου τσαγιού

Σύμπλεγμα ZMB

185 mg μαγνήσιο

12 mg ψευδάργυρο

1,5 mg βιταμίνη Β6

7,9 mg νιασίνη
Για ποιους προτείνεται το Black Blood CAF+;
σκληροπυρηνικούς αθλητές σωματικής διάπλασης

αθλητές κατά την περίοδο γράμμωσης

αθλητές μάχης

για αυτούς που θέλουν ένα προ-εξασκητικό συμπλήρωμα, χωρίς υδατάνθρακες και κρεατίνη

για αυτούς που προτιμούν συμπληρώματα σε σκόνη

να έχουν ένα συμπλήρωμα για μια διατροφή γράμμωσης
Όπως όλα τα προϊόντα της BioTech USA, το Black Blood CAF+ αποτελείται από ασφαλή και προσεχτικά ελεγμένα συστατικά.
Οδηγίες Χρήσης:
Ανάμειξτε 1 δόση (10 g = 2 κουτάλια μέτρησης) σκόνης με 250 ml νερού.
Κατανάλωσε 15 λεπτά πριν την προπόνηση.
*Μπορείτε να πάρετε 1 δόση, 15 λεπτά πριν απο την προπόνηση και 1 δόση κατά την διάρκεια της άσκησης!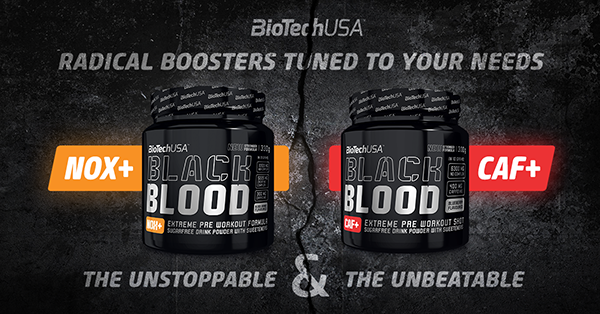 Biotech USA Black Blood Caf+ 300g
You've tried all the pre-workout boosters and none of them seemed to work? Do you want to try something really effective? Something that makes you motivated again to tear those weights apart? Something to make you concentrate on training like never before? Drink up a shot of Black Blood CAF+ and hit the iron!
Inspired by the success of Black Blood, the experts of BioTechUSA studied consumers' needs to create two alternatives to the tough booster. Warning! Both versions have radical active ingredient content. It's up to you which side of your performance to storm the gym with.
Are you prepared to join the league of the unbeatable?
Due to a caffeine content of 400 mg, Black Blood CAF+ is recommended to those who are not afraid to wake up the monster inside.
Even the consistency of Black Blood CAF+ differs from the usual pre-workout boosters. It's a thick, pitch-like drink, with giant doses of everything you need for a great workout. You may never have seen these active ingredients in such a combination and quantity before. This product was specifically designed for those whose body has already got used to the average, whose great daily stress make it hard for them to forget about worries and troubles, and those who are losing their motivation and attraction to weights. Black Blood CAF+ brings back the fire that makes you work out harder and harder, and go and do it all over again. There will be no chatting, no hanging around in the gym. Only the bars and weights, power, performance, concentration and improvement.
Black Blood CAF+ is a complex high-caffeine formula with active ingredients designed to contribute to the production of nitrogen monoxide and carnosine. Magnesium, niacin and vitamin B6 content contribute to normal energy-yielding metabolic processes, as well as to reducing tiredness and fatigue. Vitamin B6 contributes to normal protein and glycogen metabolism, magnesium contributes to normal muscle function, zinc contributes to the normal metabolism of fatty acids and normal protein synthesis, as well as to maintaining normal testosterone levels in blood.
Serving size (10 grams):
6,300 mg NOX Complex

2,100 mg L-arginine AKG

2,100 mg L-citrulline malate

2,100 mg Beta-alanine

400 mg Black Caffeine Matrix

383 mg water-free caffeine

17 mg caffeine from black tea extract

ZMB Complex

192 mg magnesium

12 mg zinc

1.5 mg vitamin B6

8 mg niacin
Who is Black Blood CAF+ recommended to?
Hardcore bodybuilders athletes during the ripping period combat athletes those who want a carb-free pre-workout supplement those who prefer powder supplements also to supplement a ripping diet .
Like all BioTech USA products, Black Blood CAF+ consists of safe and carefully selected ingredients. 
Nutrition Facts| Serving Size: 5g| Daily Amount : 2 Servings | Serving Per Container: 60 Servings
100g
RI**(100g)
5g
Energy
220kJ/52kcal
3%
11kJ/3kcal

Fat

-Of which saturates

0g

0g

0%

0%

0g

0g

Carbohydrates

-Of which sugars

12g

2.5g

5%

3%

0.6g

<0.5g

Protein
0g
0%
0g
Salt
0.48g
8%
0.03g
Vitamins & Minerals
100g
NRV***(100g)
5g
Magnesium
1920mg
512%
96mg
Niacin ( as nicotinic acid)
80mg
500%
4mg
Zinc
120mg
1205%
6mg
Vitamin B6
15mg
1064%
0.8mg
Sugar Free: <0.5g sugar/100ml ready to drink product**
Reference intake of an average adult (8400kJ/2000kcal) ****
Nutrient reference value for adults
| | |
| --- | --- |
| Other Active Ingrediens | in 5g |
| Citrulline Malate (1:1) | 1050g |
| AAKG (L-Arginine aplha ketoglutarate)  | 1050g |
| Beta alanine | 1050g |
| Caffeine | 200mg |
| -Caffeine anhydrous | 191.5mg |
| -from black tea extract | 8.5mg |
Directions:
Mix 1 serving (10 g = 2 measuring spoons) of powder with 250 ml water. Drink 15 minutes before workout. We suggest you use scales to measure accurate quantities. Use a shaker for mixing. Take 1 serving 15 minutes before and 1 serving during your workout. 
Warning: Each serving (2 measuring spoons = 10 g) contains 400 mg caffeine. It is not recommended for use by children, pregnant and lactating women, those sensitive to caffeine or suffering from heart disease, circulatory issues or high blood pressure.
Do not combine with other stimulant-containing products within 4 hours.
Ingredients:
Blue grapes
Black Blood NO Complex 63% (L-arginine alphaketoglutarate, beta alanine, L-citrulline, malic acid), ZMB Complex (magnesium citrate, zinc oxide, nicotinic acid, pyridoxine HCl), BlackCaffeine Matrix 9% (Black tea extract, caffeine anhydrous), flavours, acidity regulators (potassium tartrates, sodium hydrogen carbonate), stabiliser (xanthan gum), sweeteners (sucralose, steviol glycosides, acesulfame-K), anti-caking agent (silicon dioxide), anti-foaming agents (sodium phosphates, dimethyl polysiloxane), colour (Brilliant black PN). Made in a plant that manufactures milk, egg, gluten, soy, crustaceans, sulphur dioxide and nuts containing foods.
No customer reviews for the moment.