Biotech USA AAKG 7800 25ml
2021-05-31
New product
Biotech USA AAKG 7800 25ml
Η Αργινίνη είναι ένα αμινοξύ που χρησιμεύει στην παραγωγή ενέργειας στους μύες και στην ανάπτυξη και επιδιόρθωσή τους. Η Αργινίνη ως πρόδρομος του μονοξειδίου του αζώτου, συντελεί στη χαλάρωση των λείων μυϊκών ινών προάγοντας έτσι την ομαλή κυκλοφορία του αίματος.
Βελτιώστε την αθλητική σας απόδοση χωρίς διεγερτικά
Έτοιμο προς κατανάλωση, πριν από την άσκηση
Μεγαλύτερη δίαρκεια στα αθλήματα αντοχής.
Όπως όλα τα προϊόντα BioTech USA, έτσι και το AAKG 7800 αποτελείται από ασφαλή και προσεκτικά επιλεγμένα συστατικά.
Οδηγίες Χρήσης:
Πάρτε μία μερίδα 20 λεπτά πριν την προπόνηση.
Μην υπερβαίνετε τη συνιστώμενη ημερήσια δόση.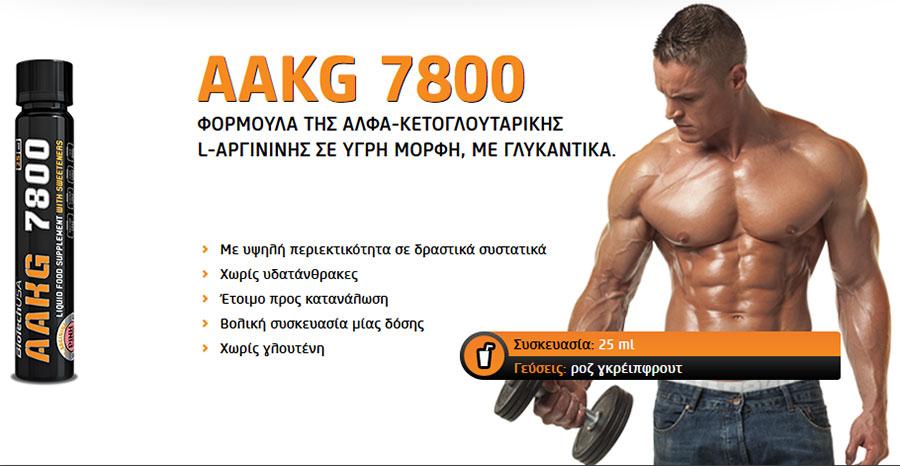 Biotech USA AAKG 7800 25ml
L-arginine is an amino acid which, as a precursor of nitrogen monoxide, can indirectly increase the cross-section of blood vessels, thus it ensures a proper blood flow.
We recommend AAKG 7800 if you:
want to improve your training performance without stimulants
do long-term endurance sports
seek a conveniently packaged, ready-to-drink pre-workout product
Like all BioTech USA products, AAKG 7800 consists of safe and carefully selected ingredients.
Directions:
Take one serving 20 minutes before workout. Do not exceed the recommended daily allowance.
Supplements Facts| Serving Size : 1 Amplule ( 25ml ) | Serving Per Container: 1
| | |
| --- | --- |
| | 25 ml |
| L- arginine alpha-ketoglutarate ( AAKG ) | 7800mg |
INGREDIENTS
purified water, L-arginine alpha-ketoglutarate, acid (citric acid),flavour, sweeteners (acesulfame-K, sucralose), preservative (sorbic acid), colour(cochineal).
No customer reviews for the moment.