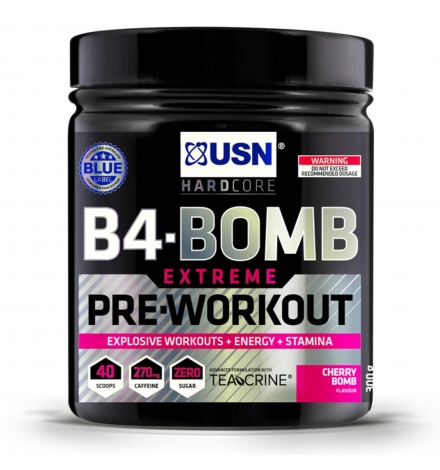 USN B4 - Bomb Extreme Pre-Workout 300gr
2020-01-31
New product
USN B4-Bomb Extreme Pre-Workout
Το B4-Βomb της USN είναι ένα ενεργό προ-εξασκητικό συμπλήρωμα σχεδιασμένο για να σας βοηθήσει να αξιοποιήσετε στο έπακρο κάθε προπόνηση και για να σας βοηθήσει να φτάσετε τους στόχους σας.
Άμεση ενεργοποίηση της άσκησης
Υποστηρίζει και βελτιώνει τα επίπεδα απόδοσης
Β4 Turbo Stack
Αυτή η φόρμουλα θα τραντάξει τις αισθήσεις σας!
Συγκεκριμένα Περιλμβάνει:
L-κιτρουλίνη που είναι ένα φυσικό αμινοξύ που υποστηρίζει τις αθλητικές επιδόσεις , τα επίπεδα ενέργειας και αντοχής, και την καλή υγεία, ενώ ταυτόχρονα βοηθά την αποτοξίνωση του ήπατος.
Tο DAA ασπαρτικό οξύ, aυξάνει τα επίπεδα της συνολικής τεστοστερόνης μέχρι και 42%. Επίσης αυξάνει την αντοχή και την δύναμη, ενώ παράλληλα υποστηρίζει την λειτουργία του μεταβολισμού.
Βήτα-αλανίνη που αυξάνει τα επίπεδα καρνοσίνης, ενισχύοντας την ικανότητα να αμβλυνθεί συσσώρευση γαλακτικού οξέος.
Έρευνες υποστηρίζουν ότι το ημερήσιο συμπλήρωμα βήτα-αλανίνης, υποστηρίζει περισσότερη αντοχή και ανάκαμψη από τις πλέον προπονήσεις. * H Βήτα-αλανίνη καθυστερεί τη μυική κόπωση για να βοηθήσει στην αύξηση της άλιπης μάζας και την ενίσχυση της αντοχής.
Ανυδρη καφεΐνη

που χρησιμοποιείται ως ενεργειακή υποστήριξη για αύξηση της αθλητικής απόδοσης. Καταπολεμά την κόπωση, έχει ήπια διουρητική δράση και επίσης προάγει τη λιπόλυση – τη διάσπαση των λιπαρών οξέων.

Teacrine - TeaCrine™ λειτουργεί με τις φυσικές μεταβολικές διεργασίες του σώματος ώστε να μεταφέρει μεγαλύτερης διάρκειας ενέργεια και αυξημένη

 πνευματική διαύγεια.

Astragin 

-

Ένα πατενταρισμένο, κλινικά μελετημένο εκχύλισμα ginseng, το Astragin μπορεί να βοηθήσει στην απορρόφηση πολλών θρεπτικών συστατικών.
Υποστηρίζει αυξημένη αντοχή μέσω της απορρόφησης της γλυκόζης. Επίσης, βοηθά στην μυϊκή αποκατάσταση.
Οδηγίες Χρήσης:
Για να απολαύσετε την πλήρη δύναμη των συστατικών του B4-BOMB Extreme, προσθέστε 2 μεζούρες σε 250-300ml κρύο νερό και πιείτε 30 λεπτά πριν την προπόνηση.
Όριο χρήσης : 2 μερίδες την ημέρα.
Για να αξιολογήσετε την ανοχή σας καταναλώστε 1 μεζούρα αρχικά και αυξήστε σταδιακά.
____________________________________________
USN B-4 Bomb Extreme Pre-Workout
USN's New and Improved B4-Bomb is an exhilarating pre-workout formulated to help you make the most out of each training session to help you reach your targets.
A powerful supplement from the Hardcore Series, the USN B4-Bomb contains the most scientifically grounded nutritional technology to help you achieve your goals.
Exhilarating Pre-Workout
Supports Performance Levels
B4 Bomb Proprietary Blend
An exhilarating pre-workout, formulated to offer you're a hardcore supplement to support your energy levels and stamina when it counts.
Our innovative supplement can also provide the following benefits:
Teacrine - TeaCrine™ works with the body's natural metabolic processes to deliver longer lasting energy, increase mental clarity and improve mood and motivation.*
ALA - Protect muscle and increase glucose uptake in the muscle for more power and recovery.
Astragin - Supports increased strength through enahnced glucose absorption and power/pump. Also supports helps muscle recovery and pump.
Directions :
Mix ±2 scoops with 250-300ml of water 30 minutes before training.
Start off with ±1 scoop to first assess tolerance before taking ±2 scoops at once.
WARNING: Do NOT exceed 3 scoops per day.
Serving Size: 15g (2 scoops)
Approx. Serving Per Container: 20 

(Nutritional values might vary across the flavours)

Per 15g

 

Nutritional Information

 

%RI*

Salt

0.43 g

7%

VITAMINS & MINERALS

 

 

Riboflavin

.5 mg

36%

Niacin

30 mg

188%

Vitamin B6 (As Pyridoxine HCL)

1 mg

71%

Vitamin B12 (As Methylcobalamin)

6 μg

240%

Potassium

120 mg

6%

Phosphorus

116 mg

17%

XTREME PROPRIETARY BLEND

11075 mg

 

L-Citruline, D-Aspartic Acid, Beta-Alanine, Creatine Monohydrate, Caffeine Anhydrous, Advantra Z®, Astragin™ (Panax Notoginseng & Astralagus Membranaceus), Teacrine® (Patent Pending Theacrine) 

 

 

 

 

 

 

of which Caffeine

270 mg

 

 

 

 

*Reference Intake of average adult (8400kj/2000kcal). Negligible quantities of energy, carbohydrate, protein, sugar and fat.

 
No customer reviews for the moment.