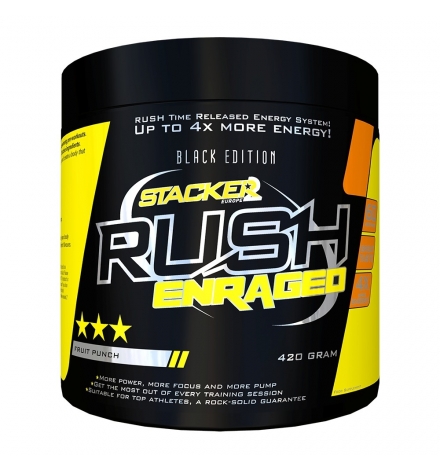 Stacker 2 Rush Enraged 60 servings
0000-00-00
New product
Stacker 2 Rush Enraged 60 servings
Το Rush Enraged περιέχει ένα μοναδικό συνδυασμό από τουλάχιστον 18 ενεργά συστατικά. Βγάλτε νοκ άουτ το γυμναστήριό σας, αποκτήστε το έπακρο από κάθε προπόνηση και ξεπεράστε τα όριά σας.
Τι να περιμένετε από το Stacker 2 Rush Enraged
Ακόμη πιο ισχυρό, πιο σκληρό και πιο επιθετικό.


Ισχυρή ώθηση ενέργειας

Περιέχει το πατενταρισμένο σύστημα Χρονικής Απελευθέρωσης Ενέργειας, για έως και 4 φορές περισσότερη ενέργεια!

Αποκτήστε το έπακρο από κάθε προπόνηση.

Μόνο η καλύτερη ποιότητα L-ιστιδίνης και η σύνθεση ΝΟ, για τις απόλυτες αγγειοδιαστολές.
Μοναδική πατενταρισμένη φόρμουλα αργής απελευθέρωσης Ενέργειας:
Σχεδόν όλοι οι αθλητές δοκίμασαν προεξασκητικά συμπληρώματα. Μερικά ενεργά συστατικά όπως η καφεΐνη απορροφάται πολύ γρήγορα, με αποτέλεσμα η ενέργεια να φτάνει στην καρύφωση της άμμεσα. Το μειονέκτημα αυτών των συμπληρωμάτων είναι μέσα σε μισή ώρα να νιώθεις ότι κουράζεσαι και ότι κρασάρεσαι και αυτό είναι κάτι που δεν θέλεις. Το ιδανικό προεξασκητικό θα πρέπει να σου παρέχει ενέργεια για περισσότερο χρόνο. Να μπορείς να προπονηθείς για μία με μιάμιση ώρα χωρίς προβλήματα. Αυτή η ενέργεια θα πρέπει να φέρει μαζί το σώμα και το μυαλό, επιτρέποντάς σας να εκτελέσετε τις ασκήσεις σας σωστά, έντονα και με 100% εστίαση. Χάρη στην εξαιρετική σύνθεση του το Rush Enraged θα σας παρέχει ενέργεια και συγκέτρωση που θα διαρκέσει μέχρι και 4x περισσότερο από κάθε προεξασκητικό που δοκιμάσατε!
Γίνετε ισχυρότεροι και δημιουργείστε ένα σώμα που όλοι θα ζήλευαν!
Οδηγίες χρήσης :
Αναμείξτε 1 μεζούρα με 200-250ml νερού,30-45 λεπτά πριν από την άσκηση, για να εξετάσετε την ανοχή σας.
Για καλύτερα αποτελέσματα αναμείξτε 2 μεζούρες με 150-400ml νερού, 30-45 λεπτά πριν από την άσκηση. Οι δύο μεζούρες είναι ένα πάρα πολύ ισχυρό ενεργειακό μείγμα για απόλυτες αγγειοδιαστολές και αυξημένη αντοχή.
Μην υπερβαίνετε τις 2 μεζούρες. 
Πίνετε 8-10 ποτήρια νερό για να διατηρείτε καλή υγεία. 
Stacker 2 Rush Enraged 60 servings
Rush Enraged
RUSH Enraged is the long-awaited successor of one of the most popular and award-winning pre-workouts. And now it's stronger than ever. RUSH Enraged contains a unique combination of at least 18 active ingredients. Scrapping the gym. Get the most out of every training session and stretch your limits. Become stronger and create a body that others will envy.
What you can expect from RUSH Enraged
Even stronger, harder and more aggressive.

A powerful energy boost to pulverise your own records.

Contains the patented RUSH Time Released Energy System, for up to 4x more energy!

Get the most out of every training session.

Only the best-quality l-histidine and NO synthesis, for the ultimate pump.

The best taste ever.
Unique ingredient: RUSH Time Released Energy System
RUSH Enraged is the first pre-workout with a specific time-release system to supply your body with energy. This concept is so unique that we have patented it. Virtually every athlete consumes a pre-workout drink all at once, shortly before training. Many energising substances such as caffeine are absorbed very rapidly, causing the energy that you feel to peak. The disadvantage of such a strong peak is that you crash shortly thereafter. And a crash is something you don't want. The ideal pre-workout should make you feel the energy longer, allowing you to train for an hour and a half without any problems! This energy should bring together body and mind, allowing you to perform your exercises correctly, vigorously and with 100% focus. RUSH Enraged is one of the few supplements available that has managed to succeed in this. Thanks to its excellent mix of fast, medium and slow absorbed natural stimulants, RUSH Enraged provides you with time-released energy during your entire training session. Your energy and focus will last up to 4x longer! A wonderfully long-lasting energy rush, allowing you to train harder than ever. Once you've experienced this feeling, you'll never train without RUSH Enraged again.
Directions :
Dissolve 1 or 2 scoops RUSH Enraged powder in 200 ml glass water. Drink this about15 minutes before training, which will allow you to optimally benefit from the unique time-released energy delivery. RUSH Enraged will help you train both harder and longer and increases strength.
No customer reviews for the moment.