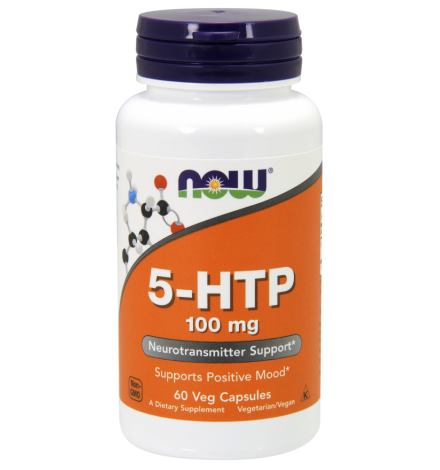 Now Foods 5-HTP 100 mg 60 Capsules
2025-07-30
733739001054
New product
NOW FOODS ® 5-HTP
Το 5-HTP αποτελεί συντομογραφία της 5-Hydroxytryptophan. Είναι ένα φυσικό συστατικό που παράγεται από το σώμα σας, το οποίο ενεργεί ως πρόδρομος για το σημαντικό νευροδιαβιβαστή της "ευτυχίας" που ονομάζεται σεροτονίνη και της ορμόνης του "ύπνου" τη μελατονίνη.
Η σεροτονίνη είναι ζωτικής σημασίας για την αίσθηση της ευεξίας. Η έλλειψη αυτού του νευροδιαβιβαστή έχει ανιχνευθεί σε άτομα με υπερβολικά ποσά άγχους, με συμπτώματα κατάθλιψης, ακόμη και με διατροφικές διαταραχές όπως η βουλιμία. Μελέτες έχουν αποκαλύψει ότι η σεροτονίνη είναι υπεύθυνη για τα συναισθήματα της ευημερίας, για την ηρεμία, τη χαλάρωση, την εμπιστοσύνη και τη συγκέντρωση. Χρήσιμη σε διαταραχές όπως κατάθλιψη, αϋπνία, ινομυαλγία, πονοκέφαλοι καθώς και σε περιπτώσεις βουλιμικής παχυσαρκίας.
Το 5-HTP και η παχυσαρκία. Οι ερευνητές θεωρούν ότι τα ανεπαρκή επίπεδα σεροτονίνης είναι εν μέρει αρμόδια για την επιθυμία που έχει κανείς να παρατρώει. Όπως είναι αναμενόμενο, τα παχύσαρκα άτομα που ποθούν τους υδατάνθρακες, παρουσιάζουν συνήθως ιδιαίτερα χαμηλά επίπεδα σεροτονίνης. Η λήψη συμπληρώματος 5-HTP μισή ώρα πριν από ένα γεύμα μπορεί «να φρενάρει» την όρεξη και τη λαιμαργία που προκαλούν οι ελλείψεις νευροδιαβιβαστών των εγκεφαλικών κέντρων.
Το 5-HTP και ο εθισμός. Η χρήση πολλών εθιστικών ουσιών, όπως ο καπνός, το οινόπνευμα, η καφεΐνη και ορισμένα ναρκωτικά, ανυψώνει τα επίπεδα σεροτονίνης. Όταν αυτές οι ουσίες αποβάλλονται, τα επίπεδα σεροτονίνης μειώνονται δραστικά, προκαλώντας ανησυχία και έντονες επιθυμίες. Η λήψη 5-HTP μπορεί να σταθεροποιήσει τα επίπεδα σεροτονίνης και να ελαχιστοποιήσει τα συμπτώματα της έλλειψης.
Το 5-HTP και η κατάθλιψη. Η ανακούφιση από την οξυθυμία και την κακή διάθεση εξισορροπείται από τη χρησιμοποίηση του 5-HTP. Το συμπλήρωμα λειτουργεί μέσω εξουδετέρωσης της ορμόνης που προκαλεί μείωση στα επίπεδα σεροτονίνης και προκαλεί έντονα τα παραπάνω φαινόμενα.
Το 5-HTP και ο ύπνος. Λόγω της ηρεμιστικής επίδρασής του, πολλοί στηρίζονται στο 5-HTP για να ανακουφίσουν τις επιθέσεις της επιθυμίας, καθώς επίσης και για να επιτύχουν ξεκούραστο και βαθύ ύπνο. Αντίθετα από τα αντικαταθλιπτικά φάρμακα, το 5-HTP δεν συνδέεται με ανεπιθύμητες παρενέργειες, όπως τα διαταραγμένα όνειρα ύπνου ή οι εφιάλτες. Μπορεί να λαμβάνεται τακτικά μια ώρα πριν τον ύπνο ως θεραπεία για την αϋπνία.
Οδηγίες Χρήσης : Πάρτε 1 κάψουλα ημερησίως, με άδειο στομάχι πριν τον ύπνο.
---
NOW FOODS ® 5-HTP 100 mg
5-HTP, the intermediate metabolite between the amino acid L-tryptophan and serotonin, is extracted from the bean of an African plant (Griffonia simplicifolia).
Neurotransmitter Support
Natural Source
Supports Positive Mood
Vegetarian Formula
5-HTP (5-hydroxytryptophan) is a metabolite (a substance produced by metabolism) of the amino acid tryptophan. You may know tryptophan as the substance in turkey that makes you feel like taking a nap after Thanksgiving dinner.
5-HTP is a direct precursor of the important inhibitory neurotransmitter serotonin, which is secreted in response to mood or emotion swings. Serotonin soothes and calms and brings about feelings of contentment. It is also the precursor to the antioxidant and sleep enhancer called melatonin, which is produced in the pineal gland by the conversion of serotonin.
5-HTP and tryptophan are not the same. 5-HTP is related to tryptophan, but is derived from a different source.

5-HTP is extracted from the seed of the Griffonia simplicifolia plant and is not produced via bacterial fermentation, virtually eliminating further occurrence of EMS. The contaminant believed to have caused the tryptophan contamination has not been identified as being present in 5-HTP.
Directions :
As a dietary supplement, take 1 Vcap® daily, preferably on an empty stomach at bedtime.
Supplement Facts
Serving Size:
1 Veg Capsule
Servings Per Container:
60
Amount per Serving
% Daily Value
* Daily Value not established.
5-HTP (5-hydroxytryptophan)
(from Griffonia simplicifolia Extract)
(Seed)
100 mg
*
Other Ingredients: Rice Flour and Hypromellose (cellulose capsule).
Not manufactured with wheat, gluten, soy, milk, egg, fish, shellfish or tree nut ingredients. Produced in a GMP facility that processes other ingredients containing these allergens.
Caution: For adults only. Not recommended for pregnant/nursing women. Consult physician if taking medications (especially antidepressants), or have a medical condition. May cause drowsiness and mild transient GI symptoms. Take with food in case of GI upset. Keep out of reach of children.
Natural color variation may occur in this product.
Store in a cool, dry place after opening.
Family owned since 1968.
No customer reviews for the moment.