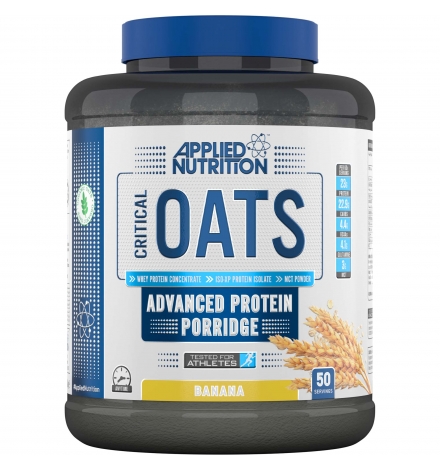 Applied Nutrition Critical Oats Protein Porridge 3kg
2023-08-30
New product
Applied Nutrition Critical Oats Protein Porridge 3kg
3 κιλά | 50 ΜΕΡΙΔΕΣ
Το Critical Oats Protein Porridge είναι το τέλειο πρωινό ή σνακ εν κινήσει. Παρέχει ένα καλά ισορροπημένο μείγμα 100% βιολογικής βρώμης ολικής αλέσεως, υψηλών επιπέδων πρωτεΐνης συμπεριλαμβανομένου του ISO-XP Protein Isolate και επίσης διαθέτει σκόνη MCT (Tα τριγλυκερίδια μέσης αλύσου) ιδανική για τον πολυάσχολο/δραστήριο τρόπο ζωής σας.
ΒΑΣΙΚΑ ΟΦΕΛΗ
Πιστοποιημένο Halal
Περιέχει 3g MCT (

τριγλυκερίδια μέσης αλύσου)

Τέλειο πρωινό ή σνακ εν κινήσει
Τέλεια ανάμειξη με ΖΕΣΤΟ & ΚΡΥΟ Νερό/Γάλα
100% Βιολογική Βρώμη
ΠΡΟΤΕΙΝΟΜΕΝΗ ΧΡΗΣΗ
ΚΑΛΗΜΕΡΑΑΑΑ :) 
Μόνο 2 λεπτά για να τελειοποιήσετε το χυλό
Επιλογή 1
Προσθέστε 1 μεζούρα (60 g) με 150 ml βραστό νερό. Ανακατεύουμε καλά και αφήνουμε για 1-2 λεπτά. Φάτε και ΑΠΟΛΑΥΣΤΕ!
Επιλογή 2
Προσθέστε 1 μεζούρα (60g) με 100ml κρύο νερό ή γάλα και ανακατέψτε καλά. Για να προσθέσετε θερμότητα, τοποθετήστε το στο φούρνο μικροκυμάτων για 30 δευτερόλεπτα. Ανακατέψτε ξανά και ΑΠΟΛΑΥΣΤΕ!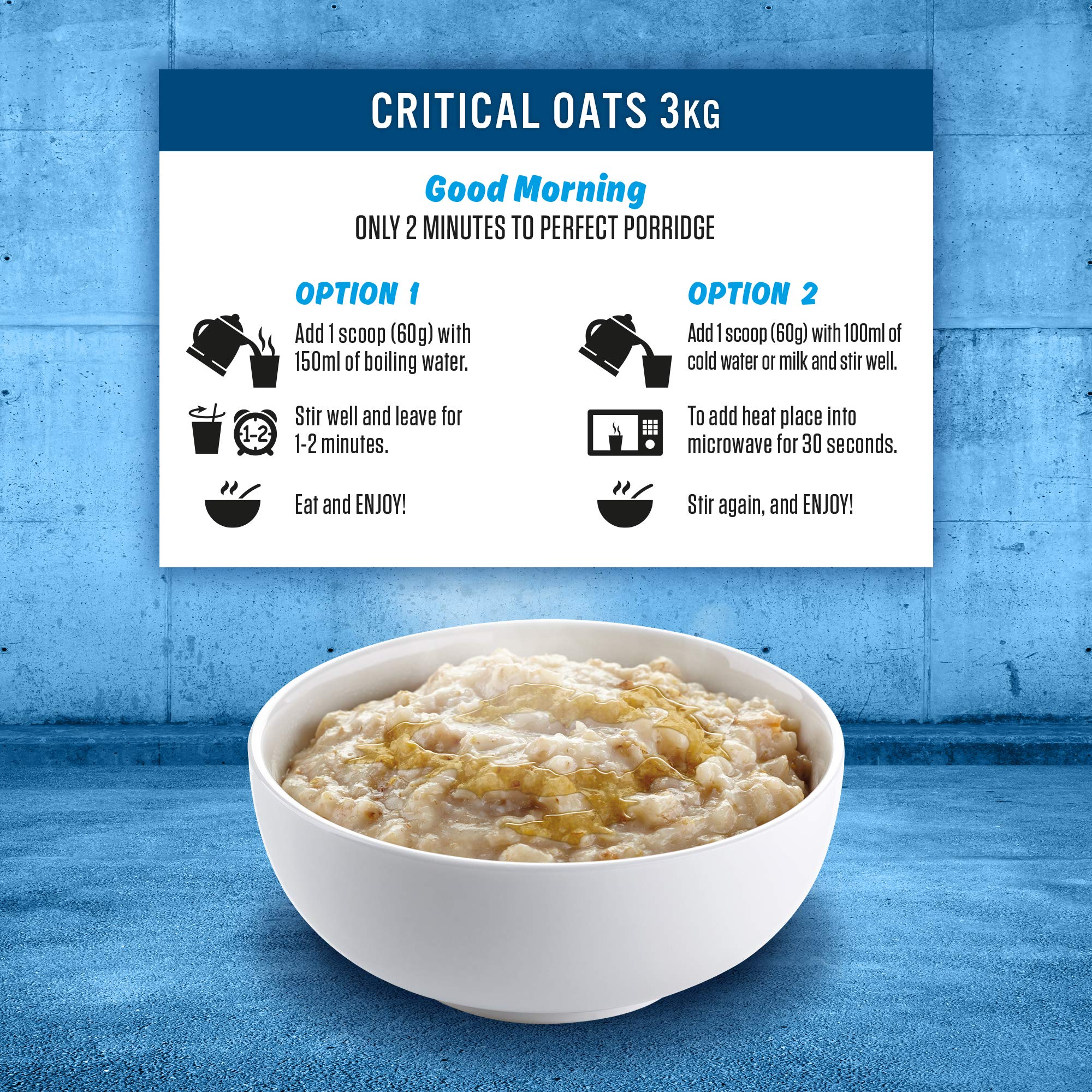 Applied Nutrition Critical Oats Protein Porridge 3kg
3KG | 50 SERVINGS
Food Supplement with Sweetener
Critical Oats Protein Porridge is the perfect on-the-go breakfast or snack. Delivering a well-balanced blend of 100% Organic Wholegrain Oats, high levels of Protein including ISO-XP Protein Isolate and also features MCT Powder (Healthy Fats) ideal for your Busy/Active Lifestyle.
KEY BENEFITS
Halal Certified
Featuring 3g of MCT Healthy Fats Per Serving
Perfect on-the-go Breakfast or Snack
Perfect Mixing with HOT & COLD Water/Milk
100% Organic Oats
SUGGESTED USE
GOOD MORNING
Only 2 minutes to perfect porridge
Option 1
Add 1 scoop (60g) with 150ml of boiling water. Stir well and leave for 1-2 minutes. Eat and ENJOY!
Option 2
Add 1 scoop (60g) with 100ml of cold water or milk and stir well. To add heat place into the microwave for 30 seconds. Stir again, and ENJOY!
NUTRITIONAL INFORMATION
Serving Size: 60
Serving Per Contaner: 50
PER 100g
Per 60g
Energy 
1665kJ/ 398kcal 
999kJ/ 238kcal 

Fat

-of which saturated

-trans fat

-of which MCT oil 

10.6g

-5.1g

-0g

4g

6.36g

-3.06g

-0g

-2.4g

Carbohydrate

-of which sugar

38.3g

-2.3g

22.98g

-1.38g

Fibre
6.5g
3.9g
Protein
38.4g
23.04g
Salt
0.90g
0.54g
Bcaas
7.36g
4.41g
MCT
5g

3g
INGREDIENTS
100% Organic Wholegrain Oat Flakes, Whey Protein Concentrate (Emulsifier Soy Lecithin) Milk Whey Protein Isolate, Medium Chain Triglyceride (MCT Powder), Natural Banana Flavouring, Thickener (Xanthan Gum) Sweetener (Sucralose), Natural Sweetener (Stevia).

ALLERGENS see ingredients in BOLD
No customer reviews for the moment.