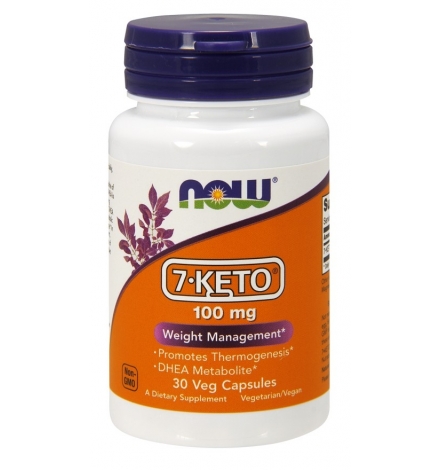 Now Foods 7- Keto 100mg 30 Capsules
2022-02-28
733739030122
New product
Now Foods 7-Keto 100mg 30vcaps
Aυξάνει τον μεταβολισμο

Βοηθάει στην απώλεια βάρους, καθώς προκαλεί θερμογένεση

Ενισχύει το ανοσοποιητικό σύστημα

Καλός σύμμαχος της αντιγήρανσης

Φόρμουλα για Χορτοφάγους
Το 7-κετο-DHEA είναι ένας φυσικός μεταβολίτης της δεϋδροεπιανδροστερόνης (DHEA), παρέχοντας τα ίδια οφέλη όπως η DΗΕΑ χωρίς όμως τις παρενέργειές της και είναι γνωστή για τις αντιγηραντικές ιδιότητες της. Eμπλέκεται σε πολλές βιολογικές λειτουργίες, όπως την κυτταρική παραγωγή θερμότητας (θερμογένεση).
Επειδή η παραγωγή του σώματος της DHEA μειώνεται με την ηλικία, το ίδιο κάνει και η παραγωγή της 7-ΚΕΤΟ. Η αύξηση του βάρους είναι ένα κοινό σημάδι της γήρανσης του πληθυσμού που συχνά συνοδεύει τη μειωμένη παραγωγή της DHEA και των μεταβολιτών της. 
Με το 7-ΚΕΤΟ σύμμαχο σας  θα έχετε την ικανότητά να προάγεται με ασφάλεια τη θερμογένεση, καθώς και για τη διατήρηση του υγιούς βάρους του σώματος σας. Σε μελέτη, η οποία διάρκησε οκτώ εβδομάδες, οι συμ-μετέχοντες που πήραν 100 mg 7-ΚΕΤΟ, δύο φορές την ημέρα, έχασαν περίπου 6,3 κιλά σε σύγκριση με εκείνους που έλαβαν εικονικό φάρμακο και έχασαν 2 κιλά λιγότερα.
Οδηγίες χρήσης: 
Πάρτε μια κάψουλα, 2 φορές την ημέρα κατά προτίμηση με τα κυρίως γεύματα σας. 
7-KETO from NOW Foods is a naturally occurring metabolite of DHEA that does not affect hormone levels, but is known for its anti-aging properties. Because the body's production of DHEA declines with age, so does the production of 7-keto-DHEA. Weight gain is a common sign of aging that often accompanies the decreased production of DHEA and its
metabolites. 7-KETO has been patented for its ability to promote thermogenesis as well as for the maintenance of healthy body weight.
Directions:
As a dietary supplement, take 1 capsule 2 times daily, preferably with food.

No customer reviews for the moment.