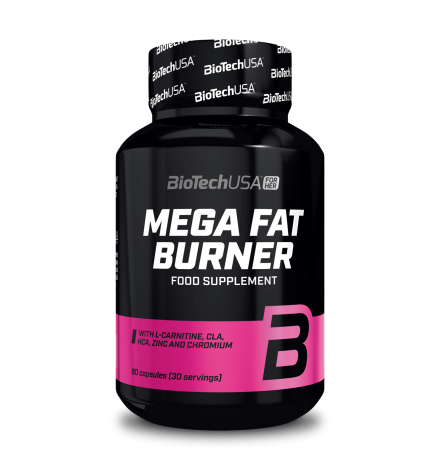 Biotech USA Mega Fat Burner 90 tablets
2024-02-28
5999076234349
New product
Biotech USA Mega Fat Burner 90 tablets
ΜΑΧΗ ΜΕ ΤΑ ΠΑΡΑΠΑΝΙΣΙΑ ΚΙΛΑ
Μπορεί να είναι μικρές ή μεγάλες, παχιές ή αδύνατες, ελεύθερες ή δεσμευμένες, συνεσταλμένες ή σεξοβόμβες, με συνηθισμένο σώμα ή με σώμα μοντέλου, αλλά δεν υπάρχει ούτε μία που να είναι πλήρως ικανοποιημένη με το σώμα της. Οι γυναίκες λένε πως  θα μπορούσαν να είναι πιο αδύνατες, πιο δυνατές, με καμπύλες και σφιχτές, ανάλογα με το ποιο σημείο του σώματος έχουν πρόβλημα. Είμαστε σίγουροι πως καταλαβαίνετε αυτό το συναίσθημα.
Η φυσική μας κατάσταση επηρεάζει την ψυχή μας, όλη μας τη ζωή.  Προφανώς, τα γονίδια δε μπορούν να αλλάξουν, αλλά, αν υπάρχει θέληση – σε συνδυασμό με προσήλωση – τότε όλοι, ακόμα κι εσύ μπορείς να αλλάξεις το σώμα σου! Η αλλαγή είναι το αποτέλεσμα ενός αλλαγμένου τρόπου ζωής. Χτίζεται με υγιή διατροφή, συχνή άσκηση και όλη η διαδικασία μπορεί να γίνει ακόμα πιο αποτελεσματική με τη βοήθεια συμπληρωμάτων διατροφής.
MEGA FAT BURNER – ΧΩΡΙΣ ΚΑΦΕΪΝΗ
Το βελτιωμένο μας συμπλήρωμα ελέγχου βάρους, το Mega Fat Burner, είναι πλέον διαθέσιμο για τις γυναίκες σε μια έκδοση χωρίς καφεΐνη. Πλέον είναι ασφαλές προς χρήση, ακόμα και μακροπρόθεσμα, γι' αυτούς που έχουν παραπανίσιο βάρος ή πάσχουν από υψηλή αρτηριακή πίεση. Όλο αυτό συμπληρώνεται με συστατικά που παρέχουν εξαιρετική βοήθεια στο σώμα σου, ενώ ταυτόχρονα το διαμορφώνουν: βιταμίνες, μέταλλα, εκχύλισμα βοτάνων, L-Καρνιτίνης και χρώμιο.
Το πιο δημοφιλές ενεργό συστατικό ως συμπλήρωμα για τη διατροφή σου είναι η L-Καρνιτίνη, μια χημική ένωση που περιέχει Αμινοξέα, η οποία παράγεται φυσικά από το ανθρώπινο σώμα. Καθώς η καρνιτίνη είναι ένα συστατικό του συστήματος μεταφοράς λιπαρών οξέων, όπου η ενέργεια που είναι αποθηκευμένη στο λίπος μπορεί να χρησιμοποιηθεί μέσω αυτής, είναι απαραίτητη προκειμένου να μετατραπεί το λίπος σε ενέργεια.
Το χρώμιο συντελεί στο φυσιολογικό μεταβολισμό των μακροθρεπτικών στοιχείων και στη διατήρηση των φυσιολογικών επιπέδων σακχάρων του αίματος.
Επίσης, το Mega Fat Burner περιέχει βιταμίνες B6 και B12, ψευδάργυρο, σίδηρο, ιώδιο και παντοθενικό οξύ (βιταμίνη Β5). Οι βιταμίνες B6 και B12 συντελούν στη φυσιολογική λειτουργία του ανοσοποιητικού και νευρικού συστήματος, ενώ ταυτόχρονα συντελούν στις φυσιολογικές διεργασίες μεταβολισμού απόδοσης της ενέργειας. Ο ψευδάργυρος συντελεί στο φυσιολογικό μεταβολισμό των λιπαρών οξέων. Ο σίδηρος συντελεί στη διατήρηση της φυσιολογικής διανοητικής λειτουργίας. Το ιώδιο συντελεί στη φυσιολογική παραγωγή θυροξίνης και στη φυσιολογική λειτουργία του θυρεοειδούς αδένα. Το παντοθενικό οξύ (βιταμίνη Β5) συντελεί στις φυσιολογικές διαδικασίες απόδοσης της ενέργειας.
Ανά μερίδα (3 κάψουλες):
716 mg L-καρνιτίνη (από L-τρυγική L-καρνιτίνη και υδροχλωρικό L-καρνιτίνη)

225 mg HCA

225 mg CLA

Φόρμουλα βιταμινών και μετάλλων

Εκχύλισμα μαύρου πιπεριού και πιπεριού καγιέν
Προτείνουμε το Mega Fat Burner:
σε άτομα που θέλουν να χάσουν βάρος, ακόμα και πολλά κιλά

σε όσους ψάχνουν προιόντα για μακροχρόνια χρήση

σε αυτούς που έχουν ευαισθησία στην καφεΐνη
Όπως όλα τα προϊόντα της BioTech USA, το Mega Fat Burner περιέχει ασφαλή και προσεκτικά επιλεγμένα συστατικά.
Οδηγίες Χρήσης:
Πάρτε 3 καψουλες ημερησίως πριν απο τα γεύματα.
-1 πριν το πρωϊνό 
-1 πριν το μεσημεριανό
-1 πριν το βραδινό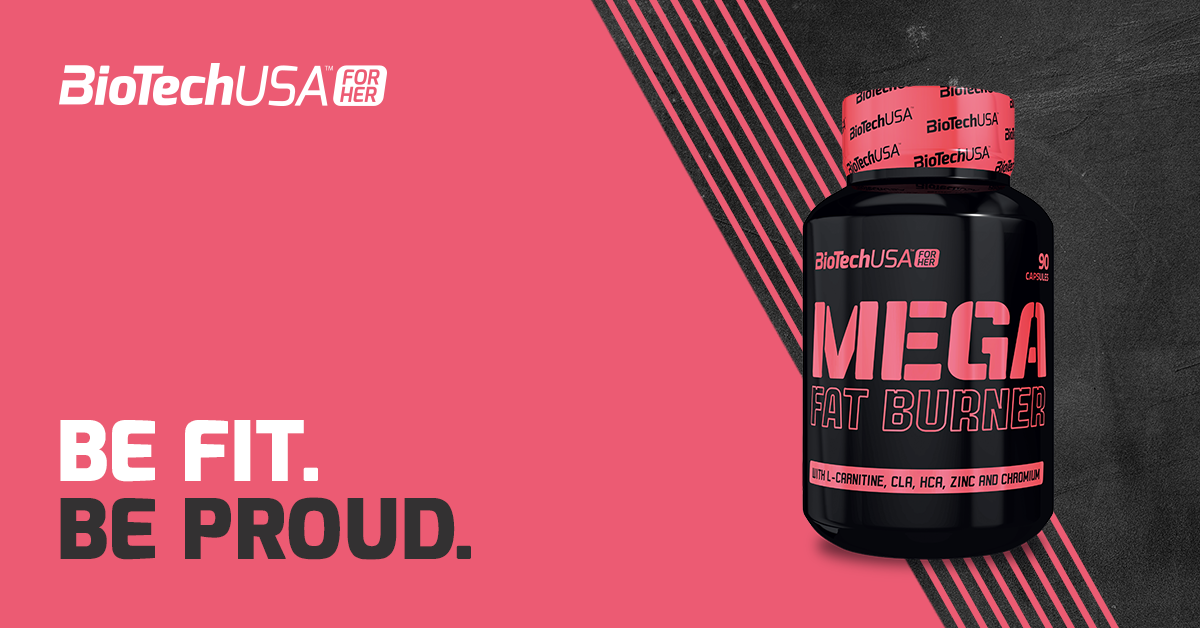 Biotech USA Mega Fat Burner 90 tablets
COMPLEX, CAFFEINE-FREE WEIGHT CONTROL FORMULA IN CAPSULES WITH L-CARNITINE AND CHROMIUM.
FIGHT AGAINTS THE KILOS
Whether young or older, single or living with a partner, shy or a sex bomb, average or a super model, no woman on Earth is completely satisfied with every part of their bodies, and that's still an understatement. And the wishes of ladies are mostly focused on losing weight. Obviously, we can't change genetics, but when will meets performance, anyone can shape their bodies, including you! 
Change, however, is the result of a lifestyle, the foundations of which are a healthy diet and regular exercise. For maximum effectiveness, you should consider using weight control products. Along with the right diet and workout, these products support the increased use of calories and gaining energy from fat. 
MEGA FAT BURNER – WITHOUT CAFFEINE
Our improved Mega Fat Burner weight control supplement is now available for women in a caffeine-free version. Now it's safe to use, even in the long term, for those with excess weight or suffering from a high blood pressure. All this was complemented with ingredients which provide excellent support to your body while getting into shape: vitamins, minerals, herbal extracts, L-carnitine and chromium.
The most popular active ingredient to supplement your diet is L-carnitine, which is a compound containing amino acid, naturally produced in the human body. As carnitine is a component of the fatty acid transport system, the energy stored in fats can be used through it, and therefore it is necessary for turning fat into energy.
Chromium contributes to the normal metabolism of macronutrients and maintaining normal blood sugar levels.
Mega Fat Burner also contains vitamins B6 ad B12, zinc, iron, iodine and pantothenic acid (vitamin B5). Vitamins B6 and B12 contribute to the normal functioning of the immune system and the nervous system, and both contribute to normal energy-yielding metabolic processes. Zinc contributes to normal fatty acid metabolism. Iron contributes to maintaining normal mental functioning. Iodine contributes to normal thyroxine production and the normal functioning of the thyroid gland. Pantothenic acid (vitamin B5) contributes to normal energy-yielding processes.
Per serving (3 capsules):
716 mg L-carnitine (from L-carnitine L-tartrate and acetyl L-carnitine hydrochloride)

225 mg HCA

225 mg CLA

vitamin and mineral formula

Cayenne and black pepper extract
DIRECTIONS
Take 3 capsules daily before meals.
Supplement Facts
Daily amount: 1x3 capsules
Servings per container: 30
| | | |
| --- | --- | --- |
| |  3 capsules |  NRV** (3 capsules) |
| L-Carnitine   | 716 mg | *** |
| HCA (hydroxy citric acid | 225 mg | *** |
| CLA (conjugated linoleic acid) | 225 mg | *** |
| Chromium | 25 μg | 62% |
| Iodine | 75 μg | 50% |
| Iron | 14 mg | 100% |
| Zinc | 6 mg | 60% |
| Pantothenic acid | 6 mg | 100% |
| Niacin | 4.5 mg | 28% |
| Vitamin B6 | 1.3 mg | 96% |
| Folic Acid | 195 μg | 97% |
| Vitamin B12 | 2.2 μg | 90% |
| Cayenne pepper fruit extrac | 30 mg | *** |
| Black pepper fruit powder | 30 mg | *** |
| | | |
No customer reviews for the moment.