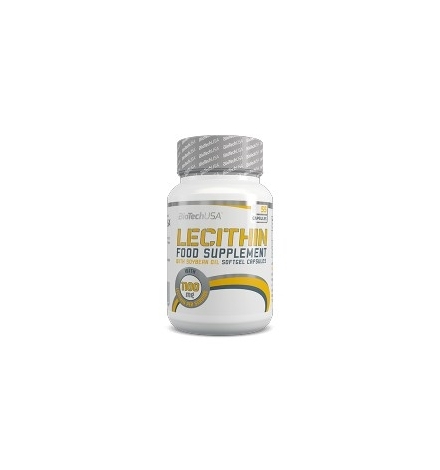 Biotech USA Lecithin 1100mg 55 Capsules
2020-10-31
5999076200146
New product
Biotech USA Lecithin 1100mg 
Η λεκιθίνη διαδραματίζει σημαντικό ρόλο σε όλες σχεδόν τις βιολογικές διαδικασίες, όπως τη μετάδοση του νευρικού σήματος, την αναπνοή και την παραγωγή ενέργειας.
Η λεκιθίνη βρίσκεται στη φύση εκεί που συνυπάρχουν λίπος και νερό, για παράδειγμα στο γάλα, στον κρόκο τού αυγού, και είναι ένας φυσικός γαλακτωματοποιητής. Γι' αυτόν το λόγο βοηθά στη διαχείριση των λιπών στον οργανισμό μας, εμποδίζει τη συσσώρευσή τους στο σώμα, προλαμβάνει τις αθηρωματώσεις στα τοιχώματα των αγγείων και βοηθά στη διατήρηση του σωματικού βάρους.
Λειτουργίες λεκιθίνης
Διαλυτοποιεί τα λίπη

Κινητοποιεί τα λίπη

Προλαμβάνει εναποθέσεις λιπών σε όργανα

Συστατικό των λιπωδών μεμβρανών

Συστατικό του φλοιού μυελίνης (απομονωτικό περίβλημα γύρω από τα νεύρα)

Προμηθευτής χολίνης

Προμηθευτής ινοσιτόλης
Ως λιποτροπική ουσία η λεκιθίνη και ειδικά η χολίνη είναι κρίσιμη στην διαχείριση και το κάψιμο του λίπους και στο μεταβολισμό της χοληστερόλης, κυρίως, μέσω του ήπατος. είναι υψηλής καθαρότητας, πλούσια στα πολύτιμα φωσφολιπίδια φωσφατιδυλοχολίνη και φωσφατιδυλοϊνοσιτόλη, προερχόμενη από μη γενετικά τροποποιημένη σόγια. Καθαρή, αποτελεσματική και επίκαιρη αφού η διαχείριση των λιπών είναι η ειδικότητά της.
Η λεκιθίνη και η χολίνη είναι σημαντικές για την σωστή λειτουργία του ήπατος. Η έλλειψή τους οδηγεί στην δραματική επιδείνωση της κατάστασης και γρήγορο θάνατο των καλλιεργημένων κύτταρων του ήπατος in-vitro . Στα πειραματόζωα η έλλειψη χολίνης οδηγεί γρήγορα σε καρκίνο του ήπατος. Η λεκιθίνη προφυλάσσει το ήπαρ από βλάβες που σχετίζονται με την χρήση οινοπνευματώδη ποτών.
Η χολίνη είναι σημαντική για την καρδιά, αφού μαζί με το φολικό οξύ συμμετέχει στον μεταβολισμό της αμινοξικής ομοκυστεϊνης. Υπολογίζεται, ότι η τελευταία είναι υπεύθυνη για κάποιες καρδιακές-αγγειακές παθήσεις. Η λήψη λεκιθίνης συμβάλλει και στην μείωση της "κακής''  χοληστερόλης.
Οδηγίες Χρήσης :
Παίρνετε 1 κάψουλα ημερησίως με άφθονο νερό. Συστήνεται να χρησιμοποιείτε το προϊόν τουλάχιστον για τρεις μήνες συνεχώς.
Biotech USA Lecithin 1100mg - MADE OF SOYBEAN OIL
THE TRUE SOURCE OF ESSENTIAL CHOLINE.
Lecithin provides an excellent source of choline, which is essential to every living cell in the body and is one of the main components of cell membranes. Choline contributes to normal lipid and homocysteine metabolism as well as to the maintenance of normal liver function.
Nutritional supplements must not replace a balanced, varied diet and a healthy lifestyle.
Directions :
Take 1 capsule daily with adequate amount of water. It is recommended to use the product at least for three months consequently.
Other Ingredients
soy lecithin oil, gelatin, humectant (glycerol), soybean oil, antioxidant (d-alpha tocopherol), color (brown HT)
No customer reviews for the moment.