Gaspari Anavite 180 tablets
2020-03-31
646511006980
New product
Gaspari Anavite 180 tablets - Φόρμουλα Πολυβιταμινών & Μεταλλικών Στοιχείων! Η Υπέρτατη Πολυβιταμίνη για Ενδυνάμωση της Απόδοσης!
Ένα πραγματικά δυνατό και αξιόπιστο προιόν πολυβιταμινών και μεταλλικών στοιχείων.
Η Anavite® ξεφεύγει κατά πολύ από τα συνηθισμένα πολυβιταμινούχα. Στην πραγματικότητα συνδυάζει 3 συμπληρώματα σε 1. Η φόρμουλα αθλητών με πολυβιταμίνες / μεταλλικά στοιχεία περιέχει τη κατάλληλη δοσολογία Βήτα-Αλανίνης και Carnipure™ (L-Τρυγική L-Καρνιτίνη) για τεράστια προώθηση ενισχυμένης απόδοσης και αυξημένα επίπεδα οξειδίου του αζώτου μειώνοντας ταυτόχρονα το χρόνο ανάκτησης , και άρα ενισχύοντας ιδανικά την αεροβική και αναερόβια αθλητική απόδοση. Πλήρως εξοπλισμένο συμπλήρωμα, με συμπαράγοντες βιταμινών υψηλής βιοδιαθεσιμότητας, έχετε κάθε λόγο να περιμένετε ότι η Anavite® θα ξεπεράσει τις προσδοκίες σας σε μία φόρμουλα υψηλής δυναμικής με πολυβιταμίνες & μεταλλικά στοιχεία . Προκειμένου να ανέβει κι άλλο ο πήχης, οι ερευνητές της Gaspari συμπεριέλαβαν 2 ΟΛΟΚΛΗΡΑ ΓΡΑΜΜΑΡΙΑ του δραστικού βοηθήματος ανάκτησης Carnipure™ (L-Τρυγική L-Καρνιτίνη) που εικάζεται ότι ενισχύει και την αυξημένη αγγειοδιαστολή, τα επίπεδα οξειδίου του αζώτου ενώ αυξάνει την πυκνότητα του υποδοχέα ανδρογόνου. Τέλος, ενώ άλλες εταιρείες υποτιμούν τη δόση Βήτα-Αλανίνης,  η Anavite®  περιλαμβάνει περισσότερα από 3 ΟΛΟΚΛΗΡΑ ΓΡΑΜΜΑΡΙΑ καθημερινής δόσης αυτού του δραστικού αμινοξέος ενθαρρύνοντας την ενισχυμένη αναερόβια και αεροβική απόδοση. Αυτό σημαίνει ότι μπορείτε να επιδίδεστε σε σκληρότερη και παρατεταμένη άσκηση!
Τι κάνει η Anavite®:
Ενισχύει το Αυξημένο Περιεχόμενο Υποδοχέα Ανδρογόνου στους Μύες
Βελτιστοποιεί τη Μεταεξασκητική Μυική Ανάκτηση
Ενισχύει την Αγγειοδιαστολή και τη διαθεσιμότητα Οξειδίου του Αζώτου
Ευνοεί την Αεροβική και Αναερόβια Αθλητική Απόδοση
Περιλαμβάνει Φόρμουλα Πολυβιταμινών & Μεταλλικών στοιχείων Υψηλής Δυναμικής
Οδηγίες Χρήσης :
3 ταμπλέτες με το πρωινό και 3 ταμπλέτες με το βραδινό γεύμα.

_____________________________________________
Gaspari Anavite 180 tabs - 

Multivitamin & Mineral Formula! The Ultimate Performance Enhancing Multivitamin!
The Ultimate Performance Enhancing Multivitamin Supplement. Loaded with Highly Bioavailable Vitamin Cofactors and High Doses of Beta-Alanine and L-Carnitine L-Tartrate. Anavite is far beyond a mere high potency multivitamin. It's really three supplements in one. A high potency athlete's multivitamin/mineral formula with otima, clinically validated doses of Beta-Alanine and Carnipure (L-Carnitine L-Tartrate) for vastly increasing endurance and nitric oxide levels while reducing recovery time, thus optimally increasing aerobic and anaerobic athletic performance. Fully loaded with highly bioavailable vitamin cofactors such as methylcobalamin and powerful minerals such as methlyselenocysteine you can expect that Anavite will exceed your expectations in a high potency multivitamin & mineral formulation. To raise the bar even further, Gaspari researchers including 2 full grams of powerful recovery aide Carnipure (L-Carnitine L-Tartrate) which has also been shown to increase vasodilation, nitric oxide leves and increase androgen receptor density. Lastly, while other companies under does beta-alanine, Anavite includes over a full 3 gram daily does of this powerful amino acid which is the dosing threshold clinically shown to increase both anaerobic and aerobic performance. This means you can train hard for longer! You see, both carnitine and beta-alanine are both best taken daily, just like your multivitamin so why not combine them into one powerful daily supplement formula at a cost effective price? We guarantee, Anavite packs a potent array of ingredients at full doses true athletes require to meet and even exceed their performance and recovery demands. Who else but Gaspari Nutrition would give you three distinct supplements revered by educated athletes everywhere-all for the price of one. Anavite Athletic Drive Matrix: Carnipure (L-Carnitine L-Tartrate), Beta-Alanine, Boron.
WHAT DOES ANAVITE DO?
Increases Androgen Receptor Content in Muscle†

Enhances Post Exercise Muscle Recovery† 

Increases Vasodilation and Nitric Oxide Availability† 

Maximizes Aerobic and Anaerobic Sports Performance† 

Contains High Potency Multivitamin & Mineral Formula†
Directions :
Consume three tablets twice daily with food.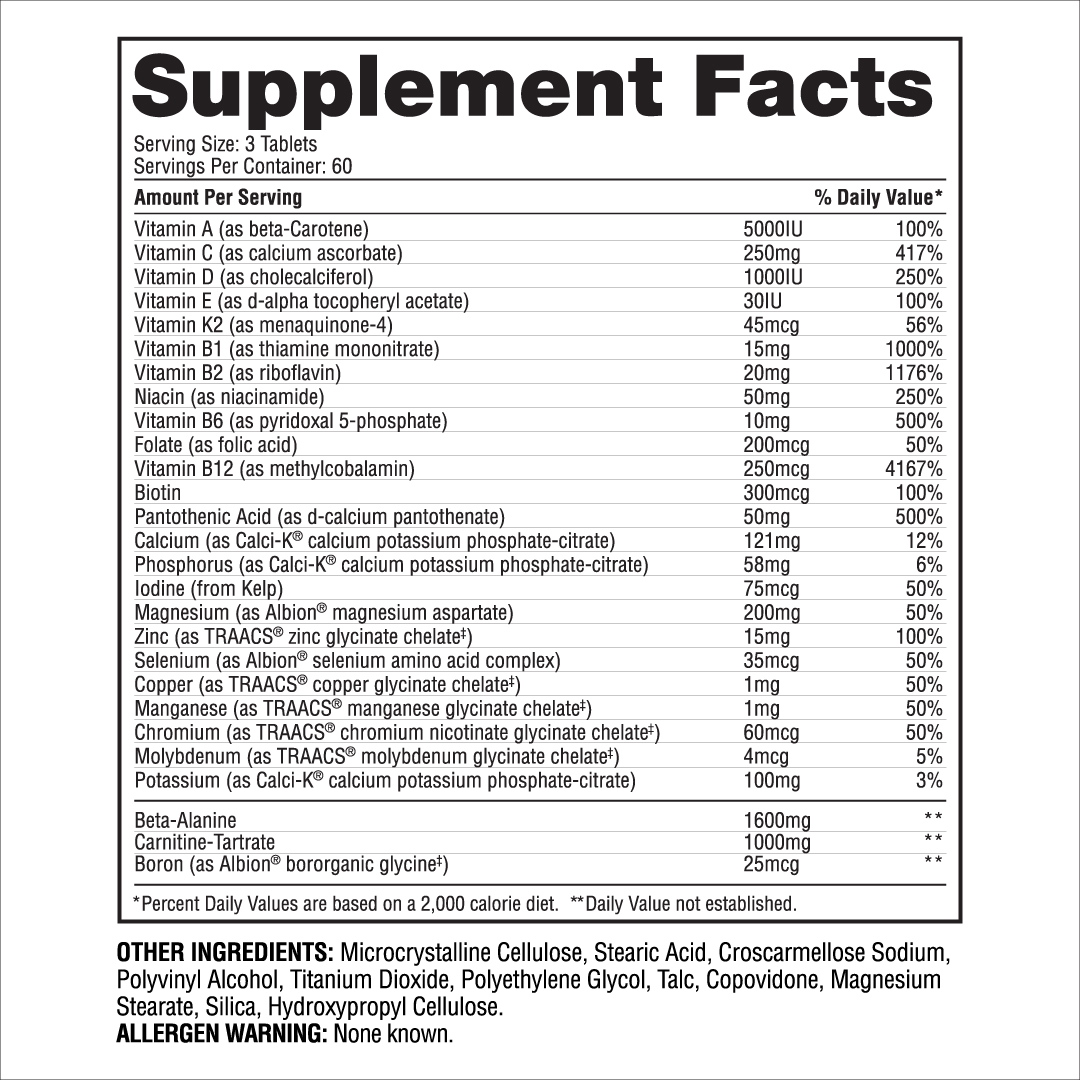 No customer reviews for the moment.