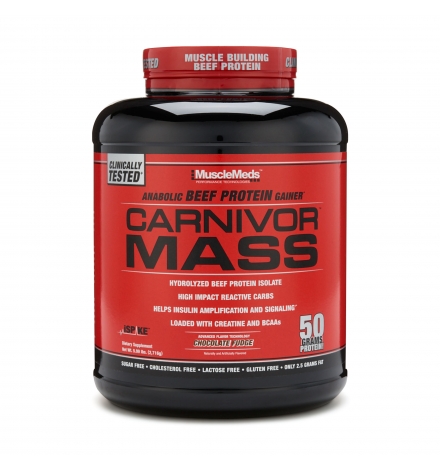 MuscleMeds Carnivor Mass 5,7 lbs
2022-08-30
New product
MuscleMeds Carnivor Mass 5,7LBS
H  Carnivor Mass είναι η επιτομή των συμπληρωμάτων διατροφής που προορίζονται για τεράστια μυϊκή ανάπτυξη και μάζα και είναι πιο εξελιγμένη από οποιαδήποτε άλλη αντίστοιχη φόρμουλα. Εκεί που οι απλές τροφές και οι συνηθισμένες αυξητικές φόρμουλες θέτουν περιορισμούς όσον αφορά στην ταχύτητα απορρόφησης των συστατικών και την δυνατότητα για αύξηση στην έκκριση της ινσουλίνης, η Carnivor Mass υπερέχει. Συνδυάζει ένα μοναδικό μείγμα πρωτεϊνών από μοσχάρι  με μια επίσης μοναδική πατέντα επιτάχυνσης της ινσουλίνης (iSpike), προκειμένου να επιτύχει την μέγιστη μυϊκή ανάπτυξη και την ελάχιστη συσσώρευση λίπους. Η Carnivor Mass είναι μια εξαιρετικά καθαρή, γρήγορη και αυξητική φόρμουλα. 
Πρωτεϊνη μοσχαριού: Το μοσχάρι περιέχει μια από τις υψηλότερης ποιότητας πρωτεινη που υπάρχει στη φύση. Τώρα η Musclemeds είναι η πρώτη εταιρία που παρέχει στους bodybuilder ένα πρωτεϊνικό μείγμα από πρωτεινη μοσχαριού, παρέχοντας έτσι περισσότερα πλεονεκτήματα από τις κλασσικές whey πρωτεινες. Περιέχει κατά 350% πιο συγκεντρωμένη ποσότητα αμινοξέων από την κλασσική τροφή της μοσχαρίσιας μπριζόλας, περισσότερα αμινοξέα από την whey πρωτεινη, χωρίς παράλληλα να προσθέτει χοληστερίνη και λίπος.
Οδηγίες Χρήσης :
4 δοσομετρητές σε 475ml νερού 2-3 φορές την ημέρα ανάλογα με τις διατροφικές σας ανάγκες. Λόγω της ιδιαίτρα πυκνής μορφής του (όπως και όλες οι gainer άλλωστε) ίσως θελήσετε να  χρησιμοποιείστε μισή δόση 2 φορές την ημέρα.
________________________________
MuscleMeds Carnivor Mass 5,7LBS
Faster Protein, Faster Carbs & iSpike Trigger Explosive Muscle Growth! 

It takes more than just calories to gain muscle mass. In order to stimulate rapid muscle growth (and not fat) it takes both calories and precise nutrient partitioning to create a highly anabolic environment. This can only be achieved with (1) properly timed, high-speed macronutrient delivery and (2) near-perfect insulin optimization.
High-Speed Macronutrient Delivery: Proteins and carbohydrates that are absorbed at high speeds can spike your blood amino acid and glucose levels. In turn, this stimulates higher speeds of protein and glycogen synthesis (anabolism), resulting in faster gains in muscle mass.
Near-Perfect Insulin Optimization: Insulin is the most powerful muscle growth and recovery hormone. So powerful are its effects that pro bodybuilders seek to increase it and proclaim amazingly fast gains. Yes, insulin is that anabolic and effectively triggers muscle growth, especially in combination with a fast acting protein. Read on to discover how CARNIVOR MASS can help you reap insulin's extreme muscle building effects.
YOU CAN FEEL THE ANABOLIC IMPACT
CARNIVOR MASS is the epitome of an anabolic superfood and more advanced than any typical mass gainer. Where regular foods and typical gainers are limited in terms of speed of absorption and the potential for insulin spiking, CARNIVOR MASS excels. It combines a unique best-of-breed hydrolyzed beef protein isolate (BPI) with a dual-action insulin signal amplifying technology known as iSpike™. BPI and iSpike act in tandem to support maximum muscle anabolism while minimizing fat storage. CARNIVOR MASS is an extremely fast, clean and highly anabolic gainer. Welcome to a new era in mass building supplementation with CARNIVOR MASS, the fast, clean, highly anabolic mass gainer!
› 50g of Protein Per Serving
› Hydrolyzed BEEF Protein Isolate 
› 125g High Impact Reactive Carbs
› Insulin Amplification
› Loaded with Creatine and BCAAs 
› Sugar Free 
› Lactose Free 
› Less than 2 Grams Fat
Beef Protein Isolate: Beef has proven itself as an anabolic protein over centuries of use. Now MuscleMeds is the first to provide bodybuilders with a beef protein isolated from its proprietary matrix, thereby giving it the freedom to spike blood amino acid and insulin levels at speeds comparable with whey – resulting in comparable or even higher impact anabolic effects. MuscleMeds beef protein isolate (BPI) is 350% more concentrated in amino acids than steak and more concentrated than whey, with no fat or cholesterol. Plus its further enhanced with 5 grams of creatine and additional BCAAs for even greater anabolic power. With CARNIVOR MASS, you get the mass building benefits of beef protein at the speed of whey without the lactose, allergies and other problems frequently associated with the use of dairy products.
Add 16 fl. oz. (475mL) of water to a shaker bottle, blender or other container. Add 4 scoops of MUSCLEMEDS CARNIVOR MASS. Mix or blend until the desired texture is achieved before drinking. For a thicker, sweeter shake, add less water. For a thinner shake, add more water.
With its Beef Protein Isolate and iSpike Technology, CARNIVOR MASS allows the advanced bodybuilder to achieve high-speed macronutrient delivery and support near-perfect insulin management in one convenient product. Because its insulin-spiking actions are acute (lasting 30 minutes to 2 hours), CARNIVOR MASS is ideal for consumption:
› Post-workout (to maximize recovery and muscle growth).
› Upon awakening in the morning (to suppress catabolism and restore anabolism).
› Any other time when several hours have passed since your last meal.
WHAT TO EXPECT
In a pre-market consumer test conducted by MuscleMeds R&D team, bodybuilders using CARNIVOR MASS experienced benefits including but not limited to:
1 to 7 days of use:
Increases in muscle fullness and strength; faster recovery from workouts; mass gains of 1-2 lbs. are possible.*
7 to 14 days of use:
Further increases in muscle strength; reduction in perceived effort (workouts feel somewhat easier); sensation of greater overall power; mass gains of 2 to 7 pounds are possible.*
21 days and beyond:
Further increases in muscle mass, strength and power. The possibilities are endless!*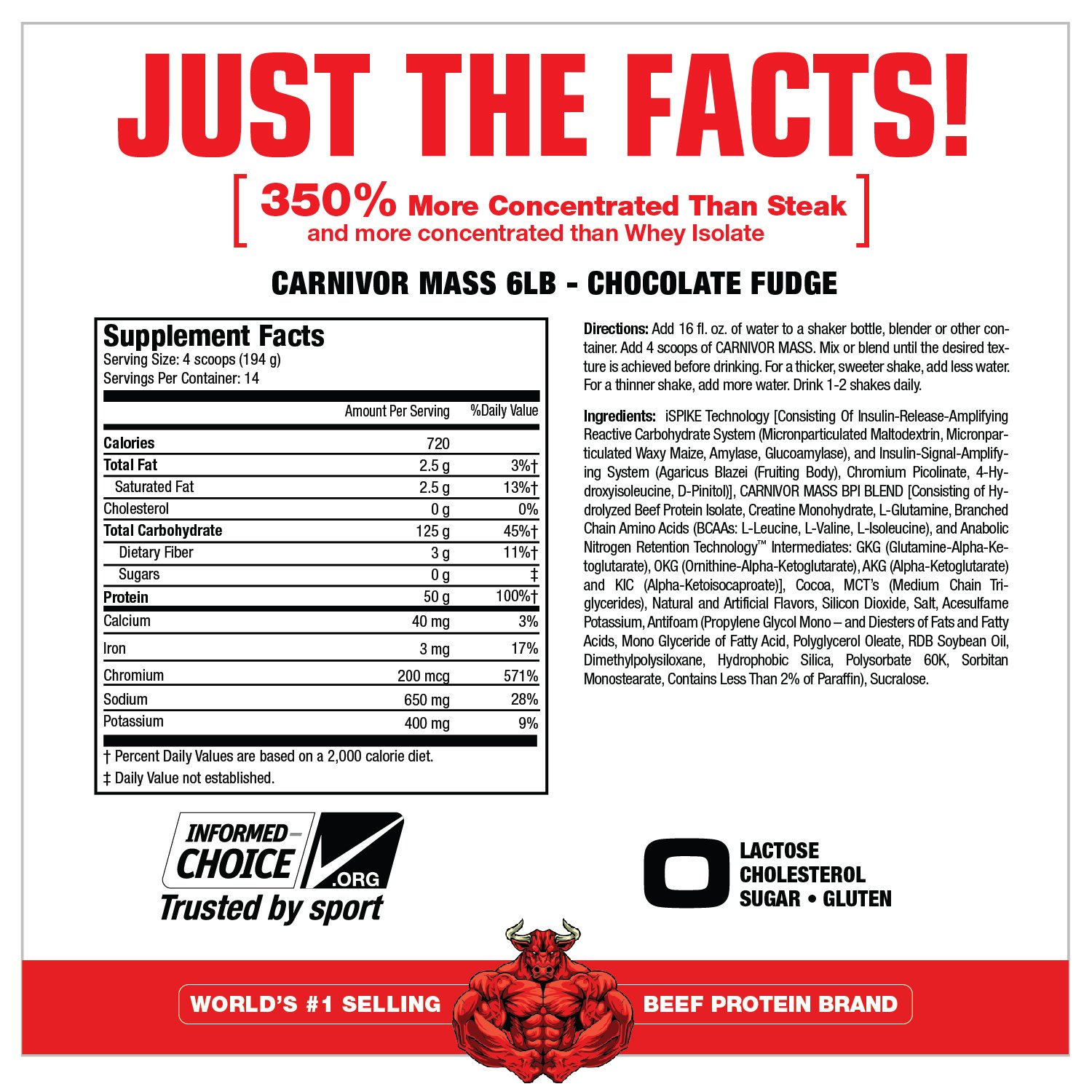 No customer reviews for the moment.