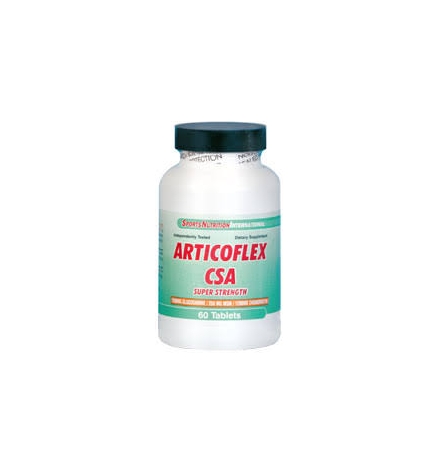 Articoflex CSA 60 tablets
2021-10-31
8718053910734
New product
Articoflex CSA - γλυκοζαμίνη, χονδροϊτίνη  & MSM
Η Θειική γλυκοζαμίνη είναι ένας αμινοσακχαρίτης που είναι απολύτως απαραίτητος για τη σύνθεση των μορίων που είναι υπεύθυνα για την ελαστικότητα του χόνδρου.
Σε περίπτωση έλλειψης γλυκοζαμίνης, αυτή η σύνθεση μειώνεται, προκαλώντας έτσι σκλήρυνση των χόνδρων με σχετικούς αρθρικούς πόνους.
Ωφέλεια από την ευεργετική πρόσληψη συμπληρωμάτων με Γλυκοζαμίνη
1.Αρθρίτιδα
Η γλυκοζαμίνη αποτελεί συστατικό των χόνδρων και του αρθρικού υγρού. Πλείστες έρευνες συνηγορούν στη θετική επίδραση της γλυκοζαμίνης σε περιπτώσεις αρθρίτιδας καθώς αναδομεί τον κατεστραμμένο χόνδρο και το αρθρικό υγρό, αντιμετωπίζοντας τον πόνο, το πρήξιμο, την πρωινή δυσκαμψία και κατά συνέπεια συμβάλλει στην καλή λειτουργία των αρθρώσεων και σε περιπτώσεις εκφυλιστικής οστεοαρθρίτιδας
2.Οστεοαρθρίτιδα γόνατος – Αθλητές
Το ευεργετικά οφέλη της συμπληρωματικής πρόσληψης γλυκοζαμίνης στη λειτουργία των αρθρώσεων και την μείωση πόνου σε περιπτώσεις τραυματισμού του γόνατος αθλητών έχει διερευνηθεί. Σύμφωνα με τα αποτελέσματα διπλής τυφλής ελεγχόμενης με placebo μελέτης, η ημερήσια πρόσληψη 1500mg γλυκοζαμίνης είχε αξιοσημείωτη βελτίωση στη λειτουργία των αρθρώσεων αναφορικά με την κάμψη και έκταση μετά από 4 εβδομάδες
Καθώς το πλέγμα των μεσοσπονδύλιων δίσκων αποτελείται από γλυκοζαμινογλυκάνες, οι επιστήμονες διερεύνησαν το πιθανώς θετικό αποτέλεσμα χρήσης γλυκοζαμίνης στην αναγέννηση του δίσκου της σπονδυλικής στήλης. Τα ευρήματα έδειξαν ότι η συνεργιστική πρόσληψη γλυκοζαμίνης και χονδροϊτίνης, που είναι συν-παράγοντας της βιοσύνθεσης των πρωτεογλυκανών, μειώνει τον πόνο χαμηλά στη μέση και ενισχύει την αντοχή και ευλυγισία της
Επιστημονικές μελέτες δείχνουν τη σημασία της γλυκοζαμίνης και της χονδροϊτίνης στην πρόληψη και στον έλεγχο της αρθροπάθειας.
Το MSM μπορεί να ασκήσει αντιφλεγμονώδη, αναλγητική δράση και συμβάλλει ιδιαίτερα στη διατήρηση ή την επισκευή του χόνδρου.
Η δραστηριότητα της γλυκοζαμίνης τροφοδοτείται από τη χονδροϊτίνη.
Οδηγίες Χρήσης:
Πάρτε 2 ταμπλέτες ημερησίως.
____________________________
Articoflec CSA - Glucosamine, Chondroitin with MSM
Glucosamine & Chondroitin with MSM combines three of the best known nutrients available for the support of healthy joints in one dietary supplement.
The Glusamine Sulfate is an aminosaccharide which is absolutely necessary to the synthesis of the molecules responsible for cartilage elasticity.
In case of lack of Glucosamine this synthesis decreases, thus bringing about a cartilage hardening with relative articular pains.
Scientific studies show the importance of Glucosamine and of Chondroitin in the prevention and in the control of arthrosis.
The activity of Glucosamine is powered by Chondroitin.
The MSM is a natural source of organic Sulphur and it is used to treat many diseases coming from inflammations and pains.
Suggested Usage:
Take 2 tablets daily.
Supplement Facts

Serving Size:

2 Tablets

Servings Per Container:

30

Glocosamine Sulfate

(as glucosamine Sulfate potassium)

1500mg

Chondroitin Sulfate

(as chondrotin sulfate)

1200mg

MSM (Methylsulfonylmethane)

250 mg
Other Ingredients: Stearic acid, Magnesium Stearate, Croscarmellose Sodium (disintigrant) Silica, Pharmaceutical Glaze.
No customer reviews for the moment.