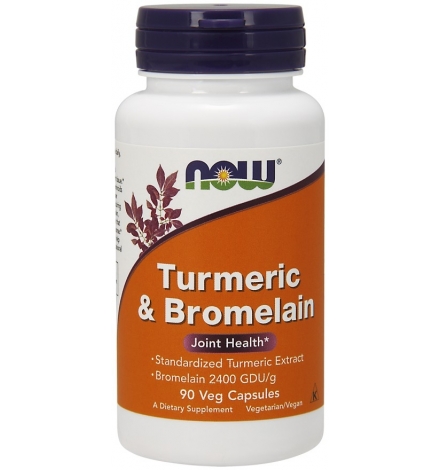 Now Foods Turmeric & Bromelain 600mg 90VCaps
2020-08-31
733739031105
New product
Now Foods Turmeric & Bromelain 600mg 90VCaps
Το Turmeric είναι ένα πολύτιμο βότανο και μπαχαρικό που περιέχει το ενεργό συστατικό κουρκουμίνη. Η κουρκουμίνη είναι ένας φυσικός αντισηπτικός και αντιβακτηριακός παράγοντας. Επίσης θεωρείται ως ένα ισχυρό φυσικό αντιφλεγμονώδες το οποίο λειτουργεί όπως πολλά αντιφλεγμονώδη φάρμακα, αλλά χωρίς τις δυσάρεστες παρενέργειες. Λόγω της αντιφλεγμονώδους ιδιότητάς του, είναι μια φυσική θεραπεία για την αρθρίτιδα και τη ρευματοειδή αρθρίτιδα. Αποτελεί ένα φυσικό παυσίπονο, καθώς και έναν ισχυρό φυσικό αποτοξινωτή του ήπατος. Τέλος έχει αναφερθεί, ότι μπορεί να ενισχύσει τον μεταβολισμό του λίπους και να βοηθήσει στη διαχείριση του βάρους.
Η Bromelain είναι φυσικό πεπτικό ένζυμο προερχόμενο από τον φρέσκο ανανά που διασπά τις πρωτεΐνες. Η βρομελίνη είναι ένας από τους ισχυρότερους φυσικούς αντιφλεγμονώδεις παράγοντες και γι' αυτό το λόγο μπορεί να χρησιμοποιηθεί σε πολλές φλεγμονώδεις καταστάσεις όπως η αρθρίτιδα και οι τραυματισμοί των αθλητών. Η Bromelain είναι επίσης ένα δημοφιλές φυσικό πεπτικό ενισχυτικό, λόγω της ικανότητάς της να αφομοιώνει τις πρωτεΐνες. Έχει χρησιμοποιηθεί για το φούσκωμα, τα αέρια και άλλα συμπτώματα που συνδέονται με το πεπτικό, και για παθήσεις όπως το σύνδρομο του ευερέθιστου εντέρου.
Μέσω αυτών και άλλων μηχανισμών, το NOW Turmeric & Bromelain μπορεί να βοηθήσει στην προσωρινή ανακούφιση μιας ήσσονος ενόχλησης των συνδέσμων η οποία προκαλείται από έντονη υπερκόπωση.
Οδηγίες Χρήσης:
Λαμβάνετε 1-2 κάψουλες, 2 φορές ημερησίως,κατά προτίμηση με το φαγητό. 
Now Foods Turmeric & Bromelain 600mg 90VCaps
PRODUCT DESCRIPTION
Standardized Turmeric Extract

Bromelain 2400 GDU/g
NOW® Turmeric & Bromelain is a botanical combination created to support healthy joint tissue.* Scientific studies have shown that the curcuminoids from Turmeric can help to support the proper activity of critical enzymes naturally present during typical biological stress.* Studies on Bromelain, an enzyme derived from pineapple, indicate that it may reinforce normal immune system response.* NOW combines Turmeric and Bromelain to help maintain healthy joint tissues faced with occasional overstress or day-to-day use.*
Directions:
Take 1-2 capsules twice daily, preferably with food.
Supplements Facts:
Serving Size:

2 Veg Capsules

Servings Per Container:

45

 

Amount per Serving

% Daily Value

* Percent Daily Values are based on 2,000 calorie diet.




† Daily Value not established.

Turmeric Root Extract (Curcuma longa)


   (Standardized to min. 95% Curcuminoids)

600 mg

†

Bromelain (2400 GDU/g)† (from Pineapple)

300 mg

†
Other Ingredients:
Cellulose (capsule), Stearic Acid (vegetable source), Magnesium Stearate (vegetable source) and Silica.
No customer reviews for the moment.