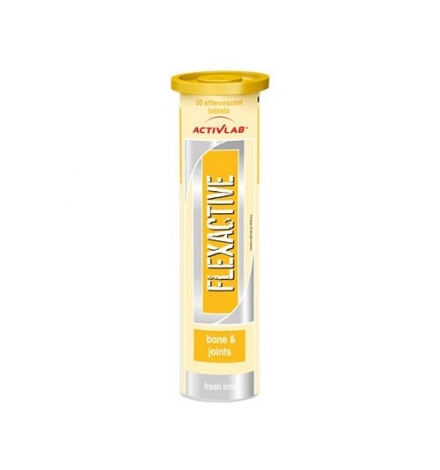 ActivLab Flexactive 20 effervescent tabs
0000-00-00
New product
ActivLab Flexactive 20 effervescent tabs - για Yγιή οστά και αρθρώσεις !!!
Το FlexActive της ActivLab είναι ένα συμπλήρωμα διατροφής  που σας παρέχει γλουκοζαμίνη, ασβέστιο και βιταμίνη D3.
► Γλυκοζαμίνη
Είναι ουσία απαραίτητη για την παραγωγή του συνδετικού ιστού στον οργανισμό. Είναι υπεύθυνη για την κινητοποίηση της παρασκευής ουσιών που είναι απαραίτητες για τη σωστή λειτουργία των αρθρώσεων, αλλά και για τη διαδικασία επιδιόρθωσής τους. Μελέτες , έχουν δείξει ότι η γλυκοζαμίνη διαθέτει ήπια αντιφλεγμονώδη δράση. Πολλοί πιστεύουν ότι η χρόνια λήψη γλυκοζαμίνης, που είναι απολύτως εφικτή, λόγω της απουσίας ανεπιθύμητων ενεργειών, καταστέλλει αρκετές φλεγμονώδεις διαδικασίες στον οργανισμό και προστατεύει από παθήσεις όπως η οστεοαρθρίτιδα, ενώ πρόσφατες μελέτες μιλούν για τα οφέλη της στις  καρδιαγγειακές και οι πνευμονικές παθήσεις.
► Ασβέστιο & Βιταμίνη D
Το ασβέστιο είναι το πιο διαδεδομένο μέταλλο στον οργανισμό και είναι απαραίτητο για τη συντήρηση των οστών και των δοντιών. Καθώς, όμως, ο οργανισμός μας δεν μπορεί να το συνθέσει μόνος του, χρειάζεται να το λαμβάνουμε από το περιβάλλον.
Για να απορροφηθεί το ασβέστιο από το έντερο και να καθηλωθεί στα κόκαλα, χρειάζεται η συνέργεια της βιταμίνης D. Ως εκ τούτου, η λήψη συμπληρωμάτων είναι απαραίτητη. 

Oι αθλητές, που καταπονούν τις αρθρώσεις τους, ωφελούνται από την τακτική λήψη γλυκοζαμίνης, ασβεστίου και βιταμίνης D για την προστασία και επιβράδυνση της φθοράς των χόνδρων.
Οδηγίες Χρήσης :
Διαλύστε 1 ταμπλέτα σε 250 ml νερό. Χρησιμοποιήστε 2 ταμπλέτες την ημέρα.
ActivLab Flexactive 20 effervescent tabs - for Healthy bone & joints!!!
FlexActive is a dietary supplement supplying glucosamine, calcium and vitamin D3. Glucosamine is a substrate in the biosynthesis of the micro particles building up the cartilage, e.g. glycosaminoglycans, proteoglycans and hyaluronic acid. Calcium is needed for the maintenance of normal bones. Vitamin D contributes to normal absorption/utilisation of calcium and phosphorus. FLEXACTIVE is recommended to anyone pursuing any sports disciplines acknowledged to increase the load on the bones and joints.
Directions :
Dissolve 1 tablet in 250 ml of water. Use 2 a day.
Food supplement.
Content: 20 drop
Serving size: 2 drop
Servings per Pack: 10
Recommended daily use: 1 Serving(s)
| Amount per | 2 drop |
| --- | --- |
| Glucosamine Sulfate                                                | 1000 mg |
| Calcium | 400 mg |
| Vitamin D3 | 5 mcg |
Other ingredients
Acidity regulators (citric acid, malic acid, sodium bicarbonate), bulking agent (sorbitol, glucose), glucosamine sulfate, calcium carbonate, flavourings, carrier (polyethylene glycol), sweetener (sucralose), colour (E110), riboflavin, cholecalciferol.

No customer reviews for the moment.