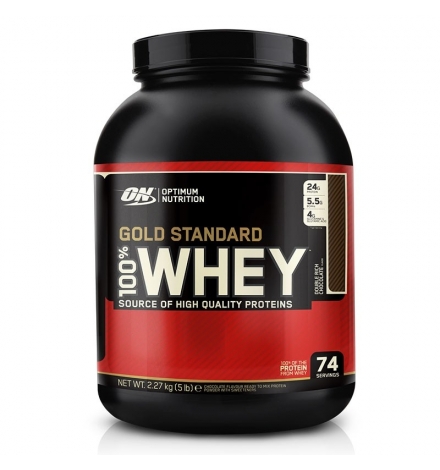 Optimum EU Gold Standard Whey Protein 5 lbs
2021-10-30
New product
Η παρούσα προσφορά δεν μπορεί να συνδυαστεί με οποιαδήποτε άλλη προσφορά.
Current offer cannot be combined with other special offers, promotions or discounts. 
Optimum EU Gold Standard Whey Protein 5 lbs
Η  100% WHEY PROTEIN  είναι ένα ισχυρό πρωτεϊνικό συμπλήρωμα φαρμακευτικής ποιότητας.
Η κάθε δόση παρέχει 24 γρ υψηλής βιολογικής αξίας πρωτεΐνη και μόνο 3 γρ υδατανθράκων. Η WHEY PROTEIN 100% είναιι μικρό φιλτραρισμένη πρωτεΐνη ορού γάλακτος. Ο τρόπος παραγωγής της, εγγυάται την απομάκρυνση της λακτόζης από αυτό το προϊόν. Παρέχει μια άριστη ισορροπία των ουσιαστικών και δευτερευόντων αμινοξέων συμπεριλαμβανομένων και των πεπτιδίων γλουταμίνης και μια υψηλή συγκέντρωση των BCAA αμινοξέων. Αυτό βελτιώνει τη διατήρηση του αζώτου και την αύξηση των μυών.
Οδηγίες Χρήσης :
1 scoop σε 300 ml νερό, 2-3 φορές την ημέρα.
Optimum EU Gold Standard Whey Protein 5 lbs
THE TRUE STRENGTH OF WHEY
Whey Protein Isolates (WPI) are the purest form of whey protein that currently exists. WPIs are costly to use, but rate among the best proteins that money can buy. That's why they're the first ingredient you read on the Gold Standard 100% Whey label. By using WPI as the primary ingredient along with premium ultra-filtered whey protein concentrate (WPC), we're able to pack 24 grams of protein into every serving to support your muscle building needs after training. ON's attention to detail also extends to mixability. This superior quality powder has been instantized to mix easily using a shaker cup or just a glass and spoon. There's no doubt that this is the standard by which all other whey proteins are measured.
BEYOND THE BASICS 
Whey Protein Isolate (WPI) Main Ingredient

Whey Protein Microfractions from Whey Protein Isolates & Ultra-Filtered Whey Protein Concentrate

Over 4 Grams of Glutamine & Glutaminc Acid in Each Serving

More Than 5 Grams of the Naturally Occurring Branched Chain Amino Acids (BCAAs) Leucine, Isoleucine, and Valine in Each Serving

The "Gold Standard" for Protein Quality
Typical Amino Acid Profile (Miligrams Per Serving)

Essential Amino Acids (EAAs)

Tryptophan

405

Valine

1422

Threonine

1654

Isoleucine

1573

Leucine

2531

Lysine

2233

Phenylalanine

748

Methionine

492

Conditionally Essential Amino Acids (CAAs)

Arginine

505

Cystine

494

Tyrosine

703

Histidine

423

Proline

1509

Glutamine & Precursors

4082

Nonessential Amino Acids (NAAs)

Aspartic Acid

2508

Serine

1126

Glycine

412

Alanine

1180

* Percent Daily Values are based on a 2,000 calorie diet.

Ingredients:

Protein Blend(Whey Protein Isolate, Whey Protein Concentrate, Whey Peptides), Artificial Flavor, Lecithin, Acesulfame Potassium, Aminogen®, Lactase.
No customer reviews for the moment.