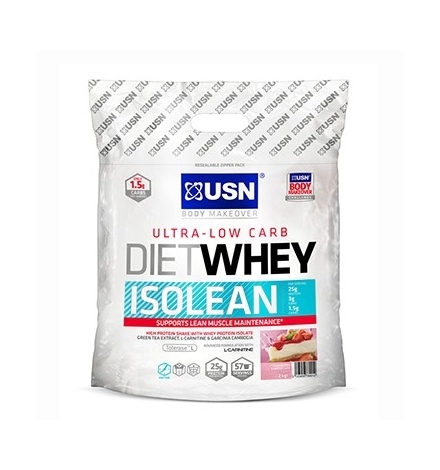 USN Diet Whey Isolean 2kg
2019-09-30
New product
USN Diet Whey Isolean 2kg
H Diet Whey Isolean είναι μία από τις πιο καινοτόμες πρωτεϊνικές φόρμουλες, ειδικά σχεδιασμένες για μείωση του βάρους.

Υψηλή περιεκτικότητα πρωτεϊνης - Χαμηλή σε Υδατάνθρακες
Εκχύλισμα Πράσινου Τσαγιού
Καρνιτίνη
Εκχύλισμα Carcinia Cambogia
Αυτό το υπέροχο συμπλήρωμα, μπορεί να καταναλωθεί ανά πάσα στιγμή της ημέρας και περιέχει ένα μείγμα των δραστικών συστατικών που μπορούν να οδηγήσουν σε πιθανή και μακροπρόθεσμη απώλεια λίπους ενώ υποστηρίζει και τη μυϊκή ανάπτυξη.
Η USN Diet Whey Isolean διατίθεται σε νόστιμες γεύσεις,και είναι ένα ιδανικό συμπλήρωμα για όσους και όσες ακολουθούν μια δίαιτα για ένα λεπτό και καλλίγραμμο σώμα.
Οδηγίες Χρήσης:
Ανακατέψτε 1 μεζούρα (35 γρ) με 150-200ml δροσερό νερό και ανακινήστε το καλά.
Αναλόγως της ημερήσιας διατροφής σας, καταναλώστε 2-3 μερίδες ημερησίως ώς σνακ για να υποστηρίξετε τη μυϊκή διάπλαση και τόνωση.

USN Diet Whey Isolean 2kg

USN Diet Whey Isolean provides an ultra-low carb shake with a healthy supply of protein to support your challenge.
Available in great tasting flavours, Diet Whey Isolean contains a variety of nutrients to support a healthy body makeover.
High Protein – Low Carb
Green Tea Extract
Great Tasting Flavours
What are the benefits?
This delicious protein drink mix is a source of fibre and protein, the main source being whey protein. DIET WHEY ISOLEAN can be taken at any time of the day and contains ingredients that may support the maintenance of lean muscle.
The vitamins and nutrients provided go a long way to supporting your body makeover challenge. Not only have we supported your muscles with a great supply of protein and low carbs, the green tea extract is ideal to help your metabolism along with calcium.
So, support your recovery, maintenance, metabolism and fatigue, the USN Diet Whey Isolean could be your key supplement to shed those extra pounds and really make a difference.
Directions:
Mix ±1 scoop (35g) into 150-200ml cold water and shake well. Have 2-3 servings of Diet Whey Isolean daily. Use at any stage throughout the day when a high-protein drink is required.
Nutritional Information (average of flavours)
Serving Per container:≈ 57
Serving size: (35g)
Per

100g

Per Serving

%RDA *

Energy
1556kj
378kcal
545kJ
132kcal

Protein

70g

25g

49

Carbohydrate

Of Which Sugar (maltose, dextrose, lactose)

4.4g

3.6g

1.5g

1.4g

1

2

Fat

Of which saturates

6.1g

2.1g

2.1g

0.7g

3

4

Fibre

8.6g

3g

Salt

0.61g

0.21g

4

Vitamins And Minerals

Vitamin D

50μg

18μg

360

Vitamin C

500mg

175mg

219

Vitamin B6

10mg

3.5mg

250

Vitamin B12

5μg

1.8μg

72

Calcium

538μg

188mg

23

Phosphorus

375mg

131mg

19

Magnesium

496mg

174mg

46

Zinc

30mg

11mg

110

Other

Green Tea Extract

570mg

200mg

N-Acetyl L-Carnitine

600mg

210mg

Garcinia Cambogia

400mg

140mg

Fructooligosaccharides (FOS)

5.4g

1.9g
*Reference Intake based on a 8400kj/2000kcal diet.
INGREDIENTS:
Whey protein isolate and concentrate blend (84%) (Milk), Milk protein isolate, Fructooligosaccharides (FOS), Polydextrose, Cocoa powder (only in Cookies and Cream variant), Flavouring, Vitamin blend (Magnesium oxide, Ascorbic acid, Maltodextrin, Zinc oxide, Vitamin D, Vitamin B12, Pyridoxine hydrochloride), N-Acetyl-L-Carnitine, Thickeners (Guar gum, Xanthan Gum), Garcinia cambogia, Sodium chloride, Sweetener (Sucralose), Colour [Red beet powder (only in Strawberry cheesecake and Cherry bakewell variants)], Tri-calcium phosphate, PhytofareTM (Highly bioavailable green tea catechin complex), ToleraseTM L (pH-stable lactase)
No customer reviews for the moment.