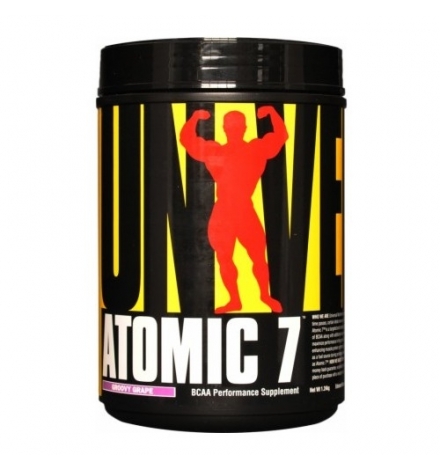 Universal Atomic 7 348g
0000-00-00
New product
Universal Nutrition Atomic 7 
Στρατηγικά ενισχυμένο συμπλήρωμα BCAA απόδοσης.
Το Atomic 7 είναι ένα στοχευμένο και στρατηγικά ενισχυμένο συμπλήρωμα BCAA απόδοσης.
Το Atomic 7 συνδυάζει τα οφέλη ενός επιστημονικά αποδεδειγμένου δείκτη 2:1:1 BCAA μαζί με τα σημαντικά συστατικά για την απόδοση όπως η μηλική κιτρουλίνη, η l-γλουταμίνη και η l-ταυρίνη. Αυτές οι δραστικές εργογενείς ενισχύσεις, μαζί με τα BCAA, βοηθούν όχι μόνο στη μεγιστοποίηση της απόδοσής σας  στο γυμναστήριο αλλά προάγουν την αποκατάσταση  ταυτόχρονα.
Αλλά αυτή είναι η άκρη του παγόβουνου. Το Atomic 7  δουλεύει επίσης για τη  μείωση της κόπωσης τονώνοντας τη μυική πρωτεϊνοσύνθεση αυξάνοντας τον όγκο των κυττάρων, βελτιώνοντας την ανοσοποιητική λειτουργία  προστατεύοντας το ήπαρ και το μυικό γλυκογόνο μειώνοντας τη μυική κατάπτωση  και λειτουργεί ακόμη ως πηγή καυσίμου κατά τη διάρκεια παρατεταμένης άσκησης. Οι αθλητές που κατά τη διάρκεια παρατεταμένης άσκησης προπονούνται σκληρά και έντονα χρειάζονται το Atomic 7  μέσα στο σέικερ τους.
Κανένα άλλο συμπλήρωμα με BCAA  δεν είναι τόσο προηγμένο όσο το Atomic 7. 
Χαρακτηριστικά Atomic 7 της Universal Nutrition :
Ενισχύει την αποκατάσταση




Μεγιστοποιεί την προπονητική απόδοση

Βελτιώνει την αντοχή

Ενισχυμένα 

Αμινοξέα 

Διακλαδισμένης Αλυσίδας

2:1:1 δείκτης, με 4 γρ. Λευκίνη

Περιέχει Μηλική Κιτρουλίνη, 

Γλουταμίνη και Ταυρίνη

Τέλειο για ενδο-προπονητική συμπλήρωση αμινοξέων 

, ή οποιαδήποτε στιγμή της ημέρας
Οδηγίες Χρήσης :
Aναμίξτε 1 μεζούρα με περίπου 240-360 ml κρύου νερού. Προσθέτετε σκόνη αφού ρίξετε το υγρό στον αναμεικτήρα ή το κύπελλο.
Universal Nutrition Atomic 7
2:1:1 BCAA Ratio! Strategically Enhanced BCAA Performance Supplement!
Enhanced Branced Chain Amino Acids
2:1:1 ratio, loaded with leucine
Includes Citrulline Malate, Glutamine and Taurine
Great for intraworkout amino supplementation, or any time of day
Comes in several refreshing, mouth-watering flavors
Sugar-free,perfect for dieting bodybuilders

 
Atomic 7 is a powerful, enhanced BCAA performance and recovery support supplement.* Available in an array of mouth-watering flavors, Atomic 7 is an exceptionally powerful and versatile staple supplement, perfectly suitable for intra-workout, post workout or any time of day a hard training bodybuilder requires an infusion of easily assimilated anabolic nutrients.*
An athlete must be able to perform at such an extremely high level over the course of long periods of time if success is to be achieved in the respective sport of choice, bodybuilders and strength athletes included. For the bodybuilder, gains in strength and size don´t happen overnight. It is the persistent day in and day out training in the gym that can make or break ones physique. And even more so, the true iron athlete knows that it just isn´t enough to only have a good session every so often. They need to tap in and get the most out of their abilities each and every time out. For them, just being at the gym going through the motions isn´t enough. The iron athlete trains hard each and every time in the gym. His goals are constantly in mind when plowing through tough session after tough session. The gritting through each grueling session month after month is where athletes truly reap their rewards. With this hard training, elite athlete in mind, the fellas at Universal cooked up a powerful BCAA performance supplement. The goal in mind was to combine the time tested benefits of BCAA along with key performance ingredients that would take an athlete´s ability to consistently train hard and perform at a high level on the daily, up a notch.* On to the scene enters Atomic 7.
Atomic 7 is a targeted and strategically enhanced BCAA performance supplement. Atomic 7 combines the benefits of a scientifically researched 2:1:1 ratio of BCAA along with key performance ingredients such as citrulline malate, l-glutamine and l-taurine. These powerful ergogenic aids, along with BCAAs, may help to not only maximize your performance in the gym but also promote recovery at the same time.* Citrulline malate has been suggested to increase plasma arginine levels and nitric oxide more effectively than arginine itself.* The physiological effect of boosting NO as citrulline malate does includes added support for the regulation of blood flow and amino acid delivery to muscle tissue, improved oxygen delivery, enhanced glucose uptake and muscle strength amongst other things.* Citrulline malate also plays a role in reduced lactic acid and ammonia buildup, optimized ATP production, battles exercise related muscle fatigue and promotes endurance.*
Atomic 7 is further enhanced with l-glutamine, which is the most abundant amino acid in the body, comprising more than 60% of the free amino acid pool in skeletal muscle and greater than 20% of total circulating amino acids and is used not only by skeletal muscle but also the immune system and gut in order to help maintain homeostasis.* Strenuous exercise can deplete the body´s glutamine stores at a fast rate, making it an important amino acid for athletes to consume, especially to assist with rebuilding muscle tissue after intense training sessions.* Glutamine also plays an important role in protein metabolism and cell volumization.* Ensuring that an optimal level of glutamine is maintained by the athlete is key for continued intense training sessions.* Atomic 7 also contains l-taurine, which believe it or not, is the second most abundant amino acid in muscle. L-taurine has been suggested to work by expanding muscle cells by helping the cell itself hold more water and thus support increased cell volume.* For bodybuilders and strength athletes, this is of utmost important as expanded muscle cells can boost hydration which may help support a higher rate of protein synthesis.* A nice side effect is increased appearance of muscle fullness. Atomic 7 is then rounded out by the addition of the ever important vitamin B6, which is key in ensuring proper metabolization of the other amino acids in the formula.*
Available in Groovy Grape, ´Lectric Lemon Lime, Rockin´ Razz Lemonade and Way Out Watermelon flavors, not only is Atomic 7 a powerful formula, but this versatile powder, able to be used pre-, intra and post-workout as well as sipped on over the course of the day, provides a refreshing blast of flavor, able to add taste to the most bland of bodybuilding diets.
BCAAs are on the rise. The evidence in the lab is undeniable and the shaker cups of the biggest, fastest and strongest tell the most compelling tale. With this knowledge in mind, the New Brunswick, New Jersey brain trust at The U sought to develop a product much like the athletes who salute the yellow flag. One born in the proving grounds of the golden era but powerful enough to dominate in the modern arena. The result? :
Atomic 7. The explosive, enhanced BCAA formula. Only from Universal.
Directions :
As a dietary supplement, mix 1 scoop of Atomic 7™ with 8-12 ounces of your favorite cold beverage. Add powder after the liquid is already in the shaker or cup. For best results take before and after workout.
No customer reviews for the moment.