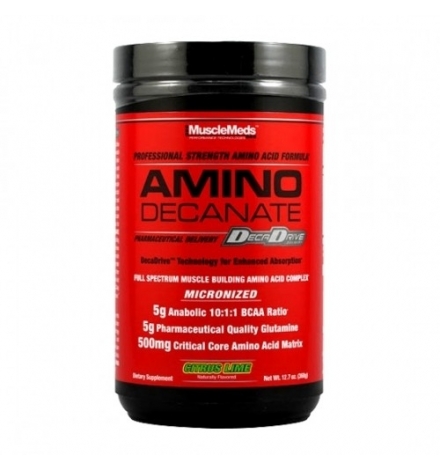 MuscleMeds Amino Decanate 360G
0000-00-00
New product
MuscleMeds Amino Decanate
Η νέα φόρμουλα αμινοξέων της MuscleMeds AMINO DECANTATE ανατρέπει όλα τα δεδομένα σχετικά με ό,τι γνωρίζαμε για τα αμινοξέα.
Μετά από 3 χρόνια εξαντλητικών ερευνών η ομάδα της MuscleMeds ανακάλυψε τα 19 ζωτικής σημασίας αμινοξέα που είναι απαραίτητα για μία εκρηκτική προπόνηση και τα μέγιστα αναβολικά και αντικαταβολικά αποτελέσματα. Και σαν να μην ήταν όλα αυτά αρκετά, για να μεγιστοποιηθούν τα αποτελέσματα αυτά, η MuscleMeds προσθέτει την αποκλειστική και αυθεντική φόρμουλα  μέγιστης απορρόφησης DecaDrive. 
Περιέχει τα bcaa αμινοξέα και τη γλουταμίνη για να μεγιστοποιηθούν οι αντικαταβολικές δράσεις του αλλά και όλα τα υπόλοιπα 15 αμινοξέα, χωρίς τα οποία η μυϊκή ανάπτυξη δεν θα μπορέσει να φτάσει στην κορυφή.
Oδηγίες Χρήσης :

1 scoop  1-2 φορές την ημέρα.
Το συγκεκριμένο προϊόν για ακόμα καλύτερα αποτελέσματα συνδυάζεται με το σύμπλεγμα βιταμινών Β,  B-COMPLEX της BIOTECH γιατί με αυτό τον τρόπο τα αμινοξέα θα απορροφηθούν ταχύτερα και πιο ολοκληρωμένα από τους μυς.
___________________________________
MuscleMeds Amino Decanate
AMINO DECANATE: MuscleMeds newest scientifically advanced amino acid formula is designed to trigger maximum anabolic effects and prevent rate limiting amino acid deficiencies and catabolism often experienced during intense workouts. New research shows that while BCAAs and glutamine are the major players in muscle growth, 15 other amino acids known as Critical Core Amino Acids (CCAAs) also play a critical role. In fact, once you are depleted of any of these aminos your muscle growth and performance comes to a screeching halt. This phenomenon is known as the "Rate Limiting Amino Acid Factor." Each serving of AMINO DECANATE provides all 19 critical amino acids for peak muscle building, maximum performance and optimal recovery. To enhance the bio-availability and potency of this already highly anabolic formula, AMINO DECANATE features MuscleMeds exclusive DecaDrive Delivery Technology!
Pharmaceutical Nutrient Uptake Accelerator
The revolutionary DecaDrive Delivery Technology involves the use of pharmaceutical delivery methods using the compounds PEG (as polyethylene glycol) and Decanoate (as sodium caprate) to increase amino acid infusion. PEG is a proven intestinal absorption enhancer used to increase the solubility and dissolution of amino acids, thereby promoting overall conditions for maximizing transcellular and paracellular routes of absorption. Decanate is a clinically tested intestinal absorption enhancer. Its principle mode of bio-dynamic action includes increasing the paracellular permeability by enlarging the tight paracellular junctions (openings), thereby allowing greater uptake and transport of aminos into the bloodstream. AMINO DECANATE's amino acids are also micronized to reduce particle size and further optimize intestinal transport through the transcellular and paracellular pathways. The end result is increased solubility, dissolution and enhanced transcellular and paracellular absorption for faster, greater and more potent amino acid utilization.
DecaDrive Delivery: Figure 2 illustrates the enhanced absorption of amino acids using the DecaDrive Delivery through the transcellular and paracellular pathways. As you will note, the decanoate increases the space between the tight junctions of the paracellular pathways. In addition, by reducing particle size and improving dissolution with PEG and micronization the uptake of amino acids in the intestines is enhanced through both transcellular and paracellular routes of absorption.
Full Spectrum Muscle Building Amino Acid Complex

5g Anabolic 10:1:1 BCAA Ratio

5g Pharmaceutical Quality Glutamine

500mg Critical Core Amino Acid Matrix
Mix one scoop of AMINO DECANATE with 8 to 10 fl. oz. of water. Take 1 to 2 times daily.
Serving Size: 1 scoop (12.8g)
Serving per container: 30
Amount Per Serving
% DV
Amino Decanate
(L-Leucine, L-Isoleucine, L-Valine)
5g
+
L-Glutamine
5g
+

Critical Core Amino Acids:

L-alanine, L-arginine, L-asparagine, L-aspartic acid, L-cysteine, L-glycine, L-histidine, L-Lysine, L-Methionine, L-Phenylalanine, L-Proline, L-Serine, L-Threonine, L-Tryptophan, and L-Tyrosine.

500mg
+
Other Ingredients:
Citric acid, natural and artificial flavors, waxy maize, malic acid, sucralose, silica, acesulfame potassium, FD &C Yellow #5, PEG 8000, PEG 3350, decanoic acid and FD&C blue #1. 
No customer reviews for the moment.