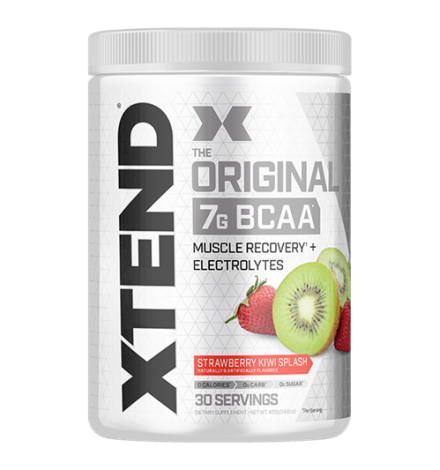 SciVation Xtend The Original 7g BCAA 30 Servings
2023-05-31
New product
SciVation Xtend 30 Servings
Η ΕΠΙΣΗΜΗ ΜΟΝΑΔΑ ΑΝΑΚΤΗΣΗΣ ΤΩΝ ΠΡΩΤΑΘΛΗΤΩΝ
Η ταχύτερη ανάκαμψη είναι το κλειδί για καλύτερα αποτελέσματα. Για πάνω από 10 χρόνια, η XTEND® κατασκευάζει τα καλύτερα προϊόντα ανάκτησης στον κόσμο. Τροφοδοτείται από 7 γραμμάρια αμινοξέων διακλαδισμένης αλυσίδας (BCAAs), τα οποία έχουν κλινικά αποδειχθεί ότι υποστηρίζουν την αποκατάσταση και ανάπτυξη μυών, το XTEND® Original περιέχει επίσης ενυδατικούς ηλεκτρολύτες και πρόσθετα συστατικά απόδοσης για να σας βοηθήσουν να ανεφοδιάσετε, να επισκευάσετε και να ανακτήσετε. Δοκιμάστε όλες τις γεύσεις χωρίς ζάχαρη του XTEND® για να υποστηρίξετε τους στόχους της φυσικής σας κατάστασης.
Οδηγίες Χρήσης:
1 scoop σε 250ml - 300ml νερού κατά τη διάρκεια της προπόνησης. 
Κατά τις ημέρες της προπόνησης, καταναλώστε 1 scoop κατά τη διάρκεια της άσκησης και 1 scoop μετά την άσκηση.
Σε ημέρες μη προπόνησης, καταναλώστε 2 scoops καθ' όλη την ημέρα. Για καλύτερα αποτελέσματα, καταναλώστε καθημερινά.

SciVation Xtend 30 Servings

THE OFFICIAL RECOVERY BRAND OF CHAMPIONS
Faster recovery is key to better results. For over 10 years, XTEND® has been making the best recovery products in the world. Powered by 7 grams of branched chain amino acids (BCAAs), which have been clinically shown to support muscle recovery and growth, XTEND® Original also contains hydrating electrolytes and additional performance ingredients to help you refuel, repair, and recover. Try all the sugar-free, mouthwatering flavors of XTEND® to support your fitness goals.
DIRECTIONS: 
As a dietary supplement, mix each level scoop in 10-14 fl. oz. of water (adjust for taste preference) and shake well. On training days, consume 1 level scoop during exercise and 1 level scoop after exercise. On non-training days, consume 2 level scoops throughout the day. For best results, consume daily.
Serving Size: 1 Scoop (14 g)

Servings Per Container:

30

Amount Per Serving

%DV

Calories

0

      

Total Carbohydrate

0 g

0%*

Sugars

0 g

**

VItamin B6 (as Pyridoxine Hydrochloride)

0.64mg

46%

Magnesium

60mg

16%

Salt

0.550g

9%

Potassium

180 mg

9%

L-Leucine

3,500

mg

**
L-Glutamine

2,500

mg

**
L-Isoleucine

1,750

mg

**
L-Valine

1,750

mg

**

Citrulline Malate (1:1)

550mg

**

* Percent Daily Values are based on a 2,000 calorie diet.

** Daily Value (DV) not established.

Other Ingredients:
L-Leucine, L-Valine, L-Isoleucine, L-Glutamine, Acidity Regulators (Citric Acid and Malic Acid), Sodium Citrate, L-Citrulline, Magnesium Salts of Citric Acid, Potassium Chloride, Flavourings, Sodium Chloride, Sweetwners (sucralose and steviol glycosides), bulking agent (polydextrose) colours (tartazine and brilliant blue FCF), Vitamin B6 (Pyridoxine Hydrochloride)
No customer reviews for the moment.