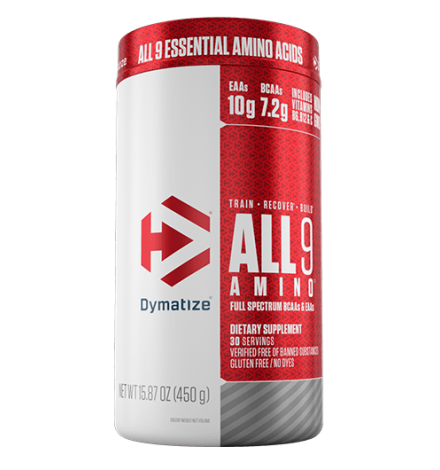 Dymatize All 9 Animo 450 grams
0000-00-00
New product
Dymatize All 9 Animo - Το σημαντικότερο προϊόν για τις προπονήσεις σας!
Γιατί το All9 Amino;
 Η αποτελεσματική διατήρηση και οικοδόμιση της άλιπης σας μυϊκής μάζας απαιτεί και τα εννέα απαραίτητα αμινοξέα (ΕΑΑ). Η διασφάλιση στη διατροφής σας και των εννέα EAA μπορεί να είναι δύσκολη, οπότε η Dymatize ανέπτυξε το All9 Amino - το πιο πλήρες μείγμα σκόνης αμινοξέων για τη μέγιστη πρωτεΐνική σύνθεση (MPS) και την υποστήριξη της αποκατάστασης.
Το All9 Amino περιέχει το πλήρες φάσμα και των 9 απαραίτητων αμινοξέων.
All9 Amino ™
10g βασικών αμινοξέων ανά μερίδα. Τα βασικά αμινοξέα είναι τα αμινοξέα που τα ανθρώπινα σώματα δεν μπορούν να παράγουν μόνα τους και ΠΡΕΠΕΙ να παρέχονται μέσω της διατροφής και των συμπληρωμάτων.
7.2g αμινοξέων διακλαδισμένης αλυσίδας (BCAAs). Αποδεδειγμένα να βοηθούν στην οικοδόμηση των μυών και στην αποκατάσταση.
Περιλαμβάνει επίσης βιταμίνες Β6, Β12 & Γ.
Μη ΓΤΟ.
Νερό Καρύδας. Φτιαγμένο από χυμό φρέσκων, νεαρών καρύδων, η σκόνη καρύδας είναι αναζωογονητική και πλούσια σε βασικούς ηλεκτρολύτες. 
Οδηγίες Χρήσης :
Πάρτε μια σέσουλα (παρέχεται) με 300 έως 400 ml νερού (προσαρμόστε την ποσότητα νερού με τις προτιμήσεις γεύσης).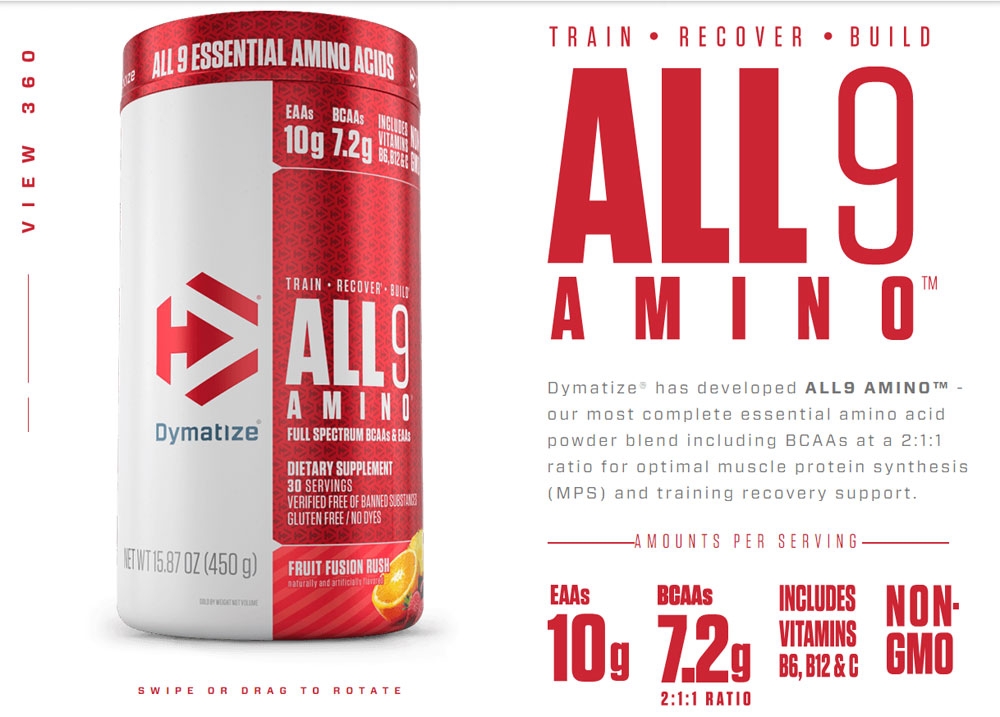 Dymatize All 9 Animo - All 9 Essential Amino Acids! EAAs 10g BCAA 7.2g!
What Is It: This is the brand new revolutionary Amino Acid cocktail from Dymatize Nutrition. All 9 Amino is a full spectrum 9 Amino Acid profile to build muscle, speed up recovery, and burn fat. All 9 Essential Amino Acids are scientifically proven to dominate BCAAs and any other Amino Acid drink out there.
Why All9 Amino?
This might become your most important training product. Effectively maintaining and building lean muscle mass requires all nine essential amino acids (EAAs). Ensuring your diet has all nine EAAs can be challenging, so Dymatize developed All9 Amino—our most complete amino acid powder blend for optimal muscle protein synthesis (MPS) and training recovery support.*
All9 Amino is the full spectrum of all 9 essential amino acids.
All Dymatize products are rigorously tested for quality to ensure that nutritional levels stated on the label are in the bottle.
All9 Amino™
10g of Essential Amino Acids per serving. Essential Amino Acids are the amino acids that human bodies cannot produce on their own and MUST be provided through food and supplementation.

7.2g of Branched Chain Amino Acids (BCAAs). Proven to help build muscle and aid in recovery.*

Also includes Vitamins B6, B12 & C.

Non-GMO.

Coconut Water Fruit Powder. Made from juice of fresh, young coconut, coconut powder is refreshing and rich in basic electrolytes.

Enjoy a variety of delicious and refreshing flavors Pre, Post, During workout or anytime of the day.
Take one scoop (provided) with 10 to 12 fl. oz. of water (adjust for taste preferences).
Servings Per Container: 30
Supplement Facts

Serving Size: 1 Scoop (15g)
Amount Per Serving

Calories

20

 

Total Carbohydrate

1 g

<1%*

Vitamin C (as Ascorbic Acid)

90 mg

150%

Thiamin (as Thiamin HCI)

1.5 mg

100%

Niacin (as Niacinamide)

20 mg

100%

Vitamin B6 (as Pyridoxine HCI)

10 mg

500%

Vitamin B12 (as Cyanocobalamin)

3.5 mcg

58%

Pantothenic Acid (as Calcium D-Pantothenate)

9 mg

90%

Sodium

25 mg

1%

Instantly Soluble BCAAs
7.2g

**

L-Leucine, L-Isoleucine, L-Valine

Essential Amino Acids
2.8g

**

L-Lysine, L-Threonine, L-Phenylalanine, L-Methionine, L-Histidine, L-Tryptophan

Coconut Water Fruit Powder

200mg

**

* Percent Daily Values are based on a 2,000 calorie diet.
** Daily Value not established.
Other Ingredients: Citric Acid, Natural And Artificial Flavors, Malic Acid, Silicon Dioxide, Sucralose, Acesulfame Potassium, Sunflower Lecithin, Steviol Glycosides (Stevia).

CONTAINS: TREE NUTS (COCONUT)

Warnings:

 PHENYLKETONURICS: CONTAINS PHENYLALANINE. NO ASPARTAME. KEEP OUT OF REACH OF CHILDREN. STORAGE CONDITIONS: STORE IN A COOL, DRY PLACE
No customer reviews for the moment.