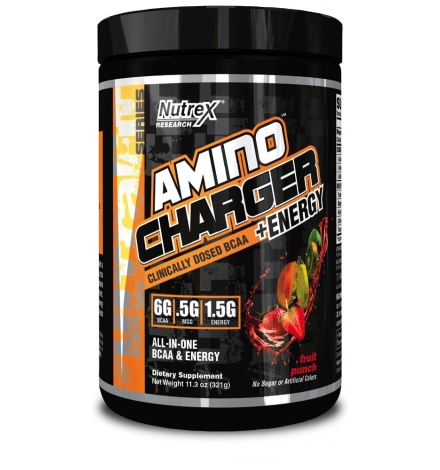 Nutrex Amino Charger + Energy 30 servings
0000-00-00
New product
NUTREX RESEARCH AMINO CHARGER +ENERGY
To Amino Charger + Energy είναι η η ιδανική επιλογή για όσους ψάχνουν για ένα προϊόν αμινοξέων / BCAA ανώτερης ποιότητας μαζί με ένα επιπλέον λάκτισμα καθαρής ενέργειας. Όχι μόνο παρέχει στο σώμα σας μια κλινικά δοσολογημένη (πλήρης αποτελεσματική) ποσότητα BCAA, αλλά επιπλέον σας γεμίζει με επιπλέον ενέργεια για να σας βοηθήσει να περάσετε την καθημερινή σας ρουτίνα. Κάθε μερίδα παρέχει 6 g BCAA μαζί με το ισχυρό αντι-καταβολικό Glycinate Glutamin Chelate (MGG) για τη στήριξη της μυϊκής ανάπτυξης, της αντοχής και της ανάκτηση.
To Amino Charger + Energy είναι ιδανικό για κατανάλωση πριν από την προπόνηση ή οποιαδήποτε στιγμή της ημέρας όταν χρειάζεται να ανεφοδιάσετε με κρίσιμο αμινοξύ και ενέργεια.
Σε κάθε δόση (10.7gr) παρέχει : 
6γρ. Bcaa's (Διακλαδισμένη Αλυσίδα Αμινοξέων) σε αναλογία 2:1:1 λευκίνη, ισολευκίνη και βαλίνη για την ενεργοποίηση & την υποστήριξη της πρωτεϊνοσύνθεσης και της αποκατάστασης
500 mg Γλυκινικού Μαγνησίου και Γλουταμίνης. Αυτή η προηγμένη μορφή γλουταμίνης συνδυάζει γλουταμίνη, μαγνήσιο και γλυκίνη με κλινικά δεδομένα που αποδεικνύουν ανώτερη σταθερότητα και αυξημένα επίπεδα γλουταμίνης στο πλάσμα στο αίμα. Αυτό με τη σειρά του οδηγεί τόσο σε αυξημένη διατήρηση και προαγωγή της μυϊκής μάζας και αναγέννησης των μυών σε αγχωτικά περιβάλλοντα: δηλαδή, κατά τη διάρκεια εντατικών προπονήσεων.
Ταυρίνη. Η συμπλήρωση με ταυρίνη έχει αποδειχθεί ότι αυξάνει τα επίπεδα αντοχής, μειώνει τον πόνο των μυών, προάγει την αντοχή και βοηθά στην αποκατάσταση. Είναι επίσης ένας προεξέχων ρυθμιστής στην ισορροπία υγρών-ηλεκτρολυτών.
Κιτρική Καφεΐνη (100mg). Η κιτρική καφεΐνη είναι το ιδανικό διεγερτικό για όσους θέλουν να αυξήσουν την ενέργεια όσο το δυνατόν γρηγορότερα, επειδή αυξάνει τα επίπεδα καφεΐνης στο αίμα γρηγορότερα από οποιαδήποτε άλλη πηγή καφεΐνης. Αυξάνει άμεσα τη μυϊκή δύναμη, την πνευματική εγρήγορση και τη διάθεση, βοηθά στην απώλεια λίπους και σας βοηθά να γυμνάζεστε σε υψηλότερο επίπεδο έντασης.


TEACRINE®. Η έρευνα έδειξε ότι το TeaCrine λειτουργεί με τις φυσικές μεταβολικές διεργασίες του σώματος ώστε να μεταφέρει μεγαλύτερης διάρκειας ενέργεια και αυξημένη πνευματική διαύγεια.

Ν-Ακετυλο-L-τυροσίνη. Αυτό το αμινοξύ υποστηρίζει τη λειτουργία του εγκεφάλου, συμπεριλαμβανομένης της αύξησης της ψυχικής εστίασης και της εγρήγορσης, των επιπέδων ντοπαμίνης, της διάθεσης και της ενέργειας κατά την άσκηση.
Οδηγίες Χρήσης : 
Ανακινήστε το δοχείο πριν από κάθε χρήση.
Ανακατέψτε 1 scoop σε 8-10 oz κρύου νερού και πιείτε ανάμεσα στα γεύματα. Ημέρες άσκησης πάρτε 1 μερίδα 30 λεπτά πριν την προπόνηση. Μην υπερβαίνετε τις 3 μερίδες την ημέρα.
Μην καταναλώνετε 4 ώρες από την ώρα του ύπνου.
________________________________
NUTREX RESEARCH AMINO CHARGER +ENERGY 
Amino Charger Energy is 1 of 2 amino supplements Nutrex is promising for the UltraFit Series. And with this new amino acid supplement, you're going to be getting a lot of BCAAs with every serving. And like other UltraFit Series products, you'll get the ingredient TeaCrine with Amino Charger Energy.
AMINO CHARGER +ENERGY is the perfect choice for those who are looking for an amino/BCAA product of superior quality along with an extra kick of clean energy.* Not only does it provide your body with a clinically dosed (full effective) amount of BCAA but it also supercharges you with extra energy to help get you through your daily grind. Each serving delivers 6g of BCAA along with the powerful anti-catabolic Magnesium Glycinate Glutamine Chelate (MGG) to support muscle development, strength and recovery.* The added energy complex is a carefully crafted blend combining the clean focus of TeaCrine® with the mood supporting properties of N-Acetyl-L-Tyrosine along with the fastest acting caffeine source there is, caffeine citrate.*
AMINO CHARGER +ENERGY is ideal for consumption before workouts or at any time during the day when you need to refuel with critical aminos and energy.*
Finally, AMINO CHARGER +ENERGY is also setting a new standard when it comes to taste. This product delivers a burst of exotic fruit punch flavor notes so delicious you will want to sip on it all day long!
THE SCIENCE BEHIND AMINO CHARGER +ENERGY
6 g BRANCH CHAINED AMINO ACIDS (BCAAS)
The highly researched 2:1:1 ratio of L-Leucine, L-Isoleucine and L-Valine for optimum muscle growth, recovery and performance.*
500mg MAGNESIUM GLYCINATE GLUTAMINE CHELATE (MGG)
This advanced form of glutamine combines glutamine, magnesium and glycine with clinical data demonstrating superior stability and increased plasma glutamine levels in the blood. This in turn leads to both enhanced conservation and promotion of muscle mass and muscle regeneration in stressful environments: ie, during intense training sessions.*
TAURINE
Supplementing with taurine has been shown to increase strength levels, decrease muscle soreness, promote endurance and aid in recovery. It is also as a prominent regulator in fluid-electrolyte balance.*
CAFFEINE CITRATE (YIELDING 100MG ACTIVE CAFFEINE)
Caffeine citrate is the ideal stimulant for those looking to increase energy as quickly as possible because it raises caffeine blood levels faster than any other caffeine source. Caffeine citrate immediately increases work volume and muscle strength, mental alertness and mood, assists in fat loss and helps you train at a higher intensity level.*
TEACRINE®
Research has shown TeaCrine boosts energy, mental clarity and clean focus without the jitters, fatigued crash and tolerance build-up over time. Additionally, TeaCrine has an extended energy effect that lasts for a prolonged period of time after consumption.*
N-ACETYL-L-TYROSINE
This amino acid supports brain function including increasing mental focus and alertness, dopamine levels, mood and energy during exercise.*
Directions :
Shake container before each use. Mix 1 scoop in 8-10 oz of cold water and drink between meals. On training days drink 1 serving 30 minutes before working out. Do not exceed 3 servings per day. Do not consume within 4 hours of bedtime.
Serving Size: 10.7g (Approx 1 scoop)

Servings Per Container: 30

Amount per serving

%DV

Magnesium (as TRAACS® Magnesium Glycinate Glutamine Chelate, TRAACS® Magnesium Bisglycinate Chelate)

40 mg

10%

CLINICALLY DOSED BCAA 2:1:1

6 g

*

L-Leucine

3 g

*

L-Isoleucine

1.5 g

*

L-Valine

1.5 g

*

HIGH SPEED ENERGY & AMINO COMPLEX

2 g

*

Taurine

*

Magnesium Glycinate Glutamine Chelate (MGG)

*

N-Acetyl-L-Tyrosine

*

Caffeine Citrate (yielding 100mg active caffeine)

*

Theacrine (as TeaCrine®)

*

* Daily Value not established.

OTHER INGREDIENTS:

Malic Acid

, Citric Acid

, Natural and Artificial Flavor

, Silica

, Sucralose

, Acesulfame Potassium.

ALLERGEN WARNING: Manufactured on equipment that processes products containing milk, egg, soybean, fin fish and wheat.
No customer reviews for the moment.