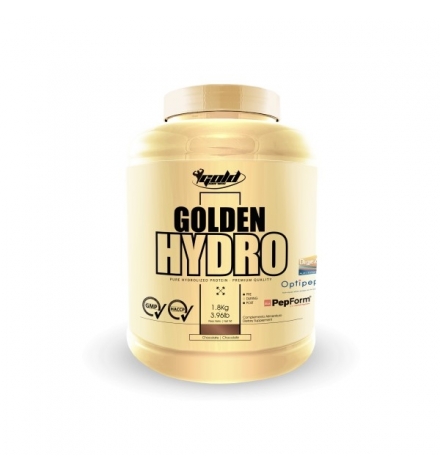 BigMan Hydro Golden 1,8kg
2021-07-31
New product
BigMan Hydro Golden 1,8kg
Τι είναι η Golden Hydro από το BigMan;
Η Golden Hydro από το BigMan είναι ένα συμπλήρωμα που βασίζεται σε απομονωμένη πρωτεΐνη ορού γάλακτος Optipep® με πεπτίδια και πεπτικά ένζυμα.
Golden Hydro:
Optipep® 90 Carbery.

PepForm®.

DigeZyme®.

GMP

HACCP.
Ποια είναι τα χαρακτηριστικά της υδρολυμένης πρωτεΐνης της σειράς Gold Series;
H Golden Hydro, είναι μία από τις καλύτερες υδρολυμένες πρωτεΐνες στην αγορά λόγω της υψηλής ποιότητας συστατικών που χρησιμοποιήθηκαν για την παρασκευή της.
Δεν είναι ένα απλό συμπύκνωμα υδρολυμένου ορού γάλακτος, αλλά δεσμεύεται στη γραμμή Gold Series χρησιμοποιώντας τα καλύτερα δυνατά συστατικά.
Περιέχει επίσης την σφραγίδα Carbery Optipep® που εγγυάται, την καθαρότητα / αγνότητα κατά 90%.
Πρόκειται για μια πρωτεΐνη που διασπάται ενζυματικά, οπότε η αφομοίωσή της είναι εξαιρετικά γρήγορη δεδομένου ότι είναι προ-χωνευμένη.
Αυτή η διαδικασία υδρόλυσης διατηρεί τα βιοδραστικά πεπτίδια και ένα εξαιρετικό προφίλ αμινοξέων.
Η βιολογική της αξία είναι πολύ υψηλή και η περιεκτικότητα σε λιπαρά είναι σχεδόν μηδενική, όπως και τα σάκχαρα.
Ένα μέρος για τη βελτίωση της φόρμουλας περιέχει πεπτίδια PepForm® με βάση Leucine, Bcaa 2: 1: 1 και τρυπτοφάνη.
Τα πεπτικά ένζυμα έχουν επίσης προστεθεί στη σύνθεση με τη σφράγιση DigeZyme® , η οποία θα βελτιώσει την πέψη και την αφομοίωση των μακροθρεπτικών ουσιών .
Ως εκ τούτου, η Golden Hydro από την BigMan Nutrition είναι ιδανική για να ληφθεί τόσο πριν όσο και μετά την προπόνηση.
Ποια οφέλη λαμβάνουμε από την Golden Hydro από την BigMan;
Γρήγορη αφομοίωση

Υψηλή πεπτικότητα

Εξαιρετική διάλυτότητα

Εξαιρετική γεύση

Ταχεία απελευθέρωση αμινοξέων.

Προωθεί την ανάπτυξη μυών.

Προωθεί τον αναβολισμό.

Βελτιώνει την ανάκτηση

Αυξάνει τις αθλητικες επιδόσεις
Οδηγίες Χρήσης:
Πάρτε 35 γραμμάρια (1 σέσουλα) με 300-400 ml νερό ή άπαχο γάλα μετά την προπόνηση.
Μπορείτε επίσης να κάνετε ένα ή μισό πριν από την προπόνηση. Καταναλώστε 1 με 3 φορές την ημέρα ανάλογα τις διατροφικές σας ανάγκες
BigMan Hydro Golden 1,8kg
What is Golden Hydro from BigMan?
Golden Hydro by BigMan is a sports supplement based on Optipep® whey protein isolate with peptides and digestive enzymes.
Properties of Golden Hydro Optipep® 90 Carbery.
PepForm®.

DigeZyme®.

GMP

HACCP
What are the characteristics of the Gold Series hydrolyzed protein?
BigMan's Golden Hydro is one of the best hydrolyzed proteins on the market due to the high quality ingredients it has used for its preparation. It is not a simple concentrate of hydrolyzed serum but BigMan is committed to the Gold Series line using the best possible ingredients.
Gold Hydro from Gold Series is an isolated whey protein hydrolyzate.
It also contains the Optipep® seal that guarantees that Carbery is 90% pure.
It is a protein that is broken enzymatically so its assimilation is ultra fast since it is pre-digested.
This hydrolysis process keeps the bioactive peptides and an excellent amino acid profile. Its biological value is very high and its fat content is practically nil, like sugars.
A part to improve the formula contains PepForm® peptides based on Leucine, Bcaa 2: 1: 1 and tryptophan.
Digestive enzymes have also been added to the composition with the DigeZyme® seal, which will improve digestion and assimilation of macronutrients.
Therefore, Golden Hydro by BigMan is ideal to take both before and after training
What benefits do we get taken by Golden Hydro from BigMan?
Quick assimilation / absorption

Great digestibility

Great dissolution

Excellent flavor

Rapid release of amino acids.

Encourages muscle development.

It promotes anabolism. Improves recovery

Increase sports performance.
How do you take the protein hydrolyzate from Gold Series?
Take 35 grams (1 scoop) with 300-400 ml of water or skimmed milk after training. You can also do one or a half shot before training.
Consume 1 to 3 a day depending on the need for protein daily.
SERVICE: 35g
PACKAGING SERVICES: 50 (1800g / 3,8Lb)
NUTRITIONAL INFORMATION:
per 35g

per 100g

Energy value
Fats
- Of which saturates
Carbohydrates
- Of which sugars
Protein
Salt

533 Kj | 125 kcal
0,4 g
0,2 g
1,15 g
<0,4 g
29,4 g
<0,5 g

1616 Kj | 380 kcal
1,2 g
0,5 g
3,5 g
<1 g
89 g
1,5 g

PepFormTM

L-Leucine
BCAA 2:1:1
L-Tryptophan

175 mg
175 mg
175 mg

500 mg
500 mg
500 mg

DIGESTIVE ENZYMES

Digezyme®

70 mg

200 mg

Amino Acid Profile

g/100g

Leucine
Isoleucine
Valine
Total Branched Chain Amino Acids
Aspartic Acid
Glutamic Acid
Serine
Glycine
Histidine
Arginine
Threonine
Alanine
Proline
Tyrosine
Methionine
Cysitine
Phenylalanine
Lysine
Tryptophan

9.87
7.26
6.62
23.75
10.6
18.1
4.96
1.51
1.54
1.89
7.07
5.25
6.04
2.67
2.15
2.37
2.80
9.75
1.60
INGREDIENTS:
Isolate of Hydrolyzed Milk Whey Protein (Optipep® 90 Carbery), Flavor: Chocolate (contains
defatted cocoa powder), Peptides (Pepform®); Pepform® L-Tryptophan peptides, Pepform® Bcaa 2:1:1
peptides and Pepform® L-Leucine peptides, digestive enzymes (Digezyme®), Sweetener: Sucralose.
Allergens: Contains milk. It may contain traces of gluten and soy.
No customer reviews for the moment.