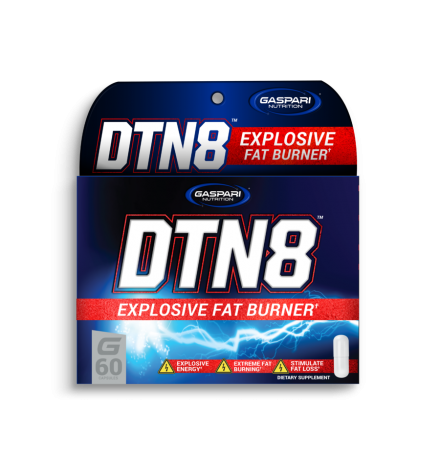 Gaspari DTN8- Explosive Fat Burner 60 Capsules
2024-01-31
646511026537
New product
Gaspari Nutrition DTN8- Explosive Fat Burner 60 Capsules
ΕΚΡΗΚΤΙΚΗ ΦΟΡΜΟΥΛΑ ΛΙΠΟΔΙΑΛΥΤΗ
Εκρηκτική ενέργεια † - από φυσικές πηγές όπως εκχύλισμα πράσινου τσαγιού, εκχύλισμα πράσινου κόκκου καφέ Εκχύλισμα σπόρου γκουαράνα και εκχύλισμα Yerba Mate.
Εκρητική καύση λίπους † - από φυσικό θερμογενετικά όπως κόκκινο πιπέρι , εκχύλισμα μαύρου πιπεριού, ρίζα τζίντζερ και κόκκους του παραδείσου
Ψυχική Focus † - από φυσικά νοοτροπικά όπως το Huperzia Serrata και το L-Τυροσίνη. 
Υποστήριξη επινεφριδίων και στρες †- με εκχύλισμα ρίζας Ashwagandha, 5-HTP και L-Θεανίνη. 
Η Gaspari απαντά επιτέλους στο αίτημα για έναν αποτελεσματικό καυστήρα λίπους, ο οποίος όχι μόνο αποτεφρώνει το σωματικό λίπος, αλλά καλύπτει και τρεις άλλους βασικούς τομείς για να δημιουργήσει την απόλυτη εμπειρία καύσης λίπους. 
Πρώτα απ 'όλα, ήθελα να φτιάξω ένα αληθινό θερμογόνο που είχε κάθε αποδεδειγμένο συστατικό για την απελευθέρωση και την αποτέφρωση του σωματικού λίπους. Στη συνέχεια, για να τροφοδοτήσω τις προπονήσεις σας για την καύση λίπους, ο καυστήρας λίπους έπρεπε επίσης να σας δώσει ομαλή ενέργεια με φυσικά διεγερτικά. Όχι το νευρικό άγχος που σε κάνει να νιώθεις σαν να σέρνεις το σώμα σου. Στη συνέχεια, ήθελα να βεβαιωθώ ότι πρόσθεσα συστατικά που βοηθούν στην ψυχική εστίαση για να σας βοηθήσω να συγκεντρωθείτε στο γυμναστήριο. Και τέλος, επειδή τα διεγερτικά και τα θερμογόνα μπορούν να αυξήσουν την κορτιζόλη (που είναι καταβολική), ήθελα να συμπεριλάβω αποδεδειγμένα συστατικά που υποστηρίζουν τα επινεφρίδια για να διατηρήσουν τα επίπεδα κορτιζόλης υπό έλεγχο. Το νέο DTN8 επιτυγχάνει όλα αυτά και πολλά άλλα. Με την πιο ισχυρή σειρά συνεργιστικών καυσίμων και ενεργειακών συστατικών που διατίθενται σήμερα.
Το DTN8 είναι ο απόλυτος καταστροφέας λίπους που περιμένατε.
Οδηγίες Χρήσης: 
Πάρτε 1 έως 2 κάψουλες το πρωί ή νωρίς το απόγευμα.
Μην υπερβαίνετε τις 2 κάψουλες ανά μερίδα.
Ποτέ μην παίρνετε περισσότερες από 2 μερίδες σε διάστημα 24 ωρών.
Για καλύτερα αποτελέσματα χρησιμοποιήστε καθημερινά για τουλάχιστον 30 ημέρες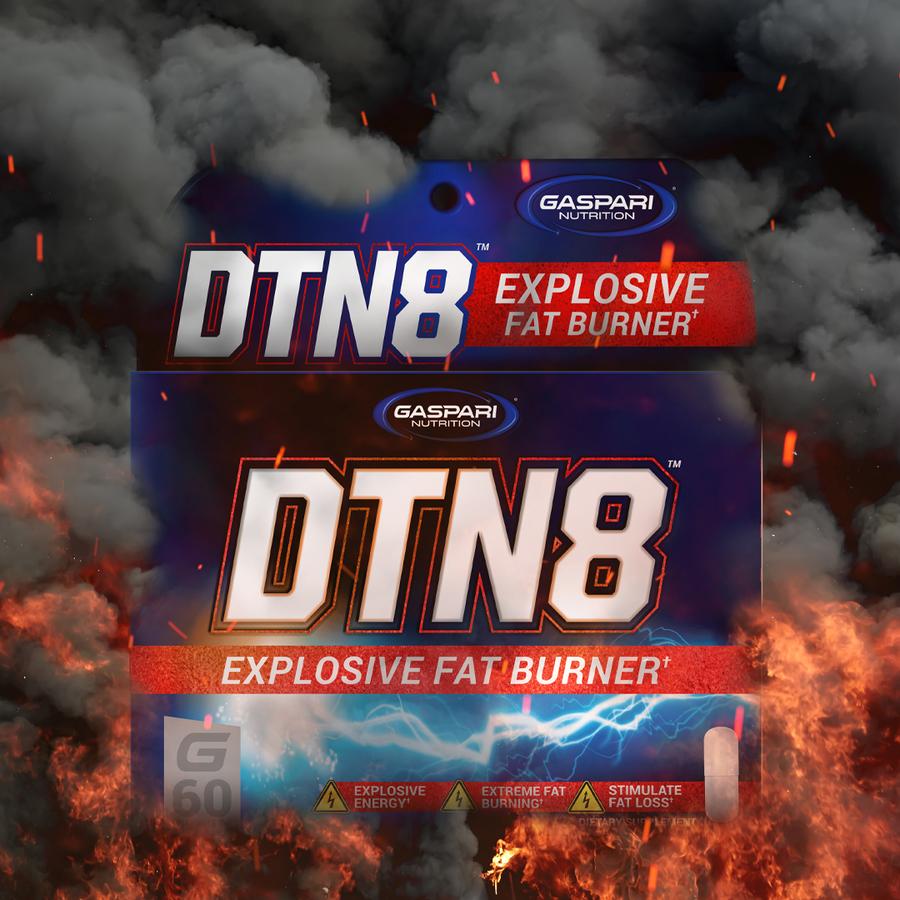 Gaspari Nutrition DTN8- Explosive Fat Burner 60 Capsules
EXPLOSIVE FAT BURNER
Explosive Energy† – from natural sources such as Green Tea Extract, Green Coffee Bean Extract Guarana Seed Extract, and Yerba Mate Extract

Extreme Fat Burning

†

 – from natural thermogenic such as capsicum, black pepper extract, ginger root and Grains of Paradise
Laser Mental Focus

†

 – from natural nootropics such as Huperzia Serrata and L-Tyrosine
Adrenal and Stress Support

†

 - from Ashwagandha Root Extract, 5-HTP and L-Theanine
Gaspari finally answers the call for an effective fat burner that, not only incinerates body fat but also covers three other key areas to create the ultimate explosive fat burning and energy experience. First and foremost, I wanted to make a true thermogenic that had every proven ingredient to liberate and incinerate body fat. Then, to fuel your fat-burning workouts, my fat burner also had to give you smooth energy with natural stimulants. Not the edgy anxiety that makes you feel like you're crawling out of your skin. Next, I wanted to make sure I added ingredients that help with mental focus to help you concentrate in the gym. And finally, because stimulants and thermogenics can increase cortisol (which is catabolic), I wanted to include proven ingredients that support the adrenal glands to help keep cortisol levels in check. New DTN8 accomplishes all that and more. With the most powerful array of synergistic fat burning and energy components available today, DTN8 is the ultimate fat destroyer you've been waiting for.
The formula for DTN8 starts us off with the Super Energy & Thermo Blend at 1002mg. The blend begins with 275mg of Caffeine which is sourced from Green Tea Extract, Green Coffee Bean Extract and Guarana Seed Extract.
Next we have L-Tyrosine dosed at 250mg.  L-Tyrosine is mostly used for nootropic reasons. It has been shown to increase focus during stressful situations which in turn could help assist with working even harder while in the gym. Now when it pertains to being used in fat burners, L-Tyrosine plays a role in thyroid hormone production.
Next we have 200mg of Palmitoylethanolamide (PEA). PEA is a stimulant that occurs in the body, naturally. It's been known to improve mental focus and energy.PEA is also known for its mood enhancement benefits. Minimum doses of PEA should start at 100mg, since we start with 200mg in DTN8 we are solid here.
Next we have Theobromine dosed at 75mg. Theobromine is similar to Caffeine but instead assists the user with lowering their high blood pressure and also assists with vasodilation. 
Next up is Ginger Root Extract 5% dosed at 75mg. Ginger Root Extract is widely known for its ability to assist with lowering blood pressure and improving curculation. 
Next we have Capsicum Annum Fruit Extract 1% dosed at 50mg. Capsicum is most commonly used for rheumatoid arthritis (RA) and osteoarthritis. There are also claims that it may assist with digestive, heart and blood vessel problems.
Next we have Grains of Paradise extract standardized to 12.5% Paradol dosed at 15mg. Grains of Paradise is well known for it use in aiding in fat loss. 
Next we have 10mg of Black Pepper Extract standardized at 95% Piperine. Black Pepper Extract is vastly used in many products for its ability to assist the user in absorption of nutrients. It's always nice to see this added to any formula.
Next we have 2mg of Huperzia Serrata Extract 1% Huperzine A. 
Now moving into the Stress and Cortisol Control Blend at 300mg starting with Ashwagandha Root Extract dosed at 100mg. Ashwagandha may help raise natural testosterone levels and regulate cortisol levels due to reducing stress in the body.
Next we have L-Theanine at a dosage of 75mg. L-Theanine is an amino acid which is known for relaxation and mood elevation without sedation. We mostly see this being effective starting at 50mg per day so we are happy about the 75mg dosage found in DTN8.
Now we move onto 75mg of 5-HTP. It is commonly known to improve mood and aid in fat loss. 5-HTP may aid in appetite suppression as well. Effective dosages start at 50mg per day so we are solid here with the 75mg.
Lastly we're getting Olive Leaf Extract dosed at 50mg. Olive Leaf Extract is very effective at treating high blood pressure issues according to studies.
Recommend use: 
Take 1 to 2 capsules in the morning or early afternoon.
Do not exceed 2 capsules per serving.
Never take more than 2 servings in a 24 hour period.
For best results use daily for a minimum of 30 days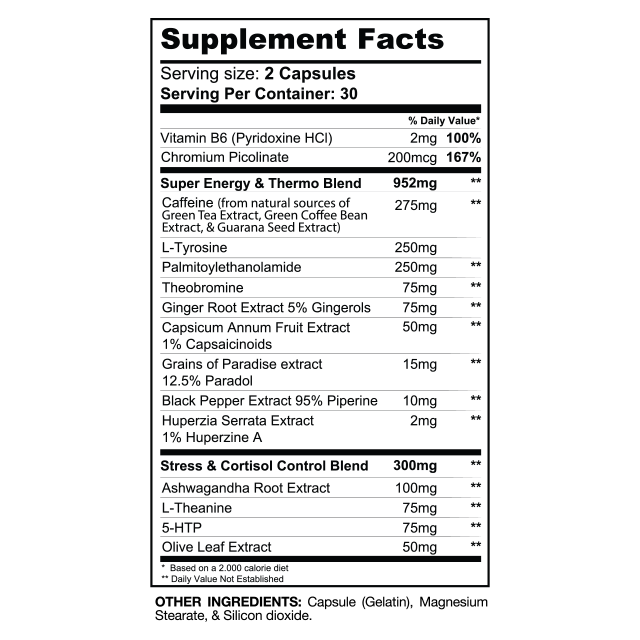 No customer reviews for the moment.