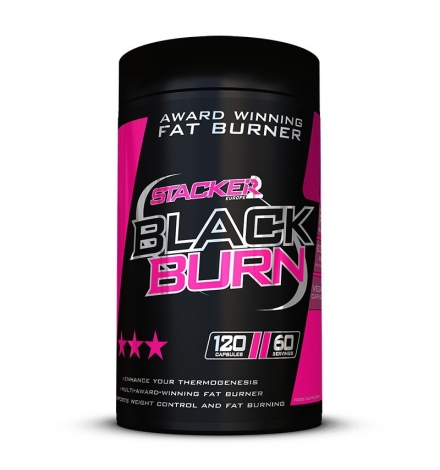 Stacker 2 Black Burn 120Caps
2021-08-30
8717472070975
New product
Stacker 2 Black Burn 120Caps
Το Black Burn είναι ένας πολύ-βραβευμένος καυστήρας λίπους με εξαιρετικά σχόλια απο τους χρήστες, λόγω της ισχυρής επίδρασης και των αποτελεσμάτων που ειναι ορατά στην ζυγαρία. Αυτή η ισχυρή φόρμουλα απώλειας βάρους έχει πωληθεί περισσότερο από ένα εκατομμύριο φορές και έχει βοηθήσει τους ανθρώπους σε όλη την Ευρώπη να φτάσουν στο στόχο τους. Αν θέλετε να χάσετε βάρος είτε για να βελτιώσετε τη σωματική σας διάπλαση είτε για να προετοιμαστείτε για κάποιον αγώνα: Το Black Burn είναι αυτό που χρειάζεστε με αποδεδειγμένα αποτελέσματα!
Πρόκειται για ένα Ισχυρό προϊόν - Black Burn 
Ισχυρότερο από ποτέ και χωρίς αμφιβολία ο καλύτερος και πιο αποτελεσματικός καυστήρας λίπους αυτή τη στιγμή. Τα αποτελέσματα της έρευνας το αποδεικνύουν!
Stacker 2 Black Burn 120Caps
Black Burn is a multi-award-winning fat burner! It's highly praised by end-users due to its powerful effect and the results you see on the scale. This weight loss formula has been sold more than one million times and has helped people across Europe reach their goal weight. Whether you want to lose pounds to improve your physique or you're preparing for a competition: Black Burn is your ideal support and is proven effective!
This is a hardcore Stacker: stronger than ever and without a doubt the best and most effective fat burner at this time. The research results prove it!
The highlights of Black Burn
The strongest fat burner in all of Europe

Extreme increase of the metabolic rate

Gives energy and suppresses hunger

Lowers your body fat faster than ever before

Lose up to 2 kg a week

Develop a rock-hard six pack
The strongest and most effective fat burner on the market today!
Creating a powerful fat burner sounds easier than it is. It's not so much about the ingredients in each capsule, it is mainly about the quality of the extracts (the amount of active alkaloids) in conjunction with administering the right ratio per ingredient. Where other manufacturers develop a formula on paper, we go much further than that!Stacker2 Europe invests enormous amounts of time and effort in fabricating extracts that have up to three or four times higher doses of the active alkaloids per gram.
Once the formula has been developed it is tested comprehensively both for the part that you can feel (the energy boost, the suppression of hunger pangs) and the ultimate objective of the product: to stimulate fat burning.
No customer reviews for the moment.