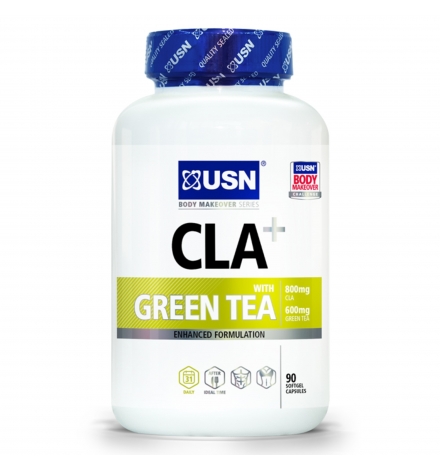 USN CLA Green Tea 90 Softgel Capsules
2020-04-30
6009644659845
New product
USN CLA Green Tea 90 Softgel Capsules
Το συζευγμένο λινολεϊκό οξύ θεωρείται «θρεπτικό θαύμα» που ενυπάρχει με φυσικό τρόπο σε μια μεγάλη ποικιλία τροφίμων όπως είναι το βόειο κρέας, ορισμένα γαλακτοκομικά προϊόντα και η γαλοπούλα.
Σύμφωνα με τις τελευταίες επιστημονικές έρευνες, το CLA αναστέλλει το μηχανισμό του σώματος για την αποθήκευση λίπους και αναγκάζει το σώμα να καίει το αποθηκευμένο λίπος για ενέργεια. Έχει επίσης αποδειχθεί ότι αυξάνει την άλιπη μυϊκή μάζα, ενώ παράλληλα μειώνει το σωματικό λίπος. Η συμπλήρωση με CLA οδηγεί σε ένα πιο αδύνατο, υγιέστερο σώμα. Το CLA USN παρέχει κυρίως τα Cis 9, Trans 11 και Trans 10, Cis 12 ισομερή σε μια αναλογία 50:50, όπως συνιστάται, για βέλτιστη αποτελεσματικότητα.
Το USN CLA είναι τώρα εμπλουτισμένο με πράσινο τσάι το οποίο περιλαμβάνει επιγαλλοκατεχίνη (EGCG). Η EGCG είναι γνωστή για τις αντιοξειδωτικές της ιδιότητες, την ικανότητα της να αποδομεί το λίπος, καθώς και την ικανότητα της να ρυθμίζει το σάκχαρο στο αίμα.
• Ενισχύει την άλιπη μάζας του σώματος (LBM) 
• Αντι-καταβολικό
• Μπορεί να ρυθμίζει τη διατήρηση της ενέργειας
• Βελτιωμένη κατανομή λίπους

Οδηγίες Χρήσης:
Καταναλώστε 1 με 2 μαλακές κάψουλες (softgels), δύο με τρεις φορές ημερησίως,με τα γεύματα ή αμέσως μετά


USN CLA Green Tea 90 Softgel Capsules
- Highly Effective Nutrient
- Supporting Energy Levels
- Can Support your General Health 
USN CLA is now fortified with Epigallocatechin Gallate (EGCG) from Green Tea to offer a new product, CLA Green Tea. EGCG is well known for its antioxidant properties, its ability to break down fat, as well as its blood sugar regulating abilities.

Conjugated Linoleic Acid with Green Tea Extract is seen as a "wonder nutrient" that occurs naturally in a wide variety of foods such as beef, some dairy products and turkey. In the modern diet there is just enough CLA for the actual purpose. According to the latest scientific research, CLA inhibits the body's mechanism for storing fat and causes the body to burn stored fat for energy. This "wonder nutrient" has also been shown to inhibit the process that is responsible for the deposition of fat in the body.

CLA directs the body to use fat reserves for energy. It has been shown to increase lean muscle while reducing body fat. Other new studies also revealed dramatic cholesterol reducing effects with CLA supplementation. Supplementing with CLA should result in a leaner healthier body.
Directions :
As a dietary supplement, take 1 or 2 CLA Green Tea softgels 2/3 times daily with or after meals.
For best results, take USN CLA Green Tea capsules as part of a balanced, calorie controlled diet and along side regular exercise.
Ingredients :
Safflower oil (80% CLA providing Cis-9, Trans-11 and Trans-10, Cis-12 isomers in a 50:50 ratio)
Gelatin
Glycerol
Colour: Iron oxide brown (E172)
Purified water
DL-alpha tocopherol acetate
No customer reviews for the moment.