Biotech USA IsoTonic 40g
2023-11-30
New product
Biotech USA Isotonic - ΑΝΑΠΛΗΡΩΣΤΕ ΜΕ ΕΝΕΡΓΕΙΑ ΤΟ ΣΩΜΑ ΣΑΣ!
Το ISOTONIC είναι η λύση της BIOTECH USA για ενυδάτωση.
Αυτό το αναζωογονητικό ισοτονικό ποτό, σας βοηθάει να αναπληρώστε τα υγρά, να αποθηκεύσετε ενέργεια και να αντικαταστήσετε τα θρεπτικά συστατικά που χάσατε μέσω του ιδρώτα. Χάρη στα προσεκτικά συνδυασμένα συστατικά του, η απόδοσή σας δε θα μειωθεί. Πείτε αντίο στις μυϊκές κράμπες και στην υποτονικότητα και απολαύστε το γευστικό ISOTONIC. 
Απορροφάται γρήγορα χάρη στο ισοτονικό του περιεχόμενο.

Ιδανική λύση προμήθειας υδατανθράκων στους μυς.

Αντικαθιστά τις βιταμίνες και τα μέταλλα τα οποία χάνονται με τον ιδρώτα.

Έχει ωραία γεύση και είναι σίγουρο ότι θα το πίνετε συνέχεια!
Οδηγίες Χρήσης :
Αναμίξτε μια δόση από το Isotonic σε 500 ml νερό. Πιείτε το κατά τη διάρκεια της προπόνησης.
________________
Biotech USA Isotonic  Endurance Line - REFILL YOURSELF!
ISOTONIC IS BIOTECH USA'S SOLUTION FOR HYDRATION.  
This refreshing isotonic drink helps you replenish fluids, restore energy and replace nutrients lost through sweating. Thanks to its carefully combined ingredients, your performance will not fail. Say goodbye to muscle cramps and sluggish routines and enjoy the tasty Isotonic solutions!
It absorbs fast thanks to its isotonic content.

Fuels muscle with the ideal carbohydrate solution.

Replaces the vitamins and minerals that are lost the most with sweat.

Tastes good making sure you will sip it constantly!
Directions :
Mix one serving of Isotonic in 500 ml of water. Drink during your training.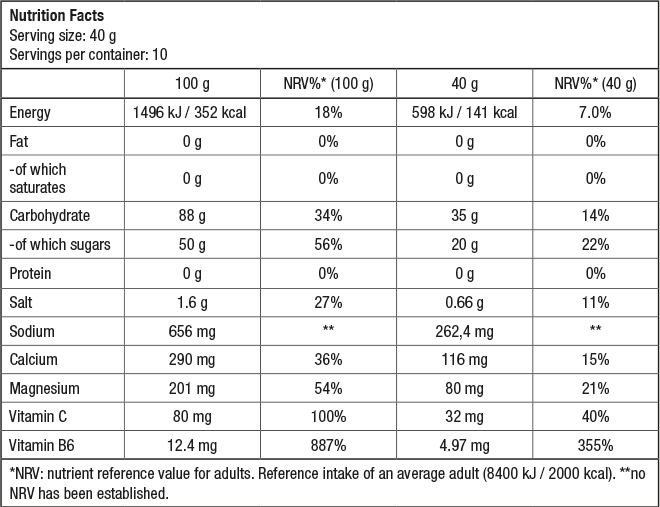 No customer reviews for the moment.