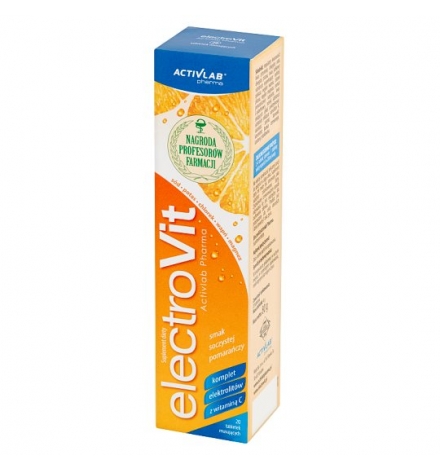 ActivLab Electrovit 20 Effevr. Tabs
2022-10-30
New product
ActivLab Electrovit 20 Effevr. Tabs
Αναπληρώστε τους χαμένους ηλεκτρολύτες  
Προϊόν βραβευμένο απο εμπειρογνώμονες - The Professors of Pharmacy Award - Ιανουάριος 2017
Το Electrovit περιέχει όλους τους ηλεκτρολύτες: νάτριο, κάλιο,χλώριο, ασβέστιο και μαγνήσιο. Το νάτριο και το κάλιο συμμετέχουν στη φυσιολογική νευροδιαβίβαση, καθώς και στη συνολική ενυδάτωση του σώματος. Το ασβεστίο και το μαγνησίο συμβάλλουν στην φυσιολογική λειτουργία των μυών σε σχέση με το σκελετικό μυ, καθώς και στους μύες της καρδιάς. Το χλωρίο είναι ένας βασικός ανιονικός ηλεκτρολύτης.
Το ElectroVit συνιστάται ιδιαίτερα για τη συμπλήρωση της έλλειψης ηλεκτρολυτών που προκύπτει άμεσα από την υπερβολική σωματική άσκηση.
Συσκευασία : 20 Αναβράζοντα δισκία με γεύση πορτοκάλι
Οδηγίες Χρήσης:
Διαλύεται 1 δισκίο σε 250 ml νερού.
Χρησιμοποιήστε δύο φορές την ημέρα.
Το προϊόν προορίζεται για ενήλικες και παιδιά άνω των 3 ετών.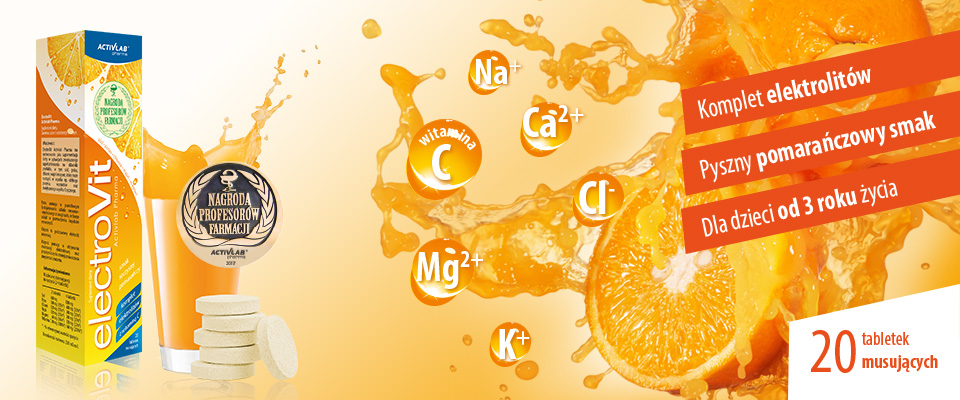 ActivLab Electrovit 20 Effevr. Tabs
Replenishes all electrolytes within the body
>Product awarded by the experts - The Professors of Pharmacy Award - January 2017
ELECTROVIT contains all the electrolytes: sodium, potassium, chloride, calcium and magnesium. Sodium and potassium participate in normal neurotransmission, as well as enhance overall bodily hydration. Calcium and magnesium take part in the contraction of skeletal, smooth and the heart muscles. Chloride is a basic anionic electrolyte.
ElectroVit is particularly recommended for supplementation in electrolytes deficiency directly resulting from excessive physical exertion.
PACKAGE: 20 orange-flavoured, effervescent tablets.
METHOD OF USE: Dissolve 1 tablet in 250 ml of water. Use twice a day. The product is intended for adults and children over 3 years old.
Nutrition Information:
| | | |
| --- | --- | --- |
| | 2 Tablets | 4 Tablets |
| Sodium | 600mg | 1200mg |
| Potassium | 300mg | 600mg |
| Chroride | 120mg | 240mg |
| Calcium | 120mg | 2400mg |
| Magnesium | 60mg | 120mg |
| Vitamin C | 80mg | 160mg |
INGREDIENTS: acidity regulators: citric acid, sodium bicarbonate, potassium bicarbonate, malic acid; bulking agents: sorbitol, glucose; calcium carbonate, potassium chloride, magnesium carbonate, flavour, sweetener carrier: polyethylene glycol; sweeteners: acesulfame K, sucralose; colourant: brilliant blue.
No customer reviews for the moment.