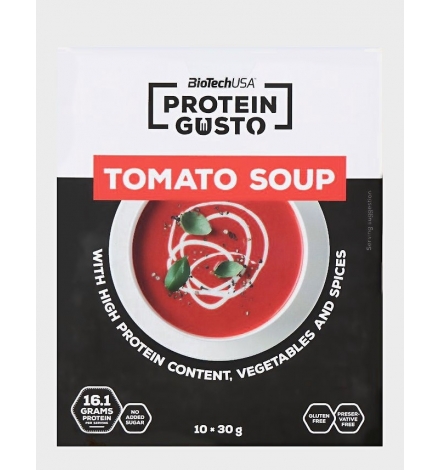 Biotech USA Protein Gusto Soup 30g
0000-00-00
New product
Biotech USA Protein Gusto Tomato Soup 
Σούπα Τομάτας Σε Σκόνη Με Υψηλή Περιεκτικότητα Σε Πρωτεϊνη
Χωρίς Γλουτένη
Ανά μερίδα (30 g):
►
16,1 g πρωτεΐνη
►
7,6 g υδατάνθρακες
►
1,5 g λιπαρά
►
1,4 g ίνες
Ψάχνεις για μια διατροφή γεμάτη γεύση; Η Protein Gusto διαθέτει προϊόντα από λειτουργικά συστατικά, υψηλά σε περιεκτικότητα πρωτεΐνης και χωρίς προσθήκη ζάχαρης. Συμπεριλαμβάνει διάφορα γευστικά και θρεπτικά προϊόντα, εύκολα στην προετοιμασία τους, τα οποία θα ταιριάξουν εξαιρετικά στη διατροφή σου.
Υψηλή περιεκτικότητα σε πρωτεΐνη με συνδυασμό πρωτεϊνών

Χαμηλή περιεκτικότητα σε λιπαρά και υδατάνθρακες

Χωρίς προσθήκη ζάχαρης

Εύκολη και γρήγορη προετοιμασία

Χωρίς γλουτένη

Χωρίς συντηρητικά
Ποιος δε λατρεύει μια νόστιμη, πηχτή σούπα, σαν συνοδευτικό ή σαν κυρίως πιάτο; Οι σούπες σε χορταίνουν και η συχνή κατανάλωση σούπας βοηθά στην καθημερινή σου ανάγκη για υγρά. Δυστυχώς όμως, η παραδοσιακή σούπα απαγορεύεται λόγω των πολλών λιπαρών και θερμίδων. Όταν δημιουργούσαμε την Protein Gusto, ένα από τα κριτήριά μας ήταν πως δε θα έπρεπε να παρατήσεις τις γαστρονομικές σου απολαύσεις, ακόμα και στη δίαιτά σου! Η υψηλή περιεκτικότητά της σε πρωτεΐνη συντελεί στη διατήρηση της μυϊκής μάζας κατά την προπόνηση, σε μια αυστηρή δίαιτα, αλλά και στην καθημερινότητά σου. Και επειδή τα καλά νέα δεν τελείωσαν, μια μερίδα έχει λίγες παραπάνω από 100 θερμίδες! Επίσης, προτείνεται σ' αυτούς που πάσχουν από δυσανεξία στη γλουτένη, καθώς δεν εμπεριέχει γλουτένη, ενώ είναι ένα προϊόν χωρίς προσθήκη ζάχαρης. Είναι γρήγορη και εύκολη στην παρασκευή της και μπορεί να σερβιριστεί κρύα ή ζεστή, ανάλογα με την προτίμησή σου.
Φάε τη ζωή με το κουτάλι και μείνε σε καλή φυσική κατάσταση με την Protein Gusto Tomato Soup!
Όπως όλα τα προϊόντα του BioTechUSA έτσι και το Protein Gusto Tomato Soup παρασκευάζεται από προσεκτικά επιλεγμένα και ασφαλή συστατικά.
Οδηγίες Χρήσης:
Αναμειγνύεται 30 g (1 πακέτο) σκόνη με 200 ml ζεστό νερό (όχι πάνω από 80°C). Σερβίρεται κρύα ή ζεστή, ανάλογα με την προτίμησή.
___________________________
Biotech USA Protein Gusto Tomato Soup 
OVERVIEW
Are you looking for a diet full of taste? Protein Gusto is a product line of functional food with high protein content and no added sugar. The line includes several delicious and nutritious products that are easy to prepare and will perfectly fit into your diet.
Eat life by the bowlful and stay in shape with the Protein Gusto soup powder!
High protein content with combined proteins and fibre

Low fat and carbohydrate content

Quick and easy-to-prepare

Gluten-free

No preservatives
Who wouldn't love a nice, creamy soup, either as part of your main meal or on its own? Soups excellently fill your stomach and regular soup consumption contributes to your necessary daily intake of fluids. However, traditionally prepared, high-fat and high-calorie cream soups are unfortunately on the ban list during a diet. When creating Protein Gusto, one of our criteria was that you shouldn't have to give up culinary pleasures even during your diet! Its high protein content contributes to maintaining muscles during workout, a strict diet and your everyday life. And to top it off, one serving contains just a little over 100 calories! It's also recommended to those suffering from gluten sensitivity as it's gluten-free, with no added sugar. It's quick and easy-to-prepare and it can be served cold or hot, according to taste.
Per serving (30 g):
16.1 g protein

7.6 g carbohydrate

1.5 g fat

1.4 g fibre
Like all BioTechUSA products, Protein Gusto Tomato Soup consists of safe and carefully selected ingredients.
Directions:
Mix 30 g (1 packet) powder with 200 ml hot water (max. 80°C). Serve hot or cold according to taste.
Nutrition Facts
Serving Size: 30
Serving Per Container : 10
| | | | |
| --- | --- | --- | --- |
| | 100g | *RI (100g) | 30g |
| Energy | 1588 kJ/376 kcal | 19% | 476 kJ/113 kcal |
| Fat | 4.8g | 6.9% | 1.4g |
| -Of Which Saturates | 2.6g | 13% | 0.8g |
| Carbohydrates | 27g | 10% | 8.1g |
| -Of Which Sugar | 13.4g | 15% | 4g |
| Protein | 53g | 106% | 16g |
| Salt | 4.8g | 80% | 1.4g |
INGREDIENTS
Tomato powder 27%,hydrolysed protein, whey protein concentrate,calcium caseinate (containsmilk), salt, creamer [palm fat1, glucosesyrup, milk protein, anti-caking agent(silicon dioxide)], rice flour, flavour enhancer(monosodium glutamate), onionpowder, colours (ammonia caramel,azorubine*), parsley leaf powder, emulsifier:lecithins (soy), acid (citric acid),thickener (xanthan gum), garlic powder,black pepper powder, rubbed basilleaves. 
1The product contains RSPOcertified sustainable palm oil.
*Azorubine: may have an adverse effecton activity and attention in children.
Made in a plant that manufactures milk,egg, gluten, soy, crustaceans, sulphurdioxide and nuts containing foods.
No customer reviews for the moment.