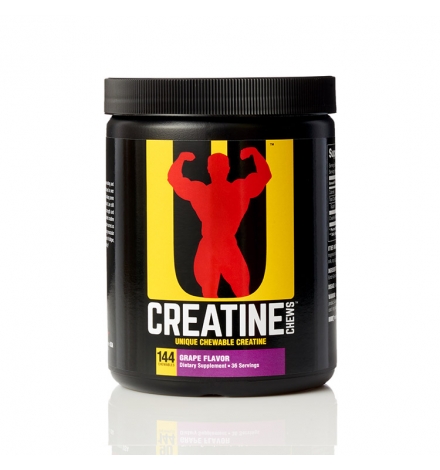 Universal Creatine 144 Chews
0000-00-00
New product
Universal Creatine 144 Chews
Για αθλητές που θέλουν να αυξήσουν τη δύναμη και την απόδοση και να έχουν πιο έντονες προπονήσεις.
Το Creatine Chews ™ συνδυάζει την κατοχυρωμένη με δίπλωμα ευρεσιτεχνίας μονοϋδρική κρεατίνη με ειδικούς υδατάνθρακες για να αυξήσει την πρόσληψη κρεατίνης στο σώμα. Η κρεατίνη χρησιμεύει ως δεσμός υψηλής ενέργειας στους ιστούς των μυών και των νεύρων για τη διατήρηση των επιπέδων ATP κατά τη διάρκεια της μυϊκής σύσπασης. Μελέτες δείχνουν ότι η αύξηση των επιπέδων κρεατίνης μπορεί να βοηθήσει στην καθυστέρηση της εμφάνισης κόπωσης, στην αύξηση του ενεργειακού μεταβολισμού στα κύτταρα και στην ενίσχυση της συνολικής ικανότητας κατάρτισης του σώματος.
Καθαρή κρεατίνη σε ένα μορφή μασώμενων δισκίων
1,25 g κρεατίνης ανά δισκίο
Ειδικό μίγμα υδατανθράκων για αύξηση της πρόσληψης κρεατίνης
Οδηγίες Χρήσης:
Πάρτε 4 μασώμενα δισκία ημερησίως. 

Universal Creatine 144 Chews
For athletes looking to increase strength and performance and more intense training sessions.
Creatine Chews™ combines patented creatine monohydrate with special carbohydrates to increase creatine uptake in the body. Creatine serves as a high-energy bond in muscle and nerve tissues for the maintenanceΗ κρεατίνη χρησιμεύει ως δεσμός υψηλής ενέργειας στους ιστούς των μυών και των νεύρων για τη διατήρηση των επιπέδων ATP κατά τη διάρκεια της μυϊκής σύσπασης. of ATP levels during muscular contraction. Studies indicate that the increase of creatine levels can help delay the onset of fatigue, increase energy metabolism in the cells, and enhance the body's overall training capability.†
Pure Creatine in a Delicious Chewable Wafer
Special Carbohydrate Blend to Increase Creatine Uptake 
Directions:
Take 4 chews daily.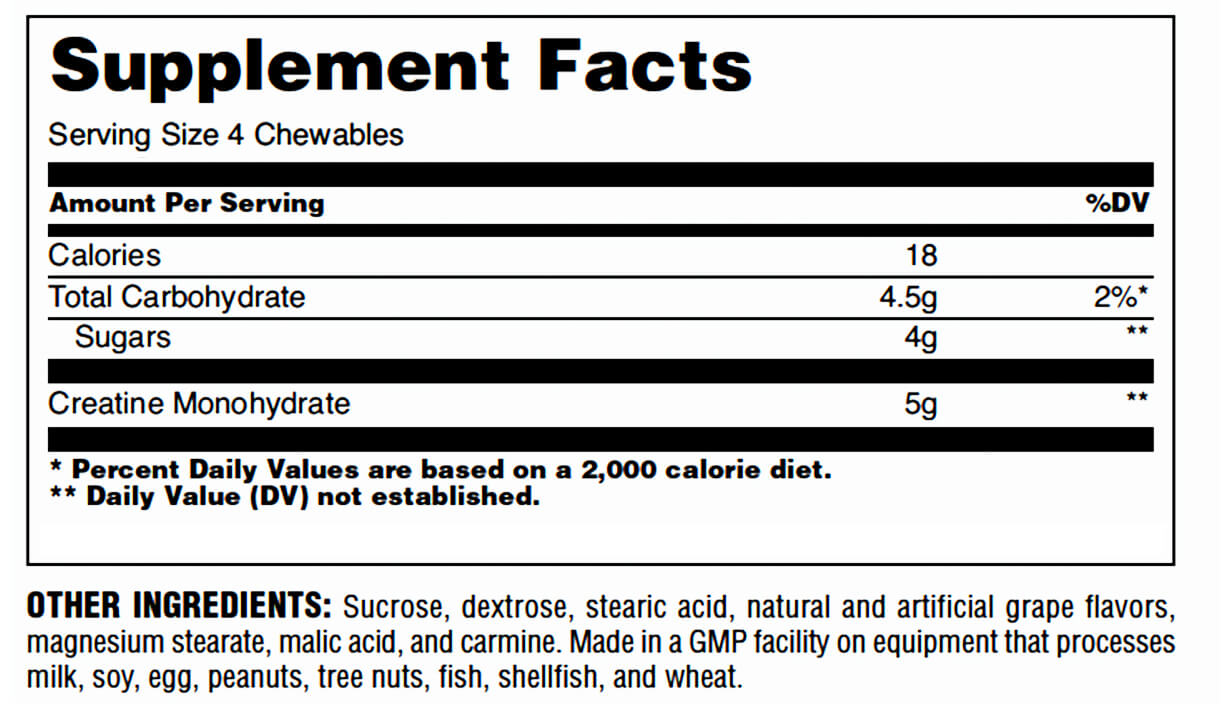 No customer reviews for the moment.