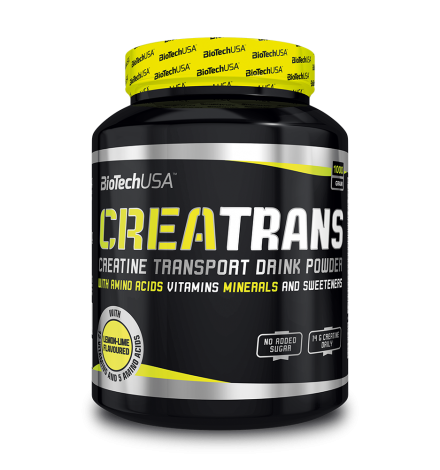 Biotech USA CreaTrans 1kg
2022-07-30
New product
Biotech USA CreaTrans 1kg
Η υψηλή περιεκτικότητα σε κρεατίνη αυξάνει τη φυσική απόδοση κατά της υψηλής έντασης προπονησεις*
Υψηλή λειτουργική περιεκτικότητα σε αμινοξέα
Περιέχει μείγμα απο υδατάνθρακες
Χωρίς προσθήκη ζάχαρης
Με Βιταμίνη Β6 και Β12 για την ενίσχυση του μεταβολισμό και τη μείωση της κόπωσης
Το CreaTrans περιέχει 3 διαφορετικές μορφές κρεατίνης, 5γρ αμινοξέων εκ των οποίων, 3 g BCAA και υψηλού γλυκαιμικού δείκτη μαλτοδεξτρίνη (σύμπλεγμα υδατανθράκων). Αυτά τα συστατικά δεν είναι μόνο εξαιρετικά αποτελεσματικά από μόνα τους , αλλά και ως ομάδα (συνδυασμός). Το σύμπλεγμα VitaMineral της CreaTrans περιέχει βιταμίνες C, B6 και B12 που συμβάλλουν στις φυσιολογικές μεταβολικές διεργασίες που παράγουν ενέργεια. Επίσης, η βιταμίνη Β6 και το μαγνήσιο συμβάλλουν στη μείωση της κούρασης και της κόπωσης, και σε συνδιασμό με το ασβέστιο συμβάλλουν στην κανονική λειτουργία των μυών.
Ανά δόση (40 g):
✔100 kcal θερμίδες
✔Σύμπλεγμα κρεατίνης 7,7 g πολλαπλών πηγών κρεατίνης - περιέχει 6,8 g καθαρή κρεατίνη
ρυθμισμένη μονοϋδρική κρεατίνη
κιτρική κρεατίνη
μικρονισμένη μονοϋδρική κρεατίνη
✔24 g υδατάνθρακα
✔Σύμπλεγμα αμινοξέων 5γρ
3 g BCAA
1 g L-κιτρουλλίνης
1 g υδροχλωρικής L-αργινίνης
✔Συμπλεγμα Βιταμινών
Όπως όλα τα προϊόντα της BioTech USA, το CreaTrans αποτελείται από ασφαλή και προσεκτικά επιλεγμένα συστατικά.
Οδηγίες Χρήσης:
Αναμίξτε 1 μερίδα (40 γρ. = 1 scoop = 3 κουταλιές σούπας) με 300 ml νερό σε σέϊκερ.
Στις ημέρες προπόνησης, πίνετε 1 δοση πριν από το πρωινό και 1 δόση πριν από την προπόνηση.
Στις ημέρες ανάπαυσης, πίνετε 1 δόση πριν από το πρωινό και 1 δόση πριν το απόγευμα γεύμα σας.
______________________________________________
Biotech USA CreaTrans 1kg
OVERVIEW
The high creatine content increases physical performance during high-intensity training*
High functional amino acid content
Only contains complex carbs
Without added sugar**
With vitamins B6 and B12 to enhance metabolic processes and reduce fatigue
*The positive effects of creatine can be achieved through a daily intake of 3 grams.
**The statement applies to the ready-to-consume product.
Do you like thinking in a system?
CreaTrans is a modern creatine transport system based on the synergy of its ingredients. Main active ingredients: a multiphase creatine complex of three different creatines, a 5-component amino acid complex containing 3g BCAA's and high glycemic index maltodextrin (complex carbohydrate). These ingredients are not only highly effective individually, but also as a team. The great team performance boosts your motivation to work out and creatine increases physical performance during repeated short-term, high intensity exercise.* CreaTrans' VitaMineral complex contains vitamins C, B6 and B12 which contribute to normal energy-yielding metabolic processes. Also, vitamin B6 and magnesium contribute to reducing tiredness and fatigue, whereas magnesium and calcium contribute to normal muscle function.
Hit the gym, and we'll supply the power.
*The positive effects of creatine can be achieved through a daily intake of 3 grams.
Per serving (40 g):
100 kcal energy
Creatine complex 7.7 g multi-phase creatine matrix - contains 6.8 g pure creatine

buffered creatine monohydrate
creatine citrate
micronized creatine monohydrate

24 g carbohydrate
Amino Acid complex

3 g BCAA
1 g L-citrulline
1 g L-arginine HCl

VitaMineral complex
Who is CreaTrans recommended to?
-        for any sport during the preparatory and bulking phase
-        a convenient and modern option for a creatine course
-        those who prefer flavoured powder supplements
Like all BioTech USA products, CreaTrans consists of safe and carefully selected ingredients.
DIRECTIONS
Mix 1 serving (40 g = 1 scant measuring spoon = 3 heaped tablespoons) with 300 ml water in a shaker. On training days, drink 1 serving before breakfast and 1 serving before workout. On rest days, drink 1 serving before breakfast and 1 serving before your afternoon meal.
Nutrition Facts | Serving Size : 40g| Serving Per Container: 25 | Daily amount: 2 Servings (80g)
100g
RI* (100g)
40g
80g
Energy
1065 kJ/ 250 kcal
13%
426 kJ/100kcal
852 kJ/200kcal

Fat

- Of Which Saturates

0g

0g

0%

0%

0g

0g

0g

0g

Carbohydrate

-Of which Sugars

61g

5.7g

23%

6%

24g

2.3g

49g

4.6g

Protein
0g
0%
0g
0g
Salt
0.01g
<1%
<0.01g
<0.01g
Vitamin A
878μg
109%
351μg
705μg
Tiamin
1.6mg
145%
0.64mg
1.3mg
Riboflavin
1.6mg
114%
0.64mg
1.3mg
Vitamin B6
1.6mg
114%
0.64mg
1.3mg
Vitamin B12
4.8μg
192%
1.9μg
3.8μg
Vitamin C
509mg
636%
203mg
407mg
Vitamin D
5.3μg
106%
2.1μg
4.2μg
Vitamin E
7.1 mg
59%
2.8mg
5.7mg
Folic Acid
212.66μg
106%
85.06μg
170μg
Niacin
16mg
100%
6.4mg
13mg
Pantothenic Acid
5.3mg
88%
2.1mg
4.2mg
No added sugar. Contains naturally occuring sugars
Other Ingredients
In 1 Servings (40g)
In 2 Servings (80g)

Creatine Complex

-of which creatine

7.7g

6.8g

15g

14g

Amino Acids

-Of Which BCAAs

-L-Citrulline

-L-Argine hydrochoride

5g

3g

1g

1g

10g

6g

2g

2g
INGREDIENTS
Lemon-lime: maltodextrin, Creatine Complex 19.4% [buffered creatine monohydrate(micronized creatine monohydrate, magnesium oxide), creatine citrate (micronizedcreatine monohydrate, calcium salts of citric acid), micronized creatine monohydrate],Amino Acid Complex 12.7% [instant L-Leucine (L-Leucine, emulsifier: lecithins, maltodextrin),L-Citrulline, L-Arginine hydrochloride, L-Isoleucine, L-Valine], natural flavourings,Vitamineral Complex 2.2% (magnesium salts of citric acid, calcium salts of orthophosphoricacid, L-ascorbic acid, potassium salts of orthophosphoric acid, DL-alpha-tocopherylacetate, nicotinamide, retinyl acetate, D-pantothenate, calcium, cholecalciferol, thiaminmononitrate, pyridoxine hydrochloride, riboflavin, pteroylmonoglutamic acid, D-biotin,cyanocobalamin), acid (citric acid), sweeteners (sucralose, acesulfame K).
No customer reviews for the moment.