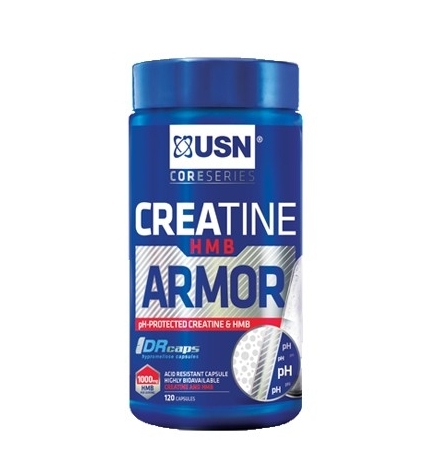 USN Creatine HMB Armor 120 Capsules
0000-00-00
6009706097455
New product
USN Creatine HMB Armor 120 Capsules
Η Κρεατίνη με HMB Armor της USN περιέχει:

3000mg Μονοϋδρικής Κρεατίνης. Η κρεατίνη είναι ένα από τα πλέον βασικά συμπληρώματα διατροφής στη ζωή ενός αθλητή.
Δεν είναι υπερβολή να πούμε ότι η κρεατίνη είναι από τα λίγα συμπληρώματα διατροφής με τα οποία τα αποτελέσματα είναι ορατά, αισθητά & εντυπωσιακά από  την πρώτη κιόλας προπόνηση.
Τα αποτελέσματα είναι η ραγδαία αύξηση της δύναμης, της αντοχής στην άσκηση, το πρήξιμο των μυών & η γρήγορη αποκατάσταση, έτσι ώστε την επόμενη μέρα να είστε έτοιμοι για ακόμα σκληρότερες προπονήσεις. 

1000mg ΗΜΒ που συμβάλλει στην προστασία των μυών από καταβολισμό.
Aυτό που κάνει το συγκεκριμένο συμπλήρωμα μοναδικό δεν είναι μόνο το μείγμα από δύο πολύ σημαντικά συστατικά, αλλά και οι ανώτερες κάψουλες σχεδιασμένες για προστασία του ph και για βέλτιστη απελευθέρωση.
Αυτή η ανθεκτική στα οξέα κάψουλα εξασφαλίζει ότι η μονοϋδρική κρεατίνη και το μείγμα ΗΜΒ δεν απελευθερώνονται μέχρι να φτάσουν στα έντερα. Αυτό όχι μόνο εξασφαλίζει βελτιωμένη βιοδιαθεσιμότητα, αλλά και προστατεύει από δυσφορία του στομάχου, συχνά συνδεδεμένη με κάψουλες κρεατίνης. 
Οδηγίες Χρήσης:
Πάρτε 4 καψούλες ημερησίως: 2 κάψουλες πριν την προπόνηση & 2 κάψουλες μετά την προπόνηση. 
Καταναλώστε κάθε μερίδα με άφθονο νερό. Βεβαιωθείτε ότι πίνετε 2-3 λίτρα νερό ημερησίως, κατά τη διάρκεια κατανάλωσης του προϊόντος.
Οι ευεργετικές επιδράσεις της κρεατίνης, θα επιτευχθούν μόνο σε συνδυασμό με έντονη ασκηση. 
USN Creatine HMB Armor 120 Capsules

USN CREATINE HMB ARMOR is a breakthrough performance supplement using a blend of Creatine Monohydrate and HMB that is protected by a revolutionary delayed release capsule.
   Creatine and HMB
   Optimum Release
   Performance + Muscle Protection
What are the benefits?
This acid resistant capsule ensures that the Creatine Monohydrate and HMB blend is not released until it reaches the intestines. This not only ensures improved bioavailability, but also protects against stomach discomfort often associated to creatine capsues.
USN Creatine HMB Armor contains 3000mg of Creatine Monohydrate to help increase physical performance in short term high intensity exercise while the 1000mg of HMB serves to protect the muscle from catabolism allowing for greater levels of performance improvements.
Directions:
Take 4 capsules daily: 2 capsules before exercise and 2 capsules after exercise. Take each serving with a full glass of water.
Be sure to drink at least 2 to 3 litres of water per day while using this product.
Please also note that the beneficial effects of creatine will be only obtained with intense exercise.
Nutritional Information 
Serving Size: 2 capsules 
Serving Per Container:60
| | |
| --- | --- |
|   | Per serving |
| Creatine Monohydrate | 3000mg |
| Beta-Hydroxy Beta-Methylbutyrate (HMB) | 1000mg |
Other Ingredients: Magnesium Stearate, Hydroxypropylmethyl Cellulose, Gellan Gum (capsule shell).
No customer reviews for the moment.