Universal Beef Aminos 400 tablets
2022-04-30
039442010667
New product
UNIVERSAL NUTRITION
100% BEEF AMINOS
Το 100% Beef Aminos είναι ένα  μείγμα  υψηλής δραστικότητας με ανώτερης ποιότητας αμινοξέα βοείου κρέατος που προέρχονται από απομονωμένη πρωτεΐνη βόειου κρέατος υψηλής ποιότητας, συμπύκνωμα αλβουμίνης βοείου κρέατος και συκώτι από βόειο κρέας Αργεντινής. Κάθε δισκίο περιέχει ένα πλήρες φάσμα υψηλής συγκέντρωσης αμινοξέων, καθώς και πολλά άλλα αναγκαία και απαραίτητα θρεπτικά συστατικά. Κάθε δόση παρέχει μια διαφορετική πηγή αμινοξέων που προέρχονται αποκλειστικά από πηγές βοείου κρέατος υψηλής ποιότητας. Όταν τα 100% Beef Aminos λαμβάνονται πριν από κάθε γεύμα, αυξάνουν σημαντικά την καθημερινή πρόσληψη αμινοξέων. Τα 100% Beef Aminos αξιοποιούν τις δυνατότητες του βοείου κρέατος, και με τη σειρά τους παρέχουν ιδανική υποστήριξη για την προσθήκη μυϊκής μάζας στο σώμα. Τα 100% Beef Aminos είναι ένας πολύ καλός τρόπος για να αξιοποιήθούν όλα τα πλεονεκτήματα του βοείου κρέατος, χωρίς να υπάρχουν επιπτώσεις λόγω κάποιων μειονεκτημάτων του, όπως η υψηλή περιεκτικότητα σε λίπος.
Οδηγίες Χρήσης :
Λάβετε 2ταμπλέτες  μεταξύτων γευμάτων  για μια σταθερή ροή  αμινοξέων στο σώμα σας. Η ημερήσια πρόσληψη μπορεί να αυξηθεί σταδιακά σε 4 ή 6 δισκία ανά μέρα.

UNIVERSAL NUTRITION 100% BEEF AMINOS 
100% Beef Aminos is a blend of beef amino acids derived from high quality beef protein isolate, beef albumin concentrate and Argentine beef liver. Each tablet contains a full spectrum of highly concentrated amino acids, as well as many other necessary and essential nutrients. Each serving provides a diverse source of amino acids extracted solely from premium beef sources. When 100% Beef Aminos is taken prior to each meal, it increases daily amino intake. 100% Beef Aminos harnesses the anabolic potential of beef, and in turn provides ideal support for adding muscle mass to the body. 100% Beef Aminos is a great way to tap into all the advantages of beef, without suffering from any of the disadvantages, such as the high fat content.*
Directions :
As a dietary supplement, take 2 tablets with each meal to help increase the amino acid content of the meal or take in between meals to help supply a steady flow of quality amino acids into your body. Daily intake can be increased gradually to 4 or 6 tablets per day.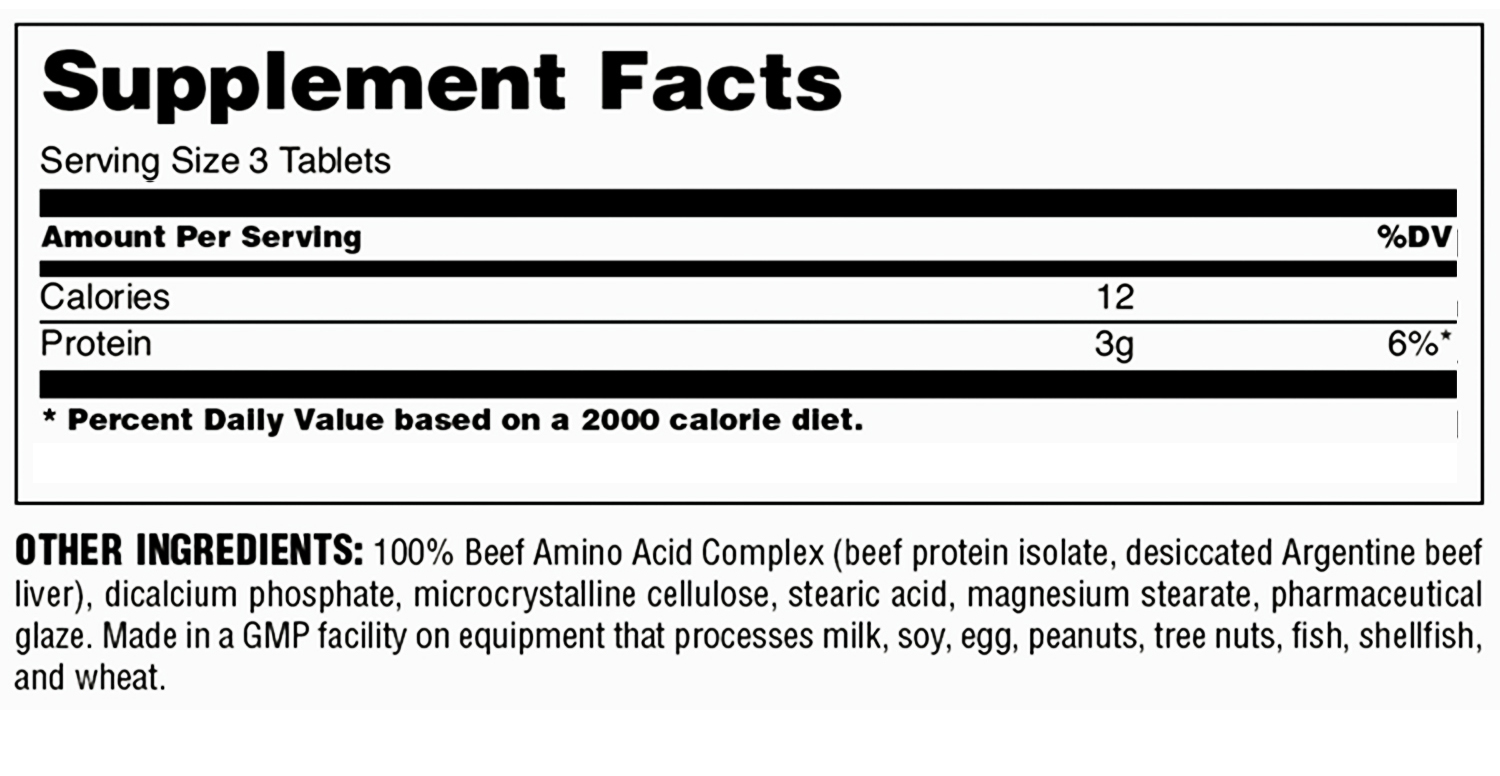 No customer reviews for the moment.