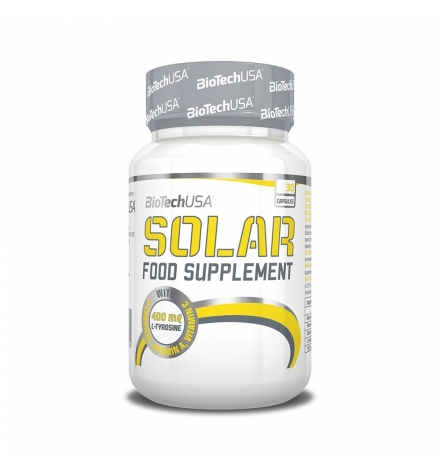 Biotech USA Solar 30 Caps
2019-03-31
5999076211814
New product
Biotech USA Solar 30 Caps 
Ποιος δεν θα ήθελε ένα μακράς διαρκείας μαύρισμα; Το καφέ χρώμα του δέρματος καθορίζεται από την μελανίνη, μία χρωστική ουσία που παράγεται στο άνω στρώμα του δέρματος. Παρέχει επίσης προστασία από τις δυσμενείς επιπτώσεις της υπεριώδους ακτινοβολίας απορροφώντας τις περισσότερες από αυτές, αποτρέποντας έτσι τις ακτίνες από το να ασκείσουν μία επιβλαβή επίδραση στους πυρήνες των κυττάρων του δέρματος.
Οι επιβλαβείς ακτινοβολίες του ήλιου γίνονται όλο και πιο έντονες, γι 'αυτό είναι σημαντικό το γεγονός ότι η αντίσταση του σώματός μας σε ένα από τα μεγαλύτερα όργανα μας, το δέρμα μας, θα πρέπει να ενισχυθεί με την προστασία του δέρματος με προϊόντα και συμπληρώματα διατροφής που περιέχουν αντιοξειδωτικά. Το Solar της BioTechUSA περιέχει σημαντικά αντιοξειδωτικά, όπως οι βιταμίνες Α και C, β-καροτένιο και L-τυροσίνη, ένα αμινοξύ που παίζει ένα σημαντικό ρόλο στην παραγωγή μελανίνης.
Εκτός από την αντιοξειδωτική δράση της, η βιταμίνη C αυξάνει επίσης την παραγωγή μελανίνης του δέρματος, συμβάλλοντας έτσι στο ταχύτερο και πιο ομοιόμορφο μαύρισμα.
Η μελανίνη η οποία παράχθηκε από την ηλιακή ακτινοβολία, , που συντίθεται από την τυροσίνη, δημιουργεί ένα είδος "ασπίδας" για την προστασία στα βαθύτερα στρώματα του δέρματος. Όταν δεν υπάρχει αρκετή μελανίνη (λόγω ανεπαρκούς πρόσληψης τυροσίνης), οι ακτίνες του ήλιου μπορεί να βλάψουν το δέρμα σας.
• Η βιταμίνη Α συμβάλλει στη διατήρηση της κανονικής κατάστασης του δέρματος.
• Η βιταμίνη C συμβάλλει στην κανονική παραγωγή του κολλαγόνου, και, συνεπώς, και για την διατήρηση της κανονικής κατάστασης και της λειτουργίας του δέρματος.
• περιέχει αντιοξειδωτικά,
• για ένα μαύρισμα που διαρκεί,
• για την προστασία του δέρματος από τις ακτινοβολίες UV ,
• αυξημένη παραγωγή μελανίνης για ένα ταχύτερο μαύρισμα, χωρίς τον κίνδυνο ηλιακού εγκαύματος.
Όπως όλα τα προϊόντα της BioTech USA, έτσι και το Solar αποτελείται από ασφαλή και προσεκτικά επιλεγμένα υλικά.
Οδηγίες Χρήσης:
Πάρτε 1 κάψουλα την ημέρα με ένα ποτήρι νερό.
Biotech USA Solar 30 Caps
Who wouldn't want a long lasting tan? The brown colour of your skin is determined by melanin, a pigment produced in the upper layer of skin. It also provides protection against the adverse effects of UV rays by absorbing most of them, thus preventing the rays from exerting a harmful effect in the nuclei of skin cells.
The sun's harmful radiation is getting more and more intense, so it's important that the resistence of our body and one of our largest organs, our skin, should be enhanced by skin protection products and dietary supplements containing antioxidants. BioTechUSA's Solar contains important antioxidants such as vitamins A and C, beta-carotene and L-tyrosene, an amino acid playing an essential part in melanin production.
Vitamin A contributes to maintaining the normal condition of skin.

Vitamin C contributes to normal collagen production, and therefore to maintaining the normal condition and functioning of skin.

Contains antioxidants
Like all BioTech USA products, Solar consists of safe and carefully selected ingredients.
Directions:
Take 1 capsule daily with a glass of water.
Ingredients:
L-tyrosine, beta carotene, capsule shell [gelatin, purified water, colour (titanium dioxide), L-ascorbic acid, bulking agent (microcrystalline cellulose), anti-caking agents (silicon dioxide, magnesium stearate), retinyl acetate.
No customer reviews for the moment.