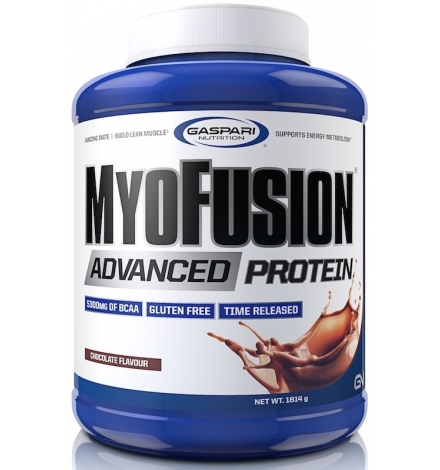 Gaspari Myofusion Advanced 4 lbs
0000-00-00
New product
Gaspari Myofusion Advanced 4Lbs
H MyoFusion Advanced πρωτεϊνη αποτελεί παράδειγμα της ατέρμονης δέσμευσης της Gaspari Nutrition για πρόοδου.
Ο διευθύνων σύμβουλος της Rich Gaspari δημιούργησε την MyoFusion Advanced, έχοντας ένα στόχο στο μυαλό του:
Να αναπτύξει την πιο καθαρή και πιο νόστιμη σκόνη άπαχης πρωτεΐνης, χρησιμοποιώντας μόνο υψηλής ποιότητας συστατικά.
Πραγματική Πρωτεϊνη Για Πραγματικά Αποτελέσματα!!
Τα γεγονότα μιλάνε από μόνα τους
►25gr πρωτεΐνης
►Απίστευτη Γεύση
►5.3gr των BCAA
►Χτίζει άλιπη μυϊκή μάζα
►Περιέχει 200 mg ασβεστίου.Το ασβέστιο συμβάλλει στο φυσιολογικό μεταβολισμό της ενεργειακής απόδοσης, και έτσι βοηθά με την κανονική λειτουργία των μυών και την σωστή νευροδιαβίβαση.
►Υποστηρίζει την ανάκαμψη των μυών - Οι υδατάνθρακες συμβάλλουν στην αποκατάσταση της κανονικής λειτουργίας των μυών μετά την άσκηση, καθώς οι μακροχρόνιες ασκήσεις οδηγούν σε μυϊκή κόπωση και εξάντληση των αποθεμάτων γλυκογόνου στους μυς.
► Δεν Περιέχει Γλουτένη
H Advanced είναι το κορυφαίο χρονικής-απελευθέρωσης μείγμα που περιέχει γρήγορης δράσης υδρολυμένο ορό γάλακτος, εξαιρετικά αγνό απομονωμένο ορό γάλακτος, υψηλού επιπέδου συγκεντρωμένο ορό γάλακτος, αργής πέψης μικυλλιακή καζεΐνη και πλήρη πρωτεΐνη ορού γάλακτος.
Οδηγίες Χρήσης:
Ανακατέψτε 1 μεζούρα με 200ml κρύο νερό ή του αγαπημένου σας ροφήματος, σε ένα σέικερ, ποτήρι ή μπλέντερ.
Χρησιμοποιήστε μεταξύ των γευμάτων, πριν και μετά την άσκηση.
Gaspari Myofusion Advanced 4Lbs
MyoFusion Advanced Protein exemplifies Gaspari Nutrition's never-ending commitment to progress.
CEO Rich Gaspari created Myofusion Advanced protein with one goal in mind:
Create the cleanest, most delicious protein formula using only the highest quality ingredients.
Myofusion is Real Protein For Real Results.
Just The Facts:
►25gr of Protein
►Amazing Taste
►Contains 5.3gr of BCAA
►Build Lean Muscle (Protein contributes to growth & maintenance of muscle mass)
► Support Energy & Metabolism- Calsium contributes to normal energy-yielding metabolism.
►Support Muscle Recovery - Carbohydrates contribute to the recovery of normal muscle function after intensive long-lasting exercise leading to muscle fatigue and depletion of glycogen stores in muscle.
► It's gluten-free
Ad-vanced: being beyond others in progress or ideas.
The ADVANCED formula is the ultimate time-released blend featuring fast acting whey hydrolysate, ultra pure whey isolate, high-grade whey concentrate, slow digesting micellar casein and complete milk protein.
Directions:
Mix 1 scoop with 200ml of cold water, skim milk, or your favorite beverage in a shaker cup, glass, or blender.
Use between meals and before and after exercise.
Nutrition Information
Supplement Facts (Chocolate/Vanilla/Strawberry)

Serving Size 1 Scoop (35 g)

Servings Per Container about 52

Per 100g

Per dose (35g)

Energy value

402Kcal / 1700KJ (20%*)

141Kcal / 595KJ (7%*)

Fat

of which saturates

7,4g (11%*)

3,7g (19%*)

2,6g (4%*)

1,3g (7%*)

Carbohydrate

of which sugars

12,8g (5%*)

6,7g (7%*)

4,5g (2%*)

2,3g (3%*)

Fibre

1,9g

0,6g

Protein

70g (140%*)

25g (50%*)

Salt

0,7g (12%*)

0,2g (3%*)

Calcium

570mg (71%*)

200mg (25%*)

* Percent Daily Values are based on a 2,000 calorie diet

Ingredients: MyoFusion Protein Blend [Whey Protein Concentrate (Milk), Milk Protein Concentrate, Whey Protein Isolate (Milk), Micellar Casein (Milk), Whey Protein Isolate Hydrolysate, (Milk)], Maltodextrin, Reduced Fat Cocoa Powder, Sunflower Oil Powder [High Oleic Sunflower Oil, Modified Starch, Anti Caking Agent (Silica)], Flavouring, Thickener (Carboxymethyl Cellulose), Emulsifier (Soya Lecithin), Salt, Sweetener (Sucralose), Medium Chain Triglycerides [Medium Chain Triglycerides, Milk Protein, Dipotassium Phosphate, Tricalcium Phosphate].
No customer reviews for the moment.