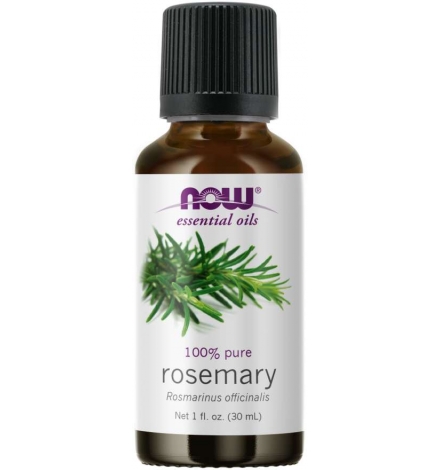 Now Foods Rosemary Essential Oils 30ml
2023-05-30
733739076007
New product
Now Foods Rosemary Essential Oils 30ml
Συστατικά: 100% αγνό δεντρολίβανο
Άρωμα : Ζεστό,καμφορίδες
Χαρακτηριστικά: Καθαρισμός, ανάταση
Αναμιγνύεται καλά: Λάδι περγαμόντου, λάδι λεμονόχορτου, έλαιο μέντας ή θυμάρι
Μέθοδος εξαγωγής: Απόσταξη ατμού από τις κορυφές του φυτού
Δοκιμασμένη καθαρότητα / Διασφάλιση ποιότητας
Η ονομασία "δεντρολίβανο" προέρχεται από τα λατινικά ως «δροσιά» (ros) και «θάλασσα» (marinus), ή «δροσιά της θάλασσας». Το δενδρολίβανο ονομάζεται επίσης και «Άνθος», από την αρχαία ελληνική λέξη άνθος, που σημαίνει «λουλούδι».
Το φυτό θεωρήθηκε ιερό στους αρχαίους Αιγυπτίους, τους Ρωμαίους και τους Έλληνες και συχνά χρησιμοποιούνταν ως σύμβολο της αγάπης και του θανάτου.
Έχει χρησιμοποιηθεί ως φάρμακο για αιώνες και διάσημοι Έλληνες επιστήμονες της εποχής, όπως ο Θεόφραστος (371 π.Χ. 287 π.Χ.) και ο Διοσκουρίδης (40-90 μ.Χ.), το συνιστούσαν ως φάρμακο για προβλήματα στο στομάχι και στο συκώτι. Ο Ιπποκράτης (περίπου 460 - περίπου 370 π.Χ.) πρότεινε το μαγείρεμα των λαχανικών με το δενδρολίβανο για να καταπολεμήσει τις ενοχλήσεις στο ήπαρ και τις σπληνικές διαταραχές ενώ ο Γαλέν (129 μ.Χ. - 200) το πρότεινε για ίκτερο.
Για χρήση αρωματοθεραπείας. Για όλες τις άλλες χρήσεις, αραιώστε προσεκτικά με λάδι φορέα όπως jojoba, grapeseed, ελαιόλαδο ή αμυγδαλέλαιο πριν από τη χρήση. Συμβουλευτείτε ένα βιβλίο αιθέριου ελαίου ή άλλη επαγγελματική πηγή αναφοράς για προτεινόμενες αναλογίες αραίωσης.
Αφού χρησιμοποιήσετε αιθέρια έλαια, κλείστε αμέσως τα καπάκια σφιχτά για να αποτρέψετε οποιαδήποτε οξείδωση. Για καλύτερα αποτελέσματα, φυλάξτε τα αιθέρια έλαια υψηλής ποιότητας σε θερμοκρασία δωματίου και στο αρχικό μπουκάλι. Θα πρέπει να αποφύγετε την αποθήκευση των λαδιών κοντά σε οποιοδήποτε είδος θερμότητας, το οποίο περιλαμβάνει ντουλάπια πάνω από εστίες, περιοχές με άμεσο ηλιακό φως και περιοχές με υπερβολική υγρασία όπως μπάνια.
__________________________________________
Now Foods Rosemary Essential Oils 30ml
PRODUCT DESCRIPTION
Rosmarinus officinalis
Ingredients: 100% pure rosemary oil
Aroma: Warm, camphoraceous
Attributes: Purifying, uplifting
Mixes Well With: Bergamot oil, lemongrass oil, peppermint oil, or thyme oil
Extraction Method: Steam distilled from tops of plant
Physical Characteristics:
Specific Gravity: 0.894-0.912
Refractive Index: 1.464-1.476
Purity Tested/Quality Assured
For aromatherapy use. For all other uses, carefully dilute with a carrier oil such as jojoba, grapeseed, olive, or almond oil prior to use. Please consult an essential oil book or other professional reference source for suggested dilution ratios.
After using essential oils, immediately close caps tightly to prevent any oxidation. For best results, please store our high-quality essential oils at room temperature and in the original bottle. You should avoid storing the oils near any kind of heat, which includes cabinets over stovetops, areas with direct sunlight, and areas with excessive humidity like bathrooms.
No customer reviews for the moment.