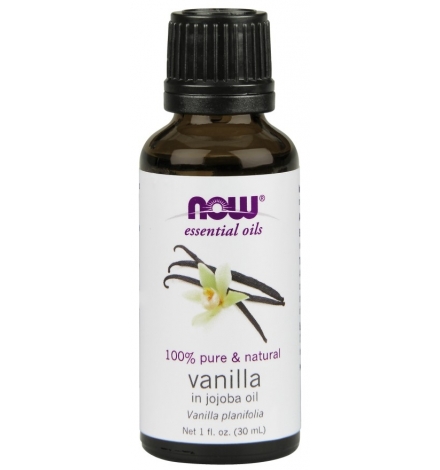 Now Foods Vanilla In Jojoba Essential Oil 30ml
0000-00-00
733739075963
New product
Now Foods Vanilla In Jojoba Essential Oil 30ml 
ΠΕΡΙΓΡΑΦΗ ΠΡΟΪΟΝΤΟΣ
Συστατικά: Καθαρό έλαιο βανίλιας & Καθαρό έλαιο jojoba
Άρωμα : Γλυκό, ζεστό
Οφέλη : Ανακουφιστικό, Χαλαρωτικό, Αναζωογονητικό & Αφροδισιακό. 
Η βανίλια καλλιεργήθηκε για τους μακριούς λοβούς της από την φυλή Totonac του Μεξικού πριν οι Αζτέκοι ανέλθουν στην εξουσία. Λέγεται ότι "οι Tontonacas ακόμα και σήμερα μεγαλώνουν κλήματα βανίλιας, με σχεδόν θρησκευτική ευλάβεια, γιατί σύμφωνα με τα πιστεύω τους το φυτό ήταν ένα δώρο από τους θεούς.
Tangerine Dream: Προσθέστε 15 σταγόνες λάδι συμπυκνωμένου βανίλιας και 2 σταγόνες λάδι μανταρίνι σε ένα διαχύτη και απολαύστε.
Έλεγχος καθαρότητας / Διασφάλιση ποιότητας
Τα φυσικά αιθέρια έλαια είναι ιδιαίτερα συγκεντρωμένα και πρέπει να χρησιμοποιούνται με προσοχή.
ΠΡΟΤΕΙΝΟΜΕΝΗ ΧΡΗΣΗ
Αυτό το μείγμα είναι ήδη προ-αραιωμένο και έτοιμο για χρήση αρωματοθεραπείας. Συμβουλευτείτε ένα βιβλίο αιθέριων ελαίων ή άλλη επαγγελματική πηγή αναφοράς για προτεινόμενες χρήσεις.
Now Foods Vanilla In Jojoba Essential Oil 30ml 
PRODUCT DESCRIPTION
Vanilla planifolia in Jojoba Oil
Ingredients: Pure vanilla oil & pure jojoba oil
Aroma: Sweet, warm
Benefits: Comforting, relaxing, nurturing
Tangerine Dream: Add 15 drops of vanilla concentrate oil and 2 drops of tangerine oil to a diffuser and enjoy. 
Extraction Method: CO2 Extracted from vanilla seed pods
Purity Tested/Quality Assured
Natural essential oils are highly concentrated and should be used with care.
SUGGESTED USAGE 
This blend is already prediluted and ready for aromatherapy use. Please consult an essential oil book or other professional reference source for suggested uses.
Essential oils blended with carrier oils may clog diffusers; please clean thoroughly after each use.
No customer reviews for the moment.